Chez Janou
is a restaurant in central Paris which could easily fall into the category of 'tourist trap' but somehow doesn't. It has all the makings of a slightly gimmicky, tourist-friendly spot. The location, for one, makes it easy to find and equally easy to stumble upon. In the 3rd
arrondissement
, the tiny street-corner restaurant sits a mere stone's throw from the famous
Place de Vosges
and its historic surroundings, including the
Victor Hugo museum
. Previous visitors to this area, which is of course exquisitely beautiful and a must-see for tourists, will know that bordering the
place
are galleries, shops and restaurants, all with top-notch views from the ancient cloisters to the garden and fountains (and price tags to match).
Chez Janou
, although only one street away on
rue Roger Verlomme
, effortlessly escapes the faux glamour and inflated prices of its neighbours around the corner and offers a quaint bar, terrace and restaurant serving good quality French and Provençal cuisine and an impressive Pastis menu.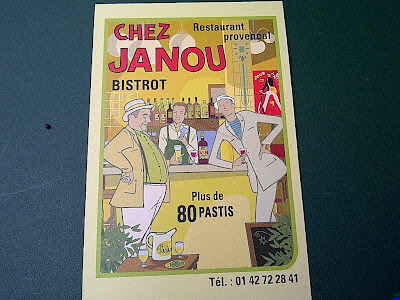 I read about
Chez Janou
after my first trip to Paris and was determined to visit after I fell in love with the restaurant's amazingly retro, but actually quite endearing,
video on its website
("le film"). As soon as we arrived at the restaurant, just for an afternoon coffee and to check out the
plats du jour,
I had a good feeling about it. The tiny bar area was full of locals. The terrace was full of a varied clientele from which I struggled to pick out who was a tourist, visiting student, or wannabe-local. Everyone was relaxed; socialising, debating and speaking in a mix of French, English, Spanish, Chinese and, I'm sure, a few other languages. The atmosphere was cosmopolitan and laid-back and the welcoming waiting staff were friendly and timely. The dishes on the menu sounded great and well-priced so we booked a table for the next night for dinner; the maître d' said we could choose from arriving before 7pm or guaranteeing a table at 10.30pm. We opted for the former - sightseeing is a tiring business.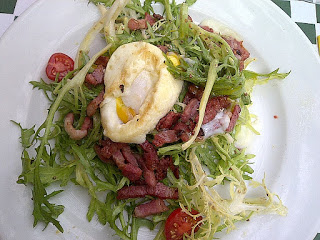 True to the menu's promise (de la vallée du Rhône aux Côtes de Provence), it features a good number of interesting and authentic dishes that one might find when visiting the Rhône Valley region or the sun-drenched Mediterranean coast of Provence. From the day's specials, I chose the typically Lyonnaise salade de frisée, lardons et oeuf poché consisting of a generous serving of fresh salad, thick, meaty and salty lardons and a not quite runny poached egg. Later on in our trip, I sampled the real deal at a restaurant in Lyon which I must say was far superior if a little large for a starter (this proved to be a running theme in Lyon eateries - blog post to follow).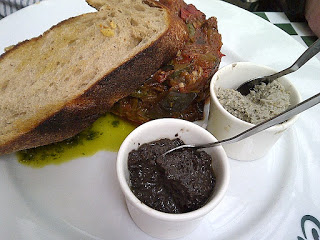 I was rather jealous of The Boy's choice of starter, a beautiful cold ratatouille served with olive oil-soaked bread and robust homemade olive, garlic and anchovy tapenades, which captured the flavours of Provence perfectly and delicately. The oil drenched, herbes de provence infused farcis provencaux to follow were more of the same, with peppers so fresh and sweet and the tomato and meat filling so well seasoned that we could have been eating it whilst watching the sun set over Marseille's islands* rather than in a crowded, heated terrace on a Paris back street.
*which, a week or so later, we did. Blog post to follow.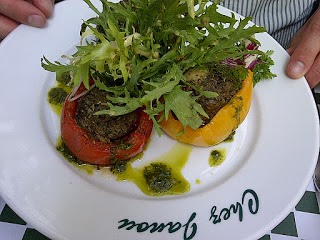 The
pièce de résistance
, however, was the dessert. I don't usually get excited about desserts, often foregoing the sweet section of a menu for the cheese course, but where else in the world but Paris to discover the joys of
handmade chocolates
, cakes, pastries... and the chocolate mousse at
Chez Janou
. For around 8 or 9 euros per person, you get to dig in to a huge bowl of thick, creamy yet sticky, rich chocolate mousse. Rather dangerously, the bowl is then left on the table for you to replenish your plate as many times as you please. I had to ask the waiter to take it away before I was tempted by a third helping, feeling full and very happy after the generous portions and bottle of red wine (from Provence, of course).
This is just one of many nice touches at
Chez Janou
. The extensive Pastis collection at the bar is a beautiful sight and the decor in the restaurant is bright and attractive. One or two waiters are rushed and grumpy (but, hey, this is Paris after all) but overall the service is quick and friendly, the atmosphere is fantastic, and the food is obviously cooked with passion and flair for authentic French cuisine. I'm already planning my next visit.
Enjoy! :-)
Chez Janou
2, rue Roger Verlomme
75003 Paris
Tel: 01 42 72 28 41
P.s. You might also like
Le Bistrot du Peintre, 11e Paris.