One of my steadfast favourite Paris eateries is a laid-back, unassuming bistro occupying prime position at the corner of a busy junction on Avenue Ledru Rollin in the 11th
arrondissement.
The
Bistrot du Peintre
is a simple Parisian establishment. Tables and chairs sprawling onto the street with a plastic sheet awning to protect from the wind and rain in winter; tarnished Art Nouveau-style mirrors and polished mahoghany bar; and hastily scribbled menu boards displaying the day's
plat du jour
and the
vin du moment
.
Faded glamour, lively locals, and effortlessly efficient waiting staff bring the restaurant to life. The basic menu fails to change much in the six months between my visits, but the quality of the ingredients and the daily changing specials are far from boring. The "wine of the moment" board displays a couple of well-priced and well chosen wines each month, available by the glass, "pot" or bottle. We enjoyed a couple of classic aperitifs whilst browsing the menu and opted for the wine of the moment, a red 2011 Cotes de Gascogne which was smooth, medium-bodied, with hints of red fruits, and seemingly the wine of choice with pre-dinner plates of charcuterie and bread.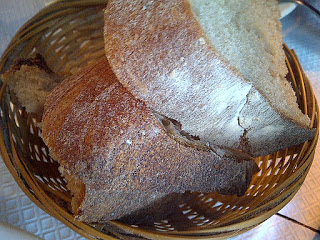 The Boy couldn't resist opting for a starter that I'd sampled and absolutely loved on a previous visit. I for one am happy to eat brunch dishes at any time of day, and the very generous serving of English muffins topped with spinach, poached egg and smoked salmon, positively drenched with a delicious but not too thick hollandaise and dill sauce, proved to be a great start to a much-needed hearty supper after a day's sightseeing.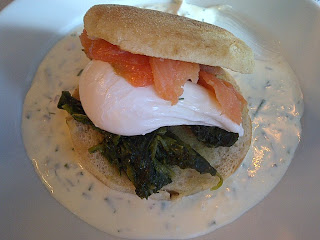 I really like to order the
plat du jour
, even when I don't understand what I'm getting, but my French is slowly improving and I chose well at the
Bistrot du Peintre
. My starter of
petite tomates farcies
(little stuffed tomatoes) was a warming, baked tomato dish, overflowing with thick, Mediterranean-style sauce and served with bread and thickly spread chive cream cheese. The richness of the sauce partnered well with the well-seasoned stuffed tomatoes and the strong herbs in the cheese.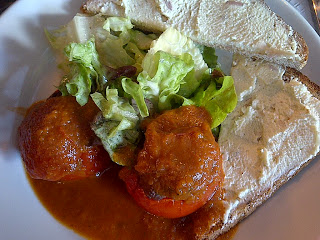 The comfort food theme continued with my choice of main course, the plat du jour of beef entrecote with bordelaise sauce and a skinless baked potato topped with a big, melting dollop of chive-spiked crème fraîche, which swirled devilishly on the plate with the rich, meaty red wine sauce. The beef itself was a little disappointing and was slightly overcooked in places. I was so ravenous, however, that the piping hot and fluffy potato doused in two of my favourite sauces more than made up for it.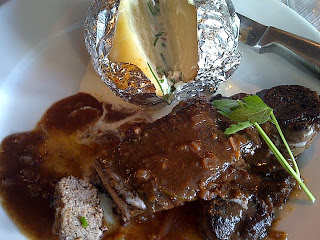 The Boy tried a Moroccan-inspired plat du jour, a very popular cuisine in France, consisting of cous cous with chunks of slow-cooked, tender lamb, Provençale-style sauce and North African spices. It was a well put together, fiery yet traditional ragoût, which we gleefully summed up as a "Mediterranean curry."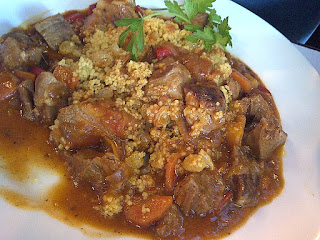 For a good, wholesome supper and traditional French food, the
Bistrot du Peintre
provides a great atmosphere, fresh ingredients and some skilful cooking. Overall, the
bistrot
is a welcoming and relatively cheap place to enjoy a simple, good quality meal and a glass or two of above-average wine. If you wish to eat after 7pm, expect to book in advance if you want a good table. Arrive early if possible and grab a table on the terrace for some great people watching or settle at a table inside and wait for the locals to arrive and fill up the closely-packed restaurant around you. For all the bad reputations attributed to waiting staff in central Paris, I have always found the service at the
Bistrot du Peintre
(and many other places nearby) to be polite, fairly quick, but not rushed.
Enjoy! :-)
Le Bistrot du Peintre
116 avenue Ledru Rollin
75011 Paris
+33 (0)1 47 00 34 39
Please note, le Bistrot is closed for renovation until September 2012.
P.s. You might also like my
Paris blog post
about eating macarons, hot chocolate pots,
petit restauration
and a hidden gem of a wine
cave
.