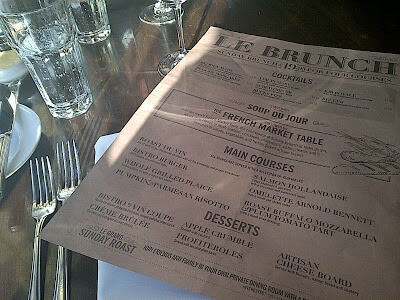 Back in October I discovered
a new Sunday brunch experience
that pretty much made my year. Always on the look out for the perfect, relaxed brunch and somewhere to indulge my obsession with French cuisine, being introduced to the four-course Sunday 'Le Brunch' at
Hotel du Vin's Bistro
in Cambridge was certainly one of the highlights of my year. For just £19.95 each, diners can enjoy a whole new brunch meets Sunday lunch experience, as they work their way through a soup course, unlimited visits to the French Market table, a substantial main course, and dessert. Pacing oneself is recommended. Skipping dessert is not.
This month I was invited to make a return visit to the Bistro and was pleased to see that a few little tweaks had been made to make Le Brunch even better...
The best way to get Sunday started is with a cocktail. There's a good selection heading up the Le Brunch menu, including good old Bucks Fizz, Champagne cocktails, and the lesser known Bloody Margaret featuring a glug of Bloom Gin instead of the traditional vodka. The bar at Hotel du Vin is well-known for its delicious cocktails; freshly mixed and packing a punch, they're served in generous tall glasses with lashings of flavour and tasty finishing touches, like the celery salt lining the Bloody Mary's glass.
The journey starts with the soup du jour, which I found too filling on my last visit. This time I noted the smaller portion of soup and the absence of bread on the side. The mushroom and thyme soup was light yet creamy and still provided an ample serving to whet one's appetite, with a crouton of garlic French stick adding a nice extra touch. The next stop, my favourite part, is a self-service buffet table containing a lavish array of foods one might pick up at a French market. The table is manned by one of the Bistro chefs, ready to answer any questions about the items on offer, and, as before, was well-stocked with a delicious selection of fresh seafood, crustacea, charcuterie, rillettes and breads. I noticed that the spread was perhaps a little smaller than on my last visit, in a good way; small and perfectly formed, quality over quantity. You get the picture, I'm sure. It's so much easier to resist another visit when you've managed to try a little of everything in one go. A newbie featured on the market table this time: little marinated octopus, which I drizzled with lemon juice and enjoyed with delicate slices of smoked salmon. I remained true to the delicious chicken rillette and ham hock terrine that I loved so much last time, both excellent with the pots of homemade pickles and apple chutney nestling between the platters and bowls.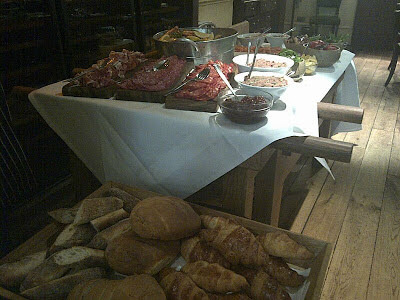 As tempting as it was to tuck into a chicken or beef Roast du Vin as my main course, I'm hoping to work my way through this section of the Le Brunch menu. This time I opted for the salmon hollandaise, poached and served with a green salad, and it turned out to be a good, lighter choice, leaving more room for dessert. The simplicity of the salmon was pleasing, with subtle flavours rather than richness from the hollandaise and a refreshing salad on the side. My only complaint was that the menu listed a watercress and cucumber salad would accompany the salad, which I rather fancied, but I received rocket instead and it was very peppery against the delicate salmon.


So, all in all, I think my second visit confirmed that the Roast du Vin is what a hardcore Sunday bruncher should go for. The Boy tucked into a huge plate of roast rib of beef; thick slices of soft, rare meat served with a big, rugged Yorkshire pudding, roast potatoes, gravy and seasonal vegetables on the side. I was introduced to the wonders of the Bistro's red cabbage
on a previous visit
and every time I try it, I'm a little more in love with its slightly crunchy, cinnamon warmth and sweetness, and vibrant pinky purple qualities, so was happy to see it make another appearance alongside our main courses.
Everyone must also save room for the finale to Le Brunch, even if not usually a fan of desserts. The Bistro's dessert menu will convert you. My choice, the Bistro du Vin Coupe, made me forget all about the heavenly crème brûlée of my previous visit. The ice cream dessert was pretty as a picture in a little gold dish, drizzled with chocolate sauce and topped with bright green pistachios. The balls of vanilla and pistachio ice cream were creamy but not rich or over-sweet, with gorgeous hidden crunches from crushed pistachio and a firm nod to almond marzipan from the nougat. If you're still not convinced go for the artisan cheese board, which should by no means be considered an inferior alternative; there's four good-sized hunks of fine cheese to sample, served with walnut bread, biscuits and, of course, chutney. Each course is a feast in its own right. My advice? Enjoy Le Brunch, slowly, and don't expect to be hungry again for a long, long time.
We dined as guests of the hotel.