At the risk of sounding, in my mother's words, like someone who goes "from one fancy dinner to another," I've visited the very lovely
Hotel du Vin
in Cambridge twice in the last week. Once on Thursday as a competition winner treated to a place at a
fabulous four-course Gosset Champagne dinner
and again on Sunday for a very big brunch with The Boy. Even my most loyal follower (Hi Mum) could be forgiven for reading the Blog this week and thinking I spend my evenings and weekends dining in luxury but, sadly, this is not true. What is very true, however, is that when it comes to food I do like to treat myself now and again. On hearing about the new "Le Brunch" menu launched a couple of weeks ago at Hotel du Vin's Bistro in the centre of historic Cambridge, I decided the second-to-last pay day before Christmas was as good a time as any to indulge in a little foodie therapy...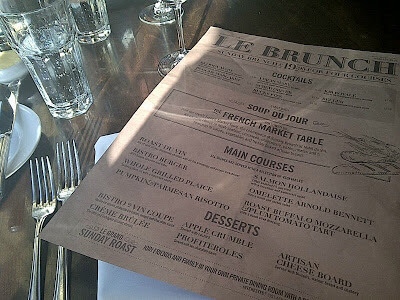 Le Brunch is an ingenious addition to the well-established French bistro of the stylish boutique hotel, particularly in a city sorely lacking in the brunch department and full of students and young professionals with a taste for quality and an eye for a bargain. The menu of four very generous courses for just £19.95 a head, including unlimited visits to the French Market table and a full roast dinner, if desired, is unbelievably good value. Start with the soup du jour, a trip or two to the buffet table for bread, meats, fish and salads, followed by a choice of main courses from the bistro's a la carte menu and a dessert, if you can fit it in.
We had tomato and red pepper soup before hitting the French Market table and filling our plates with smoked salmon - the whisky smoked was beautiful - plump and fresh shellfish, gravadlax, charcuterie, ham hock terrine, smoked mackerel rillette, artichoke hearts, salads, cous cous and a selection of fresh bread and croissants. I was impressed to see oysters on offer and the leg of Serrano ham freshly sliced at the table was a nice touch.
From the main course menu, I opted for the Roast du Vin of Normandy chicken, which was fantastic, served with Sunday favourites: proper Yorkshire puddings, roast potatoes and a selection of vegetables. We also tried the roast rib of Aberdeen Angus beef, also delicious, and spied the impressively styled Bistro burger and grilled plaice being served to some other very happy customers. We drank wines by the glass, including the hotel's house Champagne, a very good Chilean Viognier with the chicken, and a red 2008 Bordeaux with the beef.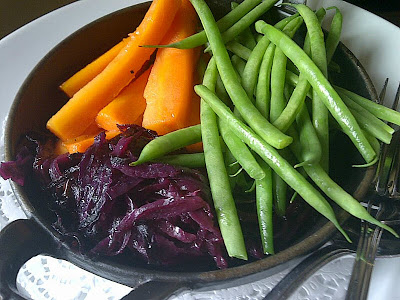 By this time we were regretting our second trip to the buffet table and planning an afternoon on the sofa reading the papers. I'm incapable of resisting dessert, especially a French bistro dessert, so forged ahead and tucked into the biggest crème brûlée we'd ever seen. The crisp, burnt topping had a beautiful golden sheen, sticky sweet and splintering into the classic delicate vanilla custard beneath. Perfect.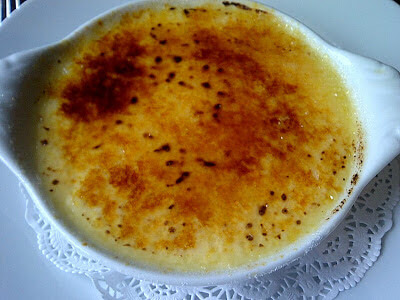 Le Brunch made my weekend. Substantial servings of classic French bistro fare, alongside some great fresh ingredients and an impressive wine list is my new favourite way to spend a Sunday lunchtime (without going all the way to Paris). I'm sure I'll be daydreaming about the French Market table for many weekends to come...
Enjoy! :-)
15-19 Trumpington Street
Cambridge
CB2 1QA