Winter evenings in Cambridge are best spent in the candlelit bistro at
Hotel du Vin
on Trumpington Street, as I recently discovered when I visited to check out the set Early Bird menu - featuring some Christmas party friendly choices like turkey - and new seasonal dishes from the
a la carte
menu. Although the restaurant was very busy for a Wednesday evening, the staff were as attentive as ever and guided me through a rather enjoyable three courses and well-matched wines. The experience was definitely not as sparkling as the Champagne dinner, and not as robust and indulgent as Le Brunch, but it was a polished, well-rounded affair fit for a foodie Francophile...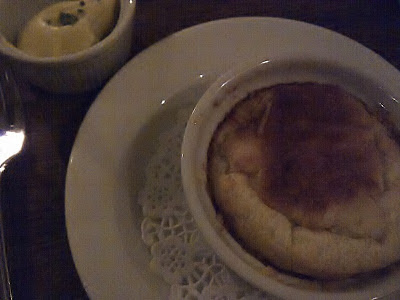 I started with the spinach soufflé, a new addition to the winter menu that very evening. It was generous and served with an anchovy butter. I enjoyed the combination of flavours, although found I was using the sauce to add an extra something that was missing from the taste of the soufflé. Inside, it was light and perfectly risen but unfortunately stuck to the edges of the ramekin. It was so good that I wanted to be able to spoon out every last scrap, but couldn't. The recommended white wine more than made up for it: a crisp, light Chilean Viognier cut through the richness of the dish with a pleasing fruity finish.
Next, I couldn't resist trying a popular classic from the menu: the Monkfish Grand-Mère served with pancetta, wild mushrooms and pearl onions. The small, meaty monkfish sat atop a huge potato rosti, a nice contemporary twist when used to mop up the delicious juices and paired well with the slightly crispy fried pancetta. I felt that the firm consistency of both the fish and potato demanded more sauce. On the side, I enjoyed a buttery dish of haricots verts and a very sweet, seasonal red cabbage dish - braised with cinnamon for an extra taste of winter. I requested something a little different to drink with the monkfish and sampled a glass of Croatian white wine. Almost dark gold in colour and definitely more "raw" and less refined than most white wines I'm used to, the Maluazija Piquentom's earthy quality worked well with the strong flavours of the wild mushrooms and onions. Tasted with the monkfish, the wine was perhaps slightly overpowering and left a tangy after-taste.
For dessert I was tempted by another new dish on the menu, a simple, but dangerously rich, candied orange chocolate pot. Similar to a French brasserie-style recipe for orange mousse that I recently attempted (and failed; see my resulting
sugared orange zest
post), the dessert was classic and incredibly delicious. A generous dollop of cream, topped with the candied orange, accompanied the thick, smooth chocolate pot, served in a tiny glass jar (so tiny, in fact, that it might be worth asking for a teaspoon if you wish to get to every last drop of chocolate). The smooth dessert wine I drank alongside - a red from Uruguay - was a real find: full of further rich chocolate flavours, served chilled as a refreshing alternative to port, and incredibly easy to drink. Feeling full and very satisfied, I ventured back out into the Cambridge winter with a warm glow and plans for a return visit over Christmas...
Enjoy! :-)
Wines were served by the glass from the Bistro's wine list:
Viognier Reserve Tabali Liman Chile 2011
Maluazija Piquentom Croatia 2010
A Icyone NV Tannat Vinedo de los Vintos Uruguay
You might also like
Gosset Champagne Dinner at Hotel du Vin, Cambridge
and
Le Brunch at Hotel du Vin, Cambridge
.
I dined as a guest of the hotel.