There's a new pop-up on the block and it's a definite winner. On Saturday at The Clandestine Gourmet's latest secret supper club, I discovered that all it takes to make my perfect evening is a living room recreated as a restaurant, fairy lights and candles, locally sourced produce, and one spectacularly inventive menu. If I hadn't taken a peek into the kitchen, and hung out with the hardworking supper club chefs, I could have easily believed the whole evening was effortlessly delivered by some magical little Scandinavian álfar...
I've written about supper clubs before so you know the drill. News spreads via social media and foodie contacts that a new supper club night's on the way (or in my case, the organiser gives a very kind heads up after finding the Blog's card in Radmore Farm Shop). Keen diners sign up by email and await word of the secret location and much-anticipated menu. Then, finally, the day arrives. Wine choices are made and purchased, foodie friends gathered, cash to pay the bill is drawn out in advance, and appetites are eagerly worked up. At last weekend's gathering, the second supper club night created by The Clandestine Gourmet, what came next was enough to delight even the most seasoned supper club member. It was more pop-up restaurant than impromptu supper and the inventive, intriguing menu of deliciously surprising dishes just kept on coming.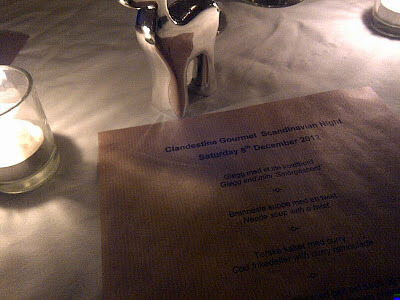 The themed feast featured seven courses, each providing an authentic taste of Scandinavian fare and served to the diners at beautifully laid, candlelit tables. The standard of presentation was matched by the obvious quality of the ingredients and consistent confidence of the chefs, which became clear as the courses rolled on with not a peep from the kitchen. We started with a warming glass of Nordic
gløgg
accompanied by the first surprise of the evening: canapes of rye bread squares topped with gravadlax and pickled herring reminiscent of cold fish dishes from a traditional, albeit mini, Swedish
Smörgåsbord. Horseradish, gherkins, plenty of dill - we were all impressed.
Another surprise appeared before we'd even managed to read to the end of the menu. A bowl of nettle soup, deep green in colour, thicker and glossier in consistency than I'd expected, was quickly devoured. Cubes of samphire jelly hid at the bottom of each bowl, bringing an interesting kick of salt and seaside to the earthy flavours in the dish. Next up was the starter of
frikadeller
, the only dish I had found the time to research on receiving the "teaser menu" a couple of days before, consisting of cod patties - rather than the breaded fish cakes some were expecting - with a smooth, moist quality and lots of flavour. I love it when a new dish instantly evokes good food memories: they reminded me of some fragrant, lemony Thai canapes my big sister made for my little sister's hen party, especially when paired with the mild curry remoulade. In fact, I enjoyed the creamy remoulade so much I smothered every mouthful with it. We were pleased we had chosen an Austrian Gruner Veltliner to accompany the course, too.
The next course was definitely all about the sauce. For the main course we were served venison with a Norwegian 'brown cheese' sauce and beetroot relish. Although perhaps a little dubious about dousing thickly sliced venison fillet with a sauce resembling melted nacho cheese dip, my dining companion reassured me that it sounded just like a cheese her dad used to bring home from business trips to Norway (
geit ost
, we think). Lo and behold it was. It may have slightly overpowered the delicate dusting of juniper on the venison, but the sauce was a surprisingly good match. Surprisingly sweet, but with the pungent animal taste you get from proper goats cheese, the sauce had just enough salt to make it a pleasant match for the beetroot relish. It was certainly an education and, as a whole, the dish worked really well. We tried a red wine with this course: a Pays d'Oc Syrah (Eric Monnin) which had been selected from Bacchanalia and, as promised, was rich, complex and full of black fruits and sweet smoky notes but not quite right with the unique flavours created by the cheese sauce.
The next course - lovingly referred to as "Aquavit n'cheese" on the menu - produced a good half an hour of banter on our table, some seriously pondering whether Danish blue worked with a shot of
Akevitt
and the rest trying to put our finger on the familiar taste of minty freshness that hit us with each sip of the liqueur. Danish blue cheese is particularly rich and creamy, especially when slathered generously onto artisan crackers as it was here, which the aquavit cut cleanly through and provided a refreshing
digestif.
That's what we all told ourselves when dessert arrived and we all
suddenly
found room for a huge portion of blueberry cheesecake, which thankfully wasn't too rich.
To round off a successful evening, the Clandestine Gourmet team unveiled a final surprise: a towering, traditional Norwegian
Kransekake
decorated with festive tinsel and swirls of sweet, white icing. Usually brought out for special occasions, such as Christmas, weddings and New Year's Eve parties, the rings of cake formed an impressive pyramid-shaped dessert. The rings were then sliced into bite-size chunks and served with our tea and coffee. The cake was firm on the outside, a bit like a pretzel, but soft and slightly chewy inside and tasted of marzipan. We learned that it is traditional to hide a bottle of
akevitt
or similar in the centre of the tower - but I suspect we got through it all earlier in the meal!
The Clandestine Gourmet supper club knows how to put on a fantastic evening - an interesting combination of pop-up restaurant and homely dinner party. The food, atmosphere, service and feeling of exclusivity is what us supper clubbers go looking for when a normal restaurant will just not do. The little surprises and stories accompanying every course made for a unique and special experience. I can't wait for the next one.
Enjoy! :-)
Find out more about The Clandestine Gourmet's supper club / pop-up restaurant events here:
#/TheClandestineGourmet
http://clandestinegourmet.blogspot.co.uk/