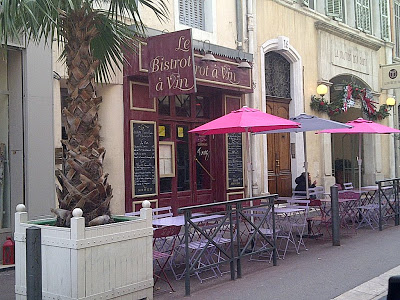 No visit to France is complete without good local wine and simple, traditional French food in a little bistro so dinner at
Le Bistrot à Vin
was the perfect start to a little pre-Christmas holiday in Marseille. The bistro and wine cave on rue Sainte is just one of many excellent restaurants to be found in this area - close to the Vieux Port but not touristy and over-priced like many of the establishments along the harbour quays - and worth seeking out for a relaxed, Provençal meal and a few glasses of well-priced wines.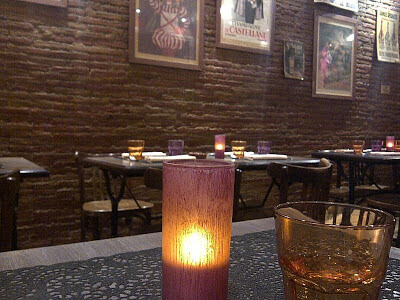 The bistro's hot pink parasols drew us from the dreary, grey street, into an attractive contemporary interior of exposed brick walls, retro music posters and stacks of wine bottles sparkling in the candlelight. A warm welcome - although in French only so brush up on your pleasantries - and extensive chalkboard menus awaited us. As did a cosy booth for two, which we were lucky to snap up at about 7.30pm. By 8pm the bistro was completely full of locals grabbing a quick bite and enjoying some wine tasting. Our jovial proprietor talked us through every item on the menu - again in French - which included starter and main course dishes typical of the region, plus some French bistro classics, ranging in price from 7 to 30 euros.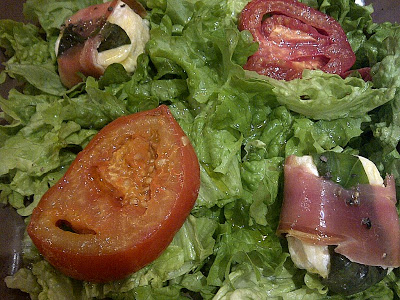 Fresh salads awakened our tastebuds, reminding us that winter in Provence still features an abundance of sun-kissed ingredients and summer flavours, as we started the meal with the bistro's interpretation of two traditional goat's cheese dishes. Both dishes were beautifully presented but retaining the rustic charm of Provençal cuisine. Little parcels of goat's cheese, basil leaves and parma ham nestled on soft, sweet tomato and salad leaves drenched in olive and basil oil, positively bursting with flavour for such a simple plate of food. Another delicious combination of traditional ingredients was simple but effective: a mille feuille of goat's cheese, tomato and coarse, melting homemade tapenade oozed all over a delicately dressed salad when we hungrily cut into it. The recommended glass of well-rounded white wine, the Domaine Cady Anjou 2011, proved to be the perfect partner.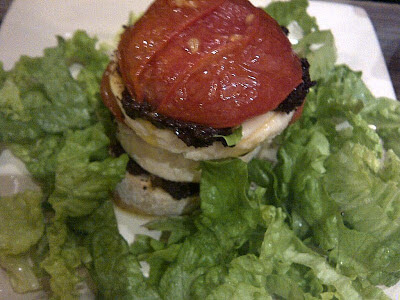 The strong and earthy flavours of the sunny south were just as present in our main courses. Small dishes of rich, spicy squid ragout, with plenty of warming chilli, garlic and tomato, and thick beef stew with sweet, tender morsels of fig and chestnut really hit the spot. Served with soft, fluffy baked potatoes and refreshing salad leaves, the no-frills, home cooking on offer at
Le Bistrot à Vin
was the perfect antidote to a British winter. Don't be deceived by the small earthenware bowl each main course is served in; the dishes are hugely satisfying, packed with flavours and rich, indulgent sauces, and fit for a king.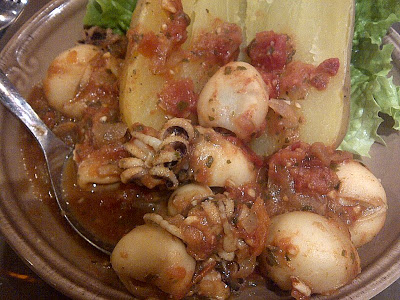 The freshly caught squid, gently tossed in the herby ragout sauce, was matched with a crisp, zingy white wine, the 2011 les Albizzias from the Domaine St Etienne, and a smooth, punchy red 2010 Rêve de Carignan from Domaine du Roucas blanc slipped down rather easily with the rich and juicy beef dish. In fact the wine alone, and the free expert advice that comes with it, is well worth checking out. Many a happy hour (no pun intended) can be spent working through the extensive list of wines by the glass, all at 4 euros each with a spot-on tasting note available for every wine, should you be brave enough to test your French and ask for some recommendations.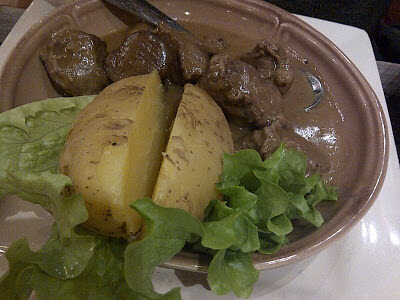 Le Bistrot à Vin
's lunch,
petit plats
, dinner, wines and
cuisine du terroir
can be found at:
17, rue Sainte (near the Vieux Port)
13001 Marseille
FRANCE
Enjoy! :-)
Read other Marseille restaurant reviews:
Le Bouchon
Provençal
and
Le Carbone
.
Explore other parts of France:
Saint Valery
,
Paris
,
Sarlat (Dordogne)
.