It might seem a touch extravagant to travel to another country just to experience the joys of efficient and effortless rail systems but when you live in the UK and your loved one spends a small fortune on a daily, hour-long commute, it's refreshing to zip across a beautiful country like France in first-class luxury (almost) on a 5 hour adventure that costs the same as a peak standard-class single ticket from Cambridge to King's
Cross. And anyway, we had a wedding to go to in the Dordogne and I'm always searching for any excuse to go via my beloved Paris...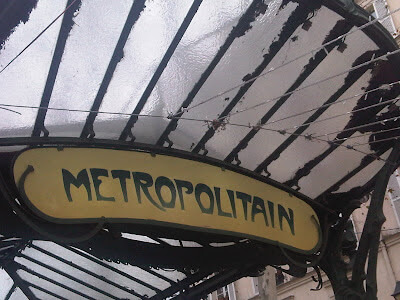 Lunch in Paris
Lately, I seem to be making a habit of seeking out lunch spots near the main rail interchanges in
Paris
when en route to other parts of
France
and using
Paris
as a quick and, undeniably, welcome stopover. This means that my choice of restaurant is often motivated by proximity to a SNCF station or the likelihood of swift service rather than daydreams of fine dining or trendy eating spots. I'd like to think that the food is still the most important factor, but desperate times sometimes call for a quick bite in an establishment that probably won't make it onto the Blog. More often than not, however, it is the unexpected "quick bites" that end up featuring, often turning out to be a pleasant surprise of good food or ambiance that would perhaps not usually be discovered by those flocking to the major tourist attractions and eating wherever they can get a table along the way.
This weekend in
Paris
, on the way to a wedding in the
Dordogne
region, I stumbled upon one such restaurant: Caf
é Barjot close to Gare de Lyon and Gare d'Austerlitz (convenient for the 11e and 12e arrondisements, to the east of central
Paris
). From the outside the caf
é-bistro, looked like a typically old-school Parisian restaurant, with its red velvet curtains and chair covers, red roses in vases on white tablecloths, and mirrored panels reminiscent of the Belle Epoque, perhaps even trying to mimic the effortless glamour of a more upmarket establishment. The menu boards listed standard and well-priced formules du jour. The restaurant was empty at
12pm
but we were hungry and had a train to catch just before
2pm
, so we gave it a go. We were seated by the window and kindly given somewhere to store our baggage, without even a raised eyebrow or look of disdain for being tourists. By
12.45pm
, the restaurant was completely full of locals and businessmen and women on their lunch breaks. Always a good sign, I say.
As time was tight we went for the set lunch; two courses for just over 15 euros a head and a glass each of the vin du mois (a light and refreshing Pinot Noir Charentais) for 4 euros each.
After we had ordered I noted that most of the other diners, all French, opted for dishes from the a la carte menu, which looked fantastic and definitely a reason to make a return visit.
To start, I had one of my favourite French entr
ées, a warm goat's cheese salad. It consisted simply of fris
ée salad leaves, goat's cheese melted on toasted bread sprinkled with herbs, and a generous drizzle of vinaigrette. The portion was exactly right for a starter and the goat's cheese was rich and warming (and great washed down with the red wine).
To follow, we chose from fish or steak. I always eat steak in
Paris
, often just for the sauce because Parisian chefs seem to be fantastic at pulling together a dish with a perfectly creamy, piquant, or luxurious sauce, always served in generous measures. Suffice to say, the pav
é of rump steak served with pepper sauce was my choice. The steak was deliciously charred outside and slightly rare in the centre; easy to slice and a small stream of blood mingling with the sauce. It was tender and tasty and a perfect rendition of freshly cooked, medium-rare (
à point) steak. Even better, we heard and smelled our steaks being cooked in the kitchen seconds before they arrived at our table. Again, the portion size was more than adequate for a lunch plat, served with smooth and buttery creamed potatoes and mixed vegetables.
We finished off with a good espresso each and dashed over the river to Gare d'Austerlitz to catch our train to the south west; to Sarlat, and dinner! Watch this space for more French eating adventures...
Like this? You might also like these Paris restaurant reviews:
Chocolate Bars and Wine Caves
Chez Janou
Bistrot du Peintre