I spent the May Bank Holiday weekend in the beautiful town of Saint-Valery-sur-Somme in the north of France; a fabulous foodie weekend which marked the start of an exciting few months of gastronomic adventures through France, my absolute favourite destination for food and wine. I'm lucky enough to have trips to Paris, Lyon, Carcassonne, and Marseille lined up for this summer, followed by a quick visit to the gorgeous Dordogne region in September. Enjoy the first instalment of Exploring Foodie France and keep an eye on the blog for lots more to come!...
The picturesque town of Saint-Valery is located on the Picardie coast in Northern France overlooking the baie de Somme and close to the mouth of the Somme river. Popular with tourists, the small town is known for it's long waterside boardwalk, showing off impressive views of the bay at the many different tidal stages, and a plethora of gift shops, food shops and interesting eateries tucked away within Medieval ramparts and Gothic architecture. A thriving and bustling market fills the central square and straggles along the boardwalk on Sunday mornings and a delightful preserved railway line transports avid trainspotters and tourists by steam train to the opposite side of the bay to the larger town of Le Crotoy. There are plenty of places to stock up on essentials, including some more upmarket boulangeries, charcuteries and foodie-themed gift shops (such as one entirely dedicated to the locally sourced samphire) and many hotels and gites to stay at. We even squeezed in a very fun game of Crazy Golf after enjoying beers and snacks at the bar-restaurant of the same name, which overlooks the bay on one side and the main shopping street on the other. Best of all, the town is very French and not overrun by English tourists, allowing us to practice our rusty French skills.
Typical Saint-Valery street

In addition to exploring the intriguing surroundings, we enjoyed many foodie treats. One of the top highlights for me was eating huge, plump, fresh mussels in a creamy, well-seasoned sauce for lunch, whilst sheltering from the wind and rain in the heated awning of a big, busy town centre bistro. Moules Frites must be my favourite dish to eat at the seaside - the sauce, meaty mussels and crispy, hot French fries being essential comfort food after a morning of bracing sea air.
Moules Frites
We then whiled away the afternoon choosing some foodie souvenirs to bring home to recreate gorgeous summery Rose cocktails and flamboyant French desserts. The fabulously girly
biscuits roses de Reims
I picked up in a French supermarket create an equally fabulous and girly summer dessert - you can find the recipe
here
. The region offers fantastic local cider and
poissoneries
selling a huge range of fresh fish to serve with huge piles of samphire (or
salicorne
meaning marsh samphire or glassworts) straight from the estuary marshes. We bought a big jar of samphire, which was on sale in every shop we went into, and will be creating some delicious recipes with the salty sea vegetable very soon!
Cocktail and dessert syrups
Although my foodie allegiance is usually firmly pledged with savoury dishes, where better than France to indulge a sweet tooth. As Ma is a sucker for a good slice of cake (and, of course, is the queen of dessert-making) I joined her in gazing through the windows of
boulangeries
and carefully selecting cakes and sweets to tuck into alongside cups of thick and creamy hot chocolate pots. Our favourites included the popular coffee eclairs and some cute little
pâte d'amande -
macaron-shaped marzipan sweets in different flavours, from strawberry to chocolate to lime. The hot chocolate we spooned into our mouths in a traditional little tea shop in Le Crotoy rivalled the thick chocolate pots found in the centre of
Paris
.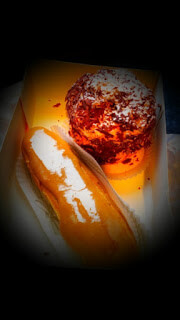 Cakes
Afternoon Tea French-style
Our trip to the Sunday market in Saint-Valery was another fabulous experience. We browsed stall after stall of local produce and munched on huge freshly baked croissants from a charming French lady, whose stall has grown in a few years from one small table of fruit tarts to three or four tables packed full of delicious pastries, breads and cakes. My favourite part of food shopping is always checking out the selection of fish on offer and I enjoyed eavesdropping on the locals' plans for the day's catch at the
poissonerie
at the top of the market square. Rays seemed to be popular so we tried one (skate wings) in a local restaurant - it was huge, sweet and meaty, although a tiny bit overcooked.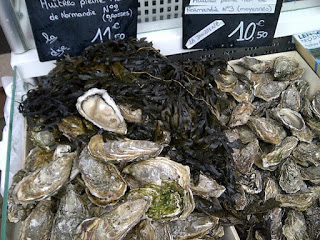 Normandy oysters
Globe artichokes
"Street food"
We drooled over the aromas and juicy sausages from huge pans of
Normandie andouillettes
being cooked on the market. The Boy was inspired by one such dish and ordered the
andouillette
for lunch, only to find it contained a little more tripe than aromatic sausage. Smothered in a delicious wholegrain mustard sauce and served with chips, he managed to make the most of it and we chalked it up as another fun foodie experience! The strong distinctive odour associated with the animal intestines, or chitterlings, contained within the sausage-shaped tube, definitely makes this dish an acquired taste - one which I'm determined to explore further on my trip to Lyon next month.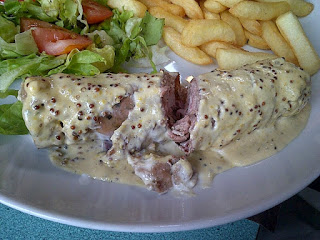 Andouillette
We had a much more successful experience of authentic French cuisine at contemporary local restaurant La Ferte. I enjoyed a simple and delicious stew of fresh fish and flavourful vegetables in the
pot-au-feu de poisson
preceded by an impressive entree of
carpaccio de boeuf
, so fresh and finely sliced that it looked almost like smoked salmon.
See the full review here
.
Beef Carpaccio
Pot-au-Feu de poissons
Inspired as always by all of the food we discovered during our trip, The Boy made his signature dish for The Parents to sample: sausage
cassoulet
with chunks of French stick. It works best with Toulouse sausages but any full-flavoured herby or Cumberland sausages will do. We even added some homegrown red chilli flakes to add some spice to the dish and served it with seasonal asparagus. This is one of our favourite French-inspired dishes at the moment so The Boy and I are super excited to visit the city of Carcassonne next month, located in the Languedoc region in Southern France where the rich, slow-cooked casserole of meat and beans is a regional dish. You can find The Boy's
recipe here
.
Sausage Cassoulet
Enjoy! :-)