A fab quick and easy supper - a cheat's stew
Saturday night dinner was created by the Boy this weekend - based on his favourite combinations of ingredients, Toulouse Sausages and Butter Beans. I'm not sure how happy he was about me immediately asking for the recipe to add to my blog (he doesn't buy in to this "arty, bohemian, social media stuff") but it was so delicious I had to share it...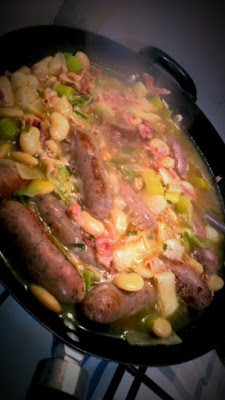 What you'll need:
Toulouse Sausages
Canned butter beans
Leeks
Garlic
Vegetable stock
White wine
Chilli flakes
Bacon
Olive oil
Serve with: green beans, roasted tomatoes and french stick
1. Fry the sausages, allow 2 per person, in a big frying pan until coloured.
2. Add and gently fry chopped garlic, leeks and small pieces of bacon in a little olive oil to the pan.
3. When soft, add the drained butter beans and stir through. Add a little water and vegetable stock - not too much liquid - and allow to boil down. Add white wine, salt and pepper and some chilli flakes if you like a little kick. Simmer until most of the liquid has evaporated or thickened up and the sausages are cooked through. It takes about 20 minutes.
4. Meanwhile roast some good size tomatoes in a little oil at 200 degrees centigrade, until the skin splits and they darken slightly. Boil or steam the green beans.
5. Slice some french stick and serve on the side, with a glass of white wine (like a Sancerre).
This is delicious and really filling, with a gorgeous garlicky, spicy, warming flavour of wholesome beans and meat. As the Boy says, its not an exact science so improvise with the quantities to get the best taste and consistency to suit you. Real comfort food.
Enjoy! :-)