Despite feeling a little under the weather with my second cold of the season, I found a few minutes to create some pretty little Christmas canapés to enjoy with the family. If you're entertaining over the New Year, try my recipes for smoked salmon canapés, using blinis, rye bread, two different types of salmon, and a touch of citrus and wasabi. They are both quick and easy to make and taste great with a glass of chilled fizz...
Smoked Salmon Blinis with Lemon and Dill (makes 16)
100g smoked salmon, sliced into ribbons
1 tsp grated lemon zest
1 tbsp lemon juice
3-4 tbsps crème fraîche
Fresh dill sprigs to garnish
Extra strips of lemon zest to garnish
Mix the crème fraîche, lemon zest and juice together in a bowl, to taste. If not making your own, heat the blinis according to instructions (usually 4 minutes in a hot oven will do) and leave to cool slightly. Top each blini with a dollop of the lemon crème fraîche, followed by a draped ribbon of smoked salmon, a sprig of dill and a thin strip of lemon zest. Serve immediately with chilled Champagne.
Hot-Smoked Salmon on Rye Bread with Wasabi and Pickled Spring Onion (makes 16)
1-2 fillets of hot-smoked salmon, cooked and flaked
Dark rye bread, thinly sliced and cut into small squares
2-3 tbsps crème fraîche
Up to 1 tsp wasabi paste, to taste (and extra to garnish)
For the pickled spring onion garnish
1 small spring onion, thinly sliced lengthways
60ml rice wine vinegar
60ml water
1 tsp white sugar
1/2 tsp salt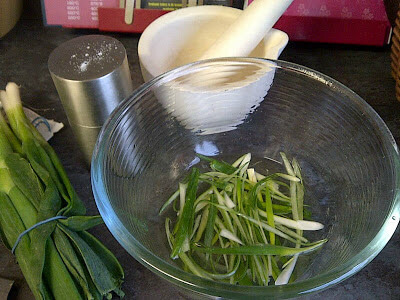 Place the slices of spring onion into a bowl with the rice wine vinegar, water, sugar and salt, mix well and cover with cling film. Allow at least an hour in the fridge for the onion to pickle. Mix the crème fraîche and wasabi paste, to taste, and dress the rye bread squares with a piece of flaked salmon followed by a small dollop of the crème fraîche. When ready to serve, drain the pickled spring onion and curl each strip around your finger before placing on the top of each canapé. Add a few blobs of wasabi paste to the serving plate and serve with chilled Champagne.
Merry Christmas and a Happy New Year!