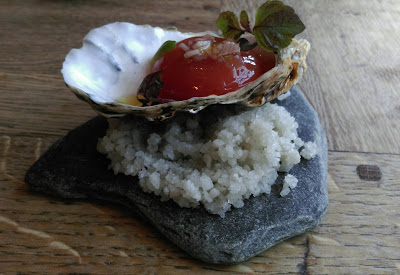 There's a quirky little place called
The Mermaid
in the Cambridgeshire village of Ellington. The Mermaid's owners call the village 'quintessentially English' and refer to the beloved family-run pub restaurant as 'a truly beautiful 14th century public house', one which they have painstakingly renovated to restore the charming historic building to its former glory. And glorious it is. The old public house takes pride of place on the main street through the beautifully quaint village of Ellington. The front door sits open and a warm welcoming interior draws you in; all wooden floorboards and original beams (brought to the village hundreds of years before from a ship called The Mermaid), reminiscent of a cosy old tavern. There are magical touches, little glass bottles, a well-stocked bar, comfy corners, and sparkling candles and exposed light bulbs. It's pirate ship chic, and we instantly loved it.
Unsure what to expect of this mysterious little village pub, we were delighted to discover that the magic continues on the menu. There's a lot more to The Mermaid than those beautiful old beams. Head Chef and co-owner Nicholas Marriott has Michelin star training under his belt from time spent at the Woburn restaurant Paris House as well as the passion and dedication to forge his own path and create something unique. The Mermaid's menu certainly stands out, and the incredibly knowledgeable and personable front of house staff glow with enthusiasm for it. We're told about each dish in painstaking detail. There's talk of seasonal elements, home grown ingredients, molecular gastronomy, fresh daily specials, and everything made from scratch. There's a story behind the dishes, beautifully told both by our waitress and then by the well put together plates of food that arrive. If anything there's too
much
choice; the menu sets out lists of nibbles, 'larder' items, larger plates of sushi and sashimi, a Caribbean platter, and the 'Mermaid's Catch' selection of fish. Then there's more: main courses fall under the 'sauce' heading, followed by a steak section, and a huge variety of side dishes. We're treated to an amuse bouche while we browse - a perfect pearl of Bloody Mary presented in an oyster shell - and it sets the tone for the rest of our lunch. It's clever, pretty, and very tasty indeed.
It all sounds so good. We ponder over starters from the larder section, like soft shell crab with lemon and lime leaf puree and soy, crisp chilli, ginger salad, or ham hock terrine with pork puffs. We marvel at the main courses, tempted by the pork loin with scalloped potato, seasonal veg, and a Parmesan cream. There's spring lamb on offer, with wild garlic and cherry tomato salsa and fava beans. We hesitate over the steak menu, not your usual pub grub, and get excited about green chilli and cilantro butter, hazelnut butter, and accompaniments of blue cheese beignets and cured vegetable salad. We start with bread, and lose our focus entirely while we hungrily tuck into the warm homemade rolls and a slightly salty smoked whipped butter. It's heavenly. We sensibly share a blue cheese and truffle souffle for our starter and it's a real treat; a big, light, airy, yet decadent, puff of creamy cheese, garnished with candied walnuts, Parmesan, black truffle, and a delicious celeriac remoulade that cuts through the richness. The kind kitchen sends us their signature dish to sample, the Mermaid Vegetable Garden, and it does them proud. We squeal in delight (at quinoa? this must be good!) at the clever layers of textures and flavours hidden beneath the finished, picture perfect, dish. Effortless scatters of soil, moss, and mini trees are actually refreshing tastes of quinoa, parsley, shimeji mushrooms, asparagus, radish and salsify, and edible flowers.
Virtuous main courses followed, and made for a very pleasant change from the usual butter-drenched fare of fine dining and gastropub menus. Whole lemon sole with kohlrabi noodles, bok choi and mango tartare felt positively healthy, a beautiful plate of fresh food let down only by the over-cooked fennel and dill gyoza. The spanakopita was the highlight, another work of art on a plate featuring black olive hummus, harissa yoghurt, delicately-flavoured coriander cous cous, with pretty red drops of sweet pepper. Both mains were huge portions and would have still satisfied at half the size. Still, we found room for the delightful pre-desserts that came our way: refreshing dill ice cream with a digestive (esque) crumb was an excellent transition from savoury to sweet.
The desserts were just as tempting and intriguing as the rest of the menu. The pastry section of the menu offered dishes like Romeo and Juliet's Poison - surely worth a return visit alone - and Red Thai Curry, recreated as a sweet dish but emulating the savoury elements of rice and curry. We couldn't resist giving the latter a go, but it wasn't quite hitting the right balance and we needed more sweetness. Fortunately we also plumped for the Jaffa Cake souffle, and it was spot on. A good hit of chocolate to round off our lunch, with incredibly clever yet delicate flavours of orange, textures of jelly, and some rather awesome dark chocolate truffles. A real triumph all round. We'll definitely be back to work our way through the rest of the menu, and would love to see a tasting menu or fixed-price menu make an appearance at lunchtimes to save us agonising over our choices next time!
Make the trip! It's worth it...
The Mermaid at Ellington
High Street
Ellington
Huntingdon
PE28 0AB
We dined as guests of the restaurant on this occasion.