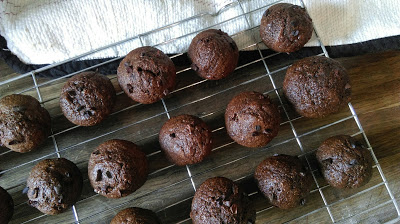 A spot of Sunday baking this weekend led to the creation of these tasty little muffins. They are super cute and the perfect size for little hands to grab, as well as being on the healthy side and really easy to make. I have been craving the simple combination of rye and cocoa since sampling one of the amazing dark chocolate and rye flour cookies at
Co in Cherry Hinton
, and knocked up a batch of these baby muffins on the spur of the moment - hence the cobbled together list of store cupboard and leftover ingredients!
Ingredients:
150g wholemeal rye flour
2 tbsp plain flour
3 tbsp cocoa powder
1.5 tsp baking powder
1 tsp bicarbonate of soda
1 large egg
150ml soured cream
1 large ripe banana
4 tbsp golden syrup (+ 1 or 2 more if your mix is too dry)
1 tbsp smooth no-added sugar peanut butter (we use Whole Earth)
Cacao nibs for sprinkling on top, optional
Sea salt flakes to garnish, optional (we left this off the toddler's batch)
You'll need: a mini-muffin tin with 24 holes and oil for greasing.
What to do:
1. Mix the dry ingredients together in a bowl. Preheat the oven (fan) to 160 degrees C.
2. Beat the egg in another bowl and then stir in the other wet ingredients, breaking up and mashing the banana to combine evenly.
3. Grease the tin thoroughly (I use an olive oil spray).
4. If the mixture is too dry, add more golden syrup to loosen slightly, although you do want it quite thick and smooth. Add more peanut butter, to taste.
5. Spoon the mixture into the holes of the tin, one heaped teaspoon per muffin and sprinkle with cacao nibs if using. You could use finely chopped pieces of dark chocolate or chocolate chips here too.
6. Bake in the oven for 10-15 minutes until risen; then check the muffins are cooked all the way through. Turn the tin and bake for 5 minutes more if needed. The muffins will stay pretty moist but your best bet is to take them out when they are still nice and soft and springy.
The muffins are delicious served warm or cooled, and may be shoved directly into little mouths or sliced and topped with extra peanut butter, sliced banana, a sprinkling of sea salt... You get the idea.
Check out my
Instagram feed
for more baby/toddler-friendly recipes and eating adventures!