There's another new Cambridge spot vying for our attention: the
Old Bicycle Shop
, a nice little bar and restaurant on Regent Street. It's a versatile place - we've found ourselves there for brunch, late lunch, and drinks on different occasions - and nicely put together, with a completely different feel to its sister pub The Cambridge Brew House on King Street. More importantly, there's food...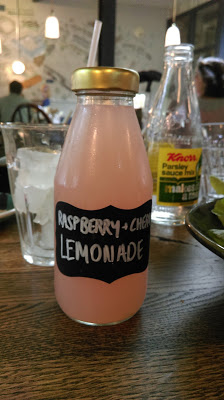 The Old Bicycle Shop menu is pretty simple, with a number of dishes that instantly held our attention plus really sweet touches like homemade lemonades and iced teas, a few healthier options (hooray for good salads in a pub), and more interesting side dishes (like the parsley and nori vegetables, and seasonal (when we visited) samphire, broad beans and asparagus). The prices aren't too bad either.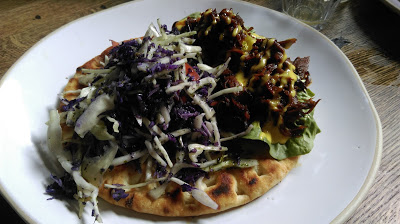 When we found ourselves there for a late lunch on a weekday, we hungrily tucked into generous dishes from the menu's good selection of main courses. The posh kebab got a big thumbs up: heaped, soft chunks of lamb shoulder on flat bread with coriander and ginger slaw and a saffron aioli made for a pretty hefty portion for £13.50. The grapefruit salad, as a main course, was the highlight. Paired beautifully with avocado, fennel, kohlrabi, and a hazelnut and sherry dressing, it was a huge bowl of (virtuous) summery flavours. At the more refined end of the menu, dishes like the delicate stone bass with crayfish and creamy Vermouth, and sea trout with black olive tapenade made us hungry for another visit.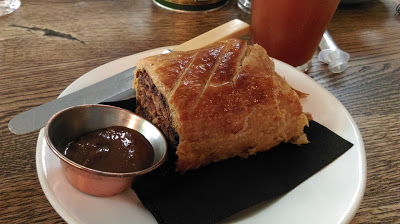 The Old Bicycle Shop also does brunch, and not just at the weekends. Cambridge has been crying out for a daily brunch place, no? The brunch menu is another triumph on paper, and drew us in with a great selection of traditional options, some with a healthy element, and lots of good egg and bread dishes. There are sweet potato pancakes, granola with apple compote, bacon baps and Croque Monsieur et Madame, and the ever-popular eggs with smashed avocado and eggs Benedict, Royale, or Florentine. We were suitably impressed by the Bloody Mary (with hot sauce in a syringe to add at your will), and the Cumberland sausage roll that you purchase by the inch (£1.25). Our main dishes were less impressive, however. The carrot and parsnip hash browns (£6, small, or £10.50, large - maybe) as a small dish was actually one individual hash brown which needed a bit more cooking. The wild mushroom, white bean, and chive aioli didn't liven things up as we'd hoped, and needed seasoning. The duck egg shakshouka (£6.75) was also lacking, leaving us wanting more flavour, more spice, more herbs, and a thicker sauce.

Next time we'll be ordering from the lunch menu. It's a great little spot, and lunch is served daily 'til 5pm, so there will definitely be a next time.