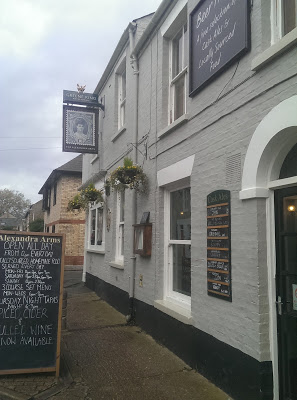 Popular family-run neighbourhood pub
The Alexandra Arms
on Gwydir Street is well known locally for its friendly welcome, traditional decor and good selection of real ales, ciders and craft lagers. Since being taken over and given a considerable revamp by the landlords of the Free Press in 2012, The Alex, as its affectionately known, has been giving other Gwydir Street ale pub The Cambridge Blue a run for its money. Now focusing on improving the food offering, including an early week 3-courses for a tenner offer and 'Tapas Thursdays', The Alex (and its log burner) seemed like a good choice for a Sunday roast on a rainy Sunday lunchtime. Used to seeing the bar area full of locals by midday at the weekends, we went for an early lunch and nabbed a cosy table by the roaring fire.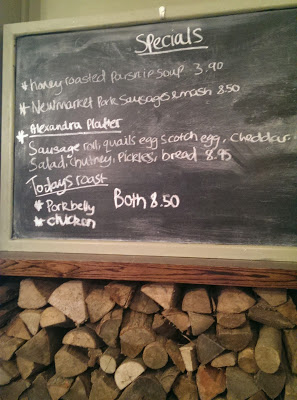 Good home-cooking and regularly changing specials feature on the menu at The Alex, including a choice of two roasts every Sunday between 12 and 2.30pm. The daily specials chalkboard displayed a simple offering of either pork belly or chicken at £8.50 so we went for one of each, our decision helped along by a friendly tip-off that the former included a thick slice of all-important crackling. The food arrived quickly, the plates not piled high but generously sized and each featuring plenty of gravy, meat, roast potatoes and seasonal vegetables. The roast chicken was a tender leg with crispy skin and wrapped in bacon and was demolished rather quickly! The well-sized slice of pork belly took a bit more work, its flavour from the melting layer of fat lost to the slightly too tough pork.
Four roast potatoes adorned each plate and were everything good roasties should be; golden-brown, crispy edged and dripping with richness, but with a firm, dense quality inside that, bizarrely, conjured up memories of home-cooking from childhood heated up later when the flavours have been left to intensify. The vegetables were just as comforting and tasty: two heaps of wintry braised cabbage, one red, one white, with a sharp but fruity tang from being cooked in vinegar, warming cinnamon, with possibly a hint of caramelised apple. A simple accompaniment that worked well on the plate and was filling enough to ensure we didn't miss our usual selection of roast carrots et al.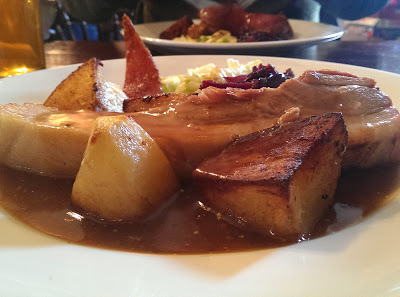 The simplicity of the plates meant that trimmings were limited to a jagged hunk of good, crisp and salty pork crackling, so tasty and full of flavour that it was left 'til last and every bite savoured, and a generous pouring of gravy. Without revealing too much of a guilty pleasure for lazy gravy, The Alex's rich, creamy gravy was quite possibly the best I've had in a while and reminiscent of the deliciously thick, strong flavoured versions of my student days (mine bulked out with a squeeze of tomato ketchup and a stack of seasoning rather than lovingly crafted from roasting juices). Mopped up by the crisp roast potatoes and dripping from every mouthful of tasty meat and al dente veg, the gravy was the ultimate homely treat holding it all together.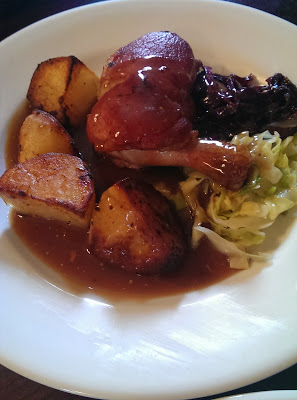 The verdict: An above average, no frills option for a relaxed and comforting Sunday roast. At £8.50 each The Alexandra Arms offers the most budget-friendly roast lunch we've encountered so far and one that does the job without compromising on overall quality.
The score: 3.5 out of 5 (1 on the scale being absolutely terrible and 5 equalling roast lunch perfection).

Price: £25 for two people including drinks.
With only two weeks left in the search for the best Sunday lunch in Cambridge we would love to hear about your favourite Sunday lunch spots in the city. Tweet your comments and recommendations using #SundayRoastReview to
@TheMovingFoodie
.
Read last week's review:
Pint Shop.