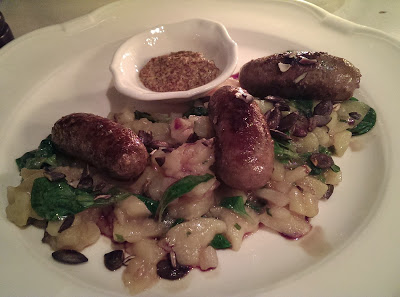 When we asked our Berlin guide, local food and wine fan Vanessa Rau, what was the city's main industry she laughed, immediately crying: 'Food!.. And Government, of course.' During a long weekend in Germany's capital city, renowned for its hugely significant history, arts, and all-night party scene, we soon discovered she wasn't joking.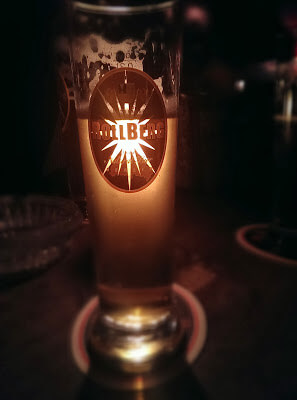 Whether combatting the cold and sinister air of a rainy November or a necessity to soak up the beer consumed at every bar, street corner and U-Bahn station, the Berliners do love a hearty snack. Food stands serve classics like the Currywurst we tucked into for a late breakfast on our first day: sliced Frankfurter sausage smothered in thick tomato-curry ketchup with a sprinkling of an ominous orange powder. Throughout the city the trend of eating outside continues whatever the weather. Markets pop up in every
platz
, the festoon-lit wooden huts buzzing at all times of day with punters enjoying hot
Glühwein
and sampling warming dishes of Bratwurst and potatoes, filled rolls from a fish counter, and all manner of sweets and pretzels.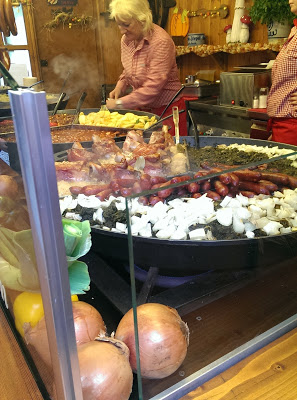 But Berlin's street food goes further than the tourist-pleasing Bratwurst and beer, and the Turkish contingent in areas like up and coming Kreuzberg means that kebabs are now just as synonymous with Berlin cuisine. Incredible spiced meats and Mediterranean-inspired dishes are served until late and 24-hour bakeries pump out the smell of fresh breads all night long, with a window from which to grab a bite on the way home from partying. The ultimate American-inspired street food, the famous hamburger, has also cropped up in the city in the form of quirky and cool
Burgermeister
, a kiosk selling gourmet burgers and fries from converted public toilets beneath a railway bridge. It's a small, perfectly functioning burger-making machine: shift staff work a production line to bass-heavy background music; customers enter through one door, place their order, take a ticket, and then watch for their red neon number to appear before exiting through the other laden with towering feasts of fresh juicy burgers, oozing yellow cheese, and piping hot French fries. Hungry hipsters and late night revellers crowd round the lean-to wooden bars and makeshift crate chairs sipping beers at all times of day and night, unfazed by the ever-growing queue.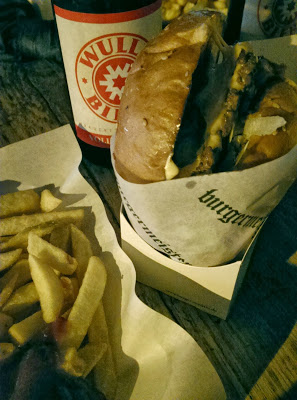 As gentrification shifts, fashionable areas of the city constantly create new foodie identities for Berlin. We find German dishes fused with Turkish, French, and Vietnamese cuisines, often served tapas-style at local wine bars and concept restaurants alongside the obligatory breads and
Brotzeit
: plates of cured meats, cheeses and pickled vegetables. At trendy
Ottorink Weinbar
, which boasts a list of 400+ wines, we sampled the typical dish of
Tafelspitz
,
with a modern twist, showcasing the unmistakeably Jewish roots of salted brisket, sharp gherkins and sweet onions, alongside fiery horseradish. We discovered fusions of French cooking and fine local ingredients at reliable Berlin bistro
Dressler
. Located in the more bourgeois and corporate west, white tablecloths and well-priced portions of oysters (with a distinctly German pickled relish and rye bread) and rotisserie Brandenburg farm duck transported us far from the rain-lashed pavements outside.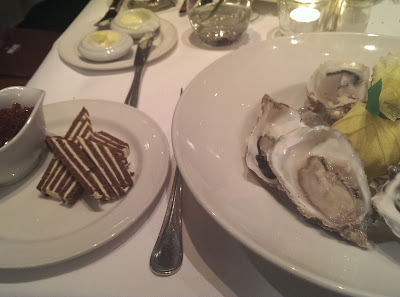 Berlin's beer gardens satisfied our craving for world-famed schnitzel and sauerkraut without feeling like tourist traps. Original Berlin pubs such as Dicke Wirtin offer friendly service, a good list of local beers and traditional cuisine like the huge portions of pork schnitzel and dill-spiked warm potato salad we ate in dark panelled booths alongside hungry locals. A final search for souvenirs led us to foodie heaven on the sixth floor at
KaDeWe
, Berlin's answer to Harrods. There we found scores of gourmet ingredients, exquisite cakes and handmade chocolates, an impressive cheese counter, and tasting bars ranging from live cooking to Champagne tasting. One floor up houses an upmarket buffet and amazing view of the city - best enjoyed at night from the plush cocktail bar, Aperol Spritz in hand.