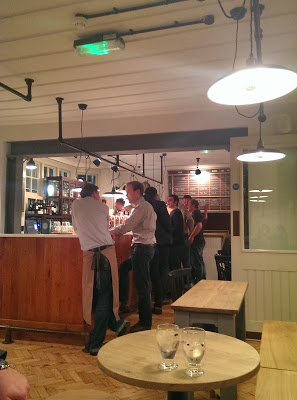 We're now on Week 8 of the
Sunday Roast Review
, our search for the best Sunday lunch in Cambridge, and we're becoming rather particular about the five essential elements making up the perfect roast dinner. Working our way through the city's food pubs and rating the roast meat on offer, the all-important roast potatoes, vegetable selection, gravy and trimmings, we're always open to something new or different to liven up our Sunday lunch experience. Enter the newly opened
Pint Shop
on Peas Hill: A traditional British boozer with dining rooms and a focus on all things meat, bread, and beer, and the perfect place to continue our search for the perfect Sunday roast.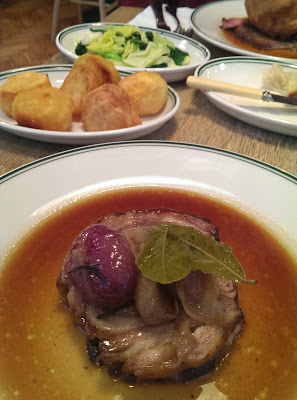 Rather than leaving our Sunday roast venue to happy coincidence again this week, we got organised and reserved our table at Pint Shop early in the week and spent the remaining days pondering over what the menu might contain. Changing weekly and with the seasons, the Pint Shop's bar food and dining menus feature a variety of exciting foodie treats from huge homemade scotch eggs to beer brined roast chickens and slow-cooked ox cheeks. The set Sunday lunch, served all day alongside a full menu of starters, mains and desserts, offered a choice of two starters, three roast meats, an optional cheese course, and a pudding. We got stuck straight in and opted for two courses for £17, including fantastic starters of potted beef with pickled walnut and sour dough toast and creamy smoked haddock and fennel soup topped with a soft poached egg. For the main event we opted for roast rump end of beef and brisket of lamb, the latter much anticipated after sneaking a peek on Twitter of it cooking on the spit. All of the roast meats came with dishes of roast potatoes and greens to share, which arrived to the table fresh and piping hot and smelling mouthwateringly good!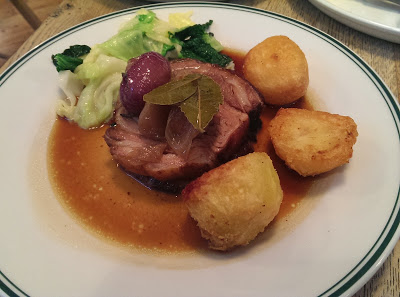 Both meats were fantastic; generously portioned, expertly prepared and cooked, and packed with flavour not always achieved by roasting. Staying true to the pub's best of British ethos, the chosen cuts were humble but clever treatment in the kitchen really made the most of them. The rump of beef was pleasantly pink and topped with blackened meaty beef ends; the rolled lamb breast - trendily referred to as brisket - pulled apart easily to reveal tightly packed layers of tender, slightly pink meat, with tasty titbits of cooked-down fat adding depth rather than weight. The meats were surrounded by plentiful moats of juice, as if straight from the roasting pan and bringing a well-seasoned and homely feel to the plate; clearly nothing in the Pint Shop's kitchen goes to waste, and we loved that.
And so it went on. The gravy was a match made in heaven for the roast potatoes served on the side. We had three each and could have eaten more of the small but perfectly formed, thickly coated, dripping-crisped roasties. Hot, soft and fluffy potato practically fell from within the glistening golden skin and immediately soaked up huge pools of pan juices, which we gobbled up greedily. Fronds of buttered cabbage and kale added to the relaxed decadence of the plate, with a good, refreshing crunch to cut through the meatiness. As filling and satisfying as the dish was, we could have done with a larger portion of the greens and a wider selection of vegetables wouldn't have gone amiss either. The accompanying trimmings set the Pint Shop aside from other standard pub roasts we've sampled; it was the first time we hadn't had a token Yorkshire plonked on every plate, which made a nice change, and we enjoyed a homemade horseradish (fresh and creamy if a little mild) and a proper fresh mint sauce (we suspect made with a tasty drop of sherry vinegar which cut nicely through the lamb). Sadly, the Yorkshire pudding was a little limp but didn't detract from the tasty beef. With the lamb, a fancy but simple touch was the addition of sweet, shiny and melting glazed shallots, which tasted as good as they looked. We left happy and pleasantly full, with good intentions to leave room for the apple and quince pie for pudding next time!
The verdict: A very welcome addition to the city centre's Sunday lunch scene providing a refreshing alternative to the usual pub Sunday roast. The relaxed and friendly atmosphere, top quality ingredients and good homely cooking make for a reliable option for an all-day Sunday roast.


The score: 4 out of 5 (1 on the scale being absolutely terrible and 5 equalling roast lunch perfection).

Price: £41 for two people including drinks (and including starters as part of the two courses for £17 Sunday menu).
Where should we have our next Sunday roast in Cambridge? Let us know your favourite Sunday lunch spots in the city and we'll rate and review them! Tweet your comments and ideas using #SundayRoastReview to
@TheMovingFoodie
.