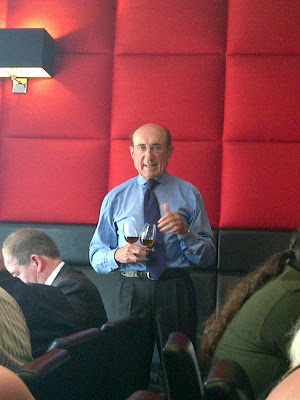 Beltran Domecq
Swiftly moving onto my second glass of pre-lunch sherry by half past midday on a weekday is not a regular occurrence for me. Yet I recently found myself at
Alimentum
on Hills Road doing just that. My hosts, IWC fortified wine specialist merchant for the last four years,
Cambridge Wine Merchants
, and their very special guest, Beltran Domecq, the President of the Consejo Regulador de Jerez-Xeres-Sherry and Manzanilla-Sanlucar de Barrameda, assured me that in Jerez, Spain, where the drinking of a chilled sherry often starts with tapas at 11am and accompanies every meal thereafter, my ten or so glasses over a leisurely lunch would constitute a slow day. Wow. Complete sherry novice that I am, I gave the tasting my best shot and every glass went down rather well considering the heat of the day and the high alcohol content. Beltran's explanation and tasting notes accompanying each sherry helped immensely, as did the spectacular menu prepared by Alimentum Chef-Patron Mark Poynton. It was a special experience and taught me a great deal: mainly that the best way to indulge my weakness for well-matched food and wine is to give me a three hour lunch break every day and never let my chilled glass of sherry run dry.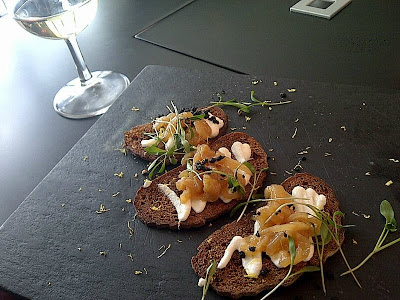 Canapes and Barbadillo Solear Manzanilla
The weather could be likened to the balmy climate of Jerez on Spain's west coast, a hot, stiff breeze blowing in from the Atlantic, as I escaped from the hot midday sun into the cool and ultra modern interior of Alimentum and was handed a chilled Cambridge Wine Merchants glass of the good stuff. My first taste was of a dry Barbadillo Solear Manzanilla; somehow familiar from my days of formal halls at Cambridge colleges, sipping the traditional aperitif from miniature sherry glasses, but altogether different in terms of flavour and style. There was a salty quality that matched the rye and apple canapes rather well and instantly boosted my appetite for lunch, and a surprising pungency and body to the sherry that I was only accustomed to finding in dessert wines. Technicalities aside, I liked it. A lot.
Cambridge Wine Merchants Tasting Glasses
Once seated in the private dining area set up for us at the back of the restaurant, with a fantastic view into the kitchen, we worked our way through a dozen more glasses of sherry. I tried to get to grips with the jargon and the various styles, as terms like VORS were bandied around (stands for Very Old Rare Sherries, don't you know) and we moved from Manzanillas to Fino, Amontillado to Palo Cortado and beyond, sampling some rather special bottles and learning about the producers, many of them small and independent and very serious about their national tipple. Anyone who's now saying "no, that's sangria!" ought to get down to Cambridge Wine Merchants (King's Parade, Bridge Street, Mill Road and Cherry Hinton Road) and stock up on a bottle or two of sherry, pop them in the fridge and enjoy as an aperitif instead of wine or beer one evening. I promise you'll be hooked.
Heritage tomato, feta cheese and mackerel
As always, I was on the look-out for the ultimate savoury flavours and wondered whether the fortified wines would overpower the delicacy of some of the dishes. A beautiful plate of smoked eel, celeriac, apple and truffle easily achieved the complexity and structure needed to stand up to the Amontillado sherries we drank with it, my favourite being a fantastic, nutty and very seasoned 30yo by Williams and Humbert Jalifa. The smoky, earthy aromas rising up from the truffle-topped dish were almost as intoxicating as the sherry; a great match.
Smoked eel, celeriac, apple and truffle, with Amontillado sherries
The highlight for me was the impressive main course of soft, slow-cooked pork belly, fillet and shoulder, and it's incredible affinity with the sweeter, more concentrated and very rare sherries from Palo Cortado. The rich, tender meat came drizzled with a sherry jus and served on a smooth peppery smear of black pudding, with rounds of swede adding a firm bite to proceedings. The dish was exquisite alone but with the glasses of Palo Cortado, both by Gonzalez Byass, an incredible sticky-sweet and raisin-y quality shone through and I found it impossible to choose a favourite from the Leonor and Apostoles. Discussion ensued about the shocking sugar content of such lip-smacklingly good PCs - about 500g per litre - with the paler, lower in calories, Fino sherries tempering my pre-wedding diet panic. After tasting how incredibly well they worked with the zingy and fresh mackerel and heritage tomato salad with which we had started the meal, I didn't need further arm twisting to give them a try.
Pork belly, fillet and shoulder, swede and sherry jus
And so it continued. We listened to stories of aged, seasoned oak barrels, cooling the high alcohol content by always chilling sherry, and navigating rare types, very rare types, and uniform bottles of typical regional examples. We swirled and sipped through Dry Oloroso sherries, tasting, according to Beltran, a typical Oloroso by Sanchez Romate Don Jose; not my cup of tea but a stiff, cleansing contender to the rich cheese dish of epoisses, onion and olive. Somewhere I've seen it written, perhaps in jest, that the French word epoisses, traditionally a cave-aged cheese from Bourgogne I believe, means 'completely worth the effort.' Whether this refers to the washing in marc de Bourgogne that takes place during ripening, or the care taken to serve at the perfect melted, but not dripping, consistency, it was certainly a very welcome alternative to the bog-standard cheese and biscuits course.
Epoisse, onion, olive with Dry Oloroso sherry
The lunch drew to a close with an impressive finale of two desserts and, one of my highlights, an exquisite drop of Valdespino Pedro Ximenez (now I know what everyone's raving about when they talk of PX). We ate delicate pineapple chunks, injected with a serious taste of charred BBQ and juices mingling with lime and yoghurt to create a light and summery Caribbean vibe. In stark contrast, a beautiful and rich dish followed; a winter's scene of lemon, fennel pollen and white chocolate powdery snow, topped by an abstract snowflake. Palate frazzled, I found I had some preconceptions about sherry with dessert which I couldn't shake. As much as the savoury matches had completely won me over, I found sherry, as I do dessert wines, a little heavy with the delicate, sweet flavours. But, sherry novice that I still am, what do I know? I'm definitely open to persuasion... Next stop,
España!
I drank and dined as a guest of Cambridge Wine Merchants, who supply the Alimentum sherry list and stock a wide range of sherries in all of their branches ~ including the Cherry Hinton Road branch where you can also enjoy a drink in their wine bar.
CB1 7BX
Alimentum
152-154 Hills Road
Cambridge
CB2 8PB