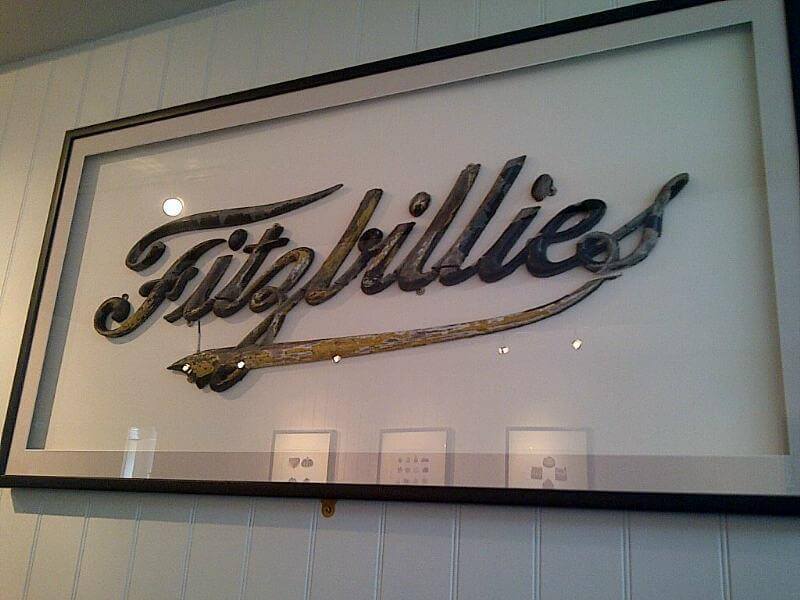 Writing a review of one of my favourite restaurants in Cambridge is not an easy task. I could work my way through the usual potted history of the infamous Fitzbillies bakery-cafe-restaurant, covering everything from the acclaimed Chelsea Bun to the recent successful rebirth as a foodie's dream thanks to food writer Tim Hayward and wife Alison, and chef Rosie Sykes. There's also its widely quoted accolade as a 'Cambridge institution' to squeeze in but this goes without saying nowadays and has been written countless times elsewhere. I'm presented with some difficulties when embarking on an impartial, fair review of Fitzbillies; on the one hand, I've become such a regular visitor that I can give a nice rounded overview of cakes, coffees, lunch specials, and packed pop-ups. On the other, I hold such high expectations for the place that I fear my standards are slightly skewed - in the sense that I want every dining experience there to be the best I've ever had. After a particularly impressive meal at Fitzbillies at the weekend I feel the need to share... I hope my feelings stay the same once committed to paper.
Fitzbillies opens daily for coffee, cakes, the famous Bun, does a fantastic daily changing lunch menu, and sticks firmly to fresh, seasonal, homemade ingredients. The dinner menu is the real treat, however; changing weekly and served on Thursday to Saturday evenings only, it is the right side of adventurous. The dishes are carefully constructed, creative and achieve the delicate balance between perfect simplicity and pretentious fine dining. The menu takes some studying - diners are always provided with about five options per course - and may be a little wordy, but taking in the wonderfully intricate descriptions is a tremendous experience and certainly whets the appetite. We started our evening with a glass of Alphonso mango fizz (each week a different puree is made in house and topped up with a fine, and generous, helping of Prosecco) and enjoyed the images and flavours conjured up by mentions of gooseberry and tarragon sauce, guineafowl poached with elderflowers, prunes and English strawberries in Beaujolais. The senses can run a little wild, but we tempered them by tucking into delectable homemade cheese straws - baked to a perfect crisp with a hint of sesame - and a complimentary platter of bits and pieces from the kitchen, including finely sliced dried and cured venison, fresh radish and a heavenly anchovy dip. The latter paired particularly well with the buttermilk bread from the basket of still warm breads, made daily in the Fitzbillies bakery, of course.



The menu delighted and surprised us at every turn. The crab cake and pheasant egg starter with gooseberry and tarragon sauce, in reality, was an incredibly pretty, delicate and perfectly formed Scotch Egg, prompting heated discussions about hints of saffron and future plans for herby gooseberry conserves. The men closely guarded generous plates of pink goose ham, fat on, and dense, spongy liver toast, all topped off by a vibrant red nasturtium flower and a side of spiced, soaked apricots, and we all marvelled at the chargrilled calabrese, spring onions and garlic which, together with a well-balanced dressing of anchovy, chilli and lemon, was the epitome of summer dining. Firmly within the £5-£7 price range, the thoughtful, freshly prepared dishes represent great value, too.
The main courses had us equally captivated and ticked all of our respective boxes; one of our party had grumbled about small portions on a previous visit to Fitzbillies but this was remedied (and then some) by the pleasing, wholesome plates that arrived. Another has a pet hate of vegetables featuring as a mere garnish, but not at Fitzbillies; long, bright carrots so fresh from the allotment you could taste the dirt were made a feature rather than an afterthought. Having touted the restaurant to my fellow diners as the champion of good, honest British food in Cambridge, I was pleased to see some essential elements on every plate - expertly cooked meat, great seasonal flavours, with an all-important big glug of gravy or sauce. The lamb neck fillet, grilled pink and served with stewed courgettes and Jersey royal potatoes tossed in garlic and thyme, was a simple, homely but very tasty plate of food. Won over by the presence of quintessential early-summer ingredient, the elderflower, both of our party's female diners opted for the guineafowl. The tender guineafowl, robust, meaty and skin-on, sat atop a sweet, earthy bed of elderflower juice and puy lentils - a combination that really made the summer flavours shine. The grilled herring was another highlight; pleasingly charred and stuffed to bursting with fresh samphire, served with some kind of lemon and olive confit which gave the dish a strong sunny Mediterranean vibe. The main courses range in price from about £12 to £17, with a reliable, succinct wine list providing a good variety of matches by the glass or the bottle. We particularly enjoyed the French house red, a well-rounded, full bodied but dangerously easy drinking drop from the Languedoc.
Overall, it is the glowing review I'd hoped and feared for. But Fitzbillies deserves it. Nowhere else in Cambridge is consistently achieving this skill, flair and spot-on seasonal creativity at these prices. Long may it continue.
Fitzbillies
52A Trumpington Street
Cambridge
CB2 1RG
Note: we did not dine as guests of the restaurant on this or any other occasion.