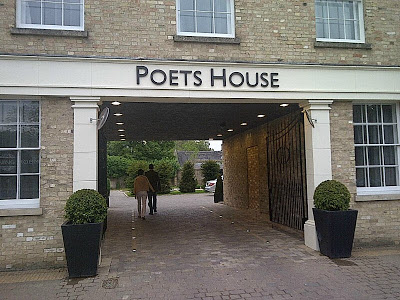 Poets House, Ely
After my first visit to
The Dining Room at Poets House
, a new boutique hotel in the centre of the picturesque Cathedral city of Ely, I declared it well worth making the 15 minute train journey from Cambridge. On my return visit a few weeks later, I was ready to up sticks and move in...
The Dining Room at Poets House
A good proportion of both of my visits to
Poets House
in Ely has been spent agonizing over the menus. And I'm not just talking about the food; the cocktail list calls for a full evening's browsing (and drinking) too. The setting is perfect for taking one's time. From the sumptuous upholstered Chesterfield armchairs in the contemporary bar, to the hushed grey tones and crisp white linen tablecloths in the dining room, the whole place is cool, calm and collected. The waiters smoothly employ all the usual tricks to win us over: recognising me on arrival (from my
previous visit with fellow Cambridge food blogger Sian)
and later presenting the Birthday Girl with a complimentary dessert they'd heard her deliberating over (in addition to the one she'd already chosen, and devoured, of course). The set-price menu and a la carte are equally crowd pleasing: fluid and well-pitched for a variety of tastes and budgets. A focus on fine dining is clear, with just enough fancy touches to make you certain the boutique hotel rooms upstairs will be pretty luxurious, without being overly fussy. There's the popular theme of quality, locally sourced and seasonal produce running through the menu and some nods to classic British and modern European dining to excite the foodies amongst us. Overall, its exciting stuff for a sleepy little city in the Fens.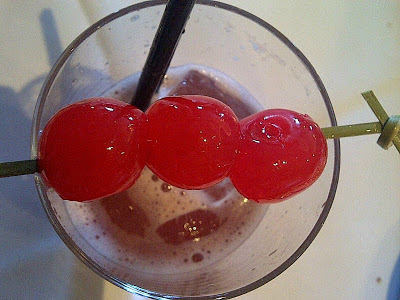 Cham 69 cocktail
The weekly changing Market Menu proved to be great value at £22.50 for two courses and £25.50 for three, featuring an interesting, if succinct, selection of three dishes for each course. A starter of chicken liver parfait semi fredo was almost too pretty to destroy; the classic combination of cool folds of rich parfait and sticky sweet onion marmalade as pleasing to the palate as it had been to the eye, if slightly marred by the bitter, almost burnt, edge to the intricate pieces of ginger bread tuile. The ever-popular fine dining pairing of pork belly and smoked eel from the a la carte starters was also right up my street; the pressed pork uniformly crisp, succulent and savoury against the spectrum of smoky, strong and sweet eel brandade and horseradish and apple.
Chicken Liver Parfait Semi Fredo


Pressed pork belly with smoked eel brandade, apple, horseradish
The braised feather blade of beef to follow was tender, melt-in-the mouth stuff, more generous than expected for the set menu price, and the plate a delightful summer picture of charred sliced asparagus resting on vivid yellow and green purees of watercress and mustard mash. However, nothing could compare to the Riverside beef fillet I'd sampled from the a la carte menu on my first visit. I love it when a dish has been put together seemingly for my sole enjoyment. It was the pot of gold at the end of the beautiful, draped ribbon of local rainbow chard: perfectly rare, flavourful Riverside beef, smooth and velvety slow-cooked cheek, and a roasted shallot tart with a rich, sweet glaze that I'll never forget.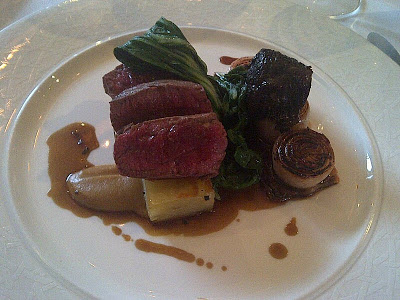 Fillet of Riverside beef, slow-cooked cheek, shallot tart and chard
Although the restaurant clearly works hard on presentation, it doesn't skimp on portions - even the rather dainty main course of roast hake brandade, which was found at the bottom of a huge deep basin surrounded by a leek, pea and watercress veloute with a duck egg yolk bobbing alongside. The menu of side dishes is on hand for those with larger appetites. We barely saved room for the triple-cooked truffle and parmesan chips and toasted almond purple-sprouting broccoli ordered to accompany our mains, and sorely regretted it. It was the stuff that calorie counters can only dream of tucking into; butter-drenched,
al dente
broccoli and the ultimate indulgence of richly flavoured, decadent and incredibly moreish fat chips.
Pan roast hake and leek brandade, duck egg yolk
Purple-sprouting with toasted almonds; truffle and parmesan chips
The a la carte dessert menu was equally well-populated, featuring twists on British favourites such as Rhubarb & Custard (custard cream, poached and parfait rhubarb with soft meringue) and a fantastic nod to local ingredients, Peanut Butter Jelly, served in a mason jar of Cambridge custard with strawberry 'jelly.' The Market Menu's desserts felt a little limited - only one of the three tempted me - but the chocolate ganache, raspberry and crispy milk turned out to be way more than we'd bargained for. A platter, almost, of dark, smooth rolls of chocolate accentuated by a delicious raspberry sorbet. We couldn't decide how we felt about the crispy milk; it looked pretty but didn't do much for the flavours in the dish. The highlight of the dessert selection, and possibly the entire meal, was an ingenious creation that smacked of British fine dining: Mrs Temple's Binham Blue ice cream, complete with a warm, sweet topping of red onion marmalade and slithers of spring onion, celery and pear. It was an intriguing combination of sweet and savoury, frozen and meltingly warm, which surprised and delighted at every mouthful - 'though I'm saddened to since discover that one can also buy blue cheese ice cream in supermarkets! I'm going to make a point of only enjoying my Binham Blue frozen and at Poets House forever more.
Chocolate Ganache, raspberry and crispy milk
Mrs Temple's Binham Blue ice cream
I dined as a guest of the hotel on one occasion. On the other, it was a pleasure to part with my hard-earned cash!
The Dining Room
Poets House
St Mary's Street
Ely
Cambs CB7 4EY
Tel: 01223 653111