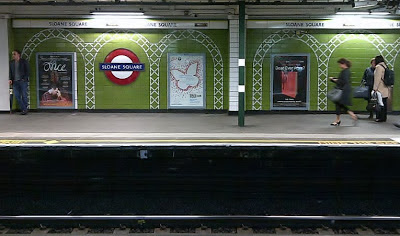 I don't get out much
...
of Cambridge, that is. So when I was invited to hop on a train and visit a little Italian restaurant in Chelsea known for its in-house mozzarella, I was more than happy to leave Cambridge behind for an evening and taste the delights of the Big Smoke.
Mozzarella & More
on the King's Road is the newest addition to the
Made in Italy
family, a small London-based chain of authentic Italian restaurants. Don't let the name put you off; there are no gimmicks here, and the divine mozzarella more than makes up for it.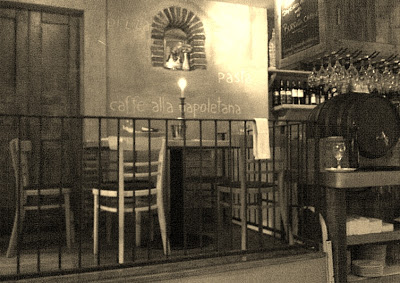 Whilst we're embracing the cheesiness, visiting
Mozzarella & More
felt like being on holiday for the evening; starting on arrival with the warm Italian welcome and rather quaint atmosphere created by the exposed brick, glowing candlelight, and simple wooden furniture. The interior is styled like an authentic trattoria, packed to the rafters with rustic Italian food paraphernalia and an entire window display of strings of onions and chillies, bowls of typical fresh produce and herbs. Fortunately the authenticity of the place doesn't stop at the decor. Unlike many restaurants purporting to offer the full Italian experience,
Mozzarella & More
has a few rather tasty tricks up its sleeve; namely its selection of buffalo mozzarella and burrata made in-house and, well, much more. 'More' consists of freshly made, daily changing specials, and Neapolitan classics disguised as contemporary cuisine. Each dish was unmistakeably fresh and full of flavour, creating a line-up of Italian family favourites fit for the most traditional of tables.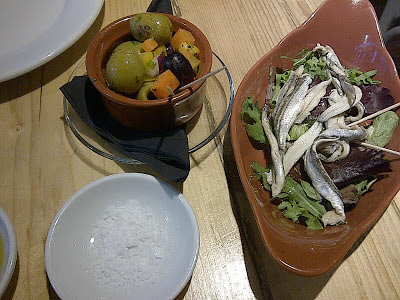 The menu at Mozzarella & More is long but certainly not rambling. Succinct and obligatory stuzzichini (also known as nibbles) and antipasti feature bowls of home-marinaded olives and delicate anchovies, alongside almost juicy, lightly salted focaccia bread and refreshing glasses of Prosecco. A generous starter came in the form of a big hunk of mozzarella selected from the day's specials. Anywhere with a dedicated mozzarella bar obviously has some love to share. And share the love we did; from the marvellously light, meltingly soft texture of our rough and ready mozzarella ball, to the ingenuity of sweet chargrilled fennel, the juicy slice of orange hidden beneath, and its generous drizzle of sticky balsamic glaze. The flavours were pure summer barbeque, and not of the British variety.
Choosing a main course was more of a challenge. The menu offers meat and fish from the grill, stone baked focaccia (complete with childhood memories, apparently), and homemade pastas. Familiar flavours crop up; of lemon and thyme, olives, red onion and capers, spicy salamis and Sicilian oils. The menu ventures into unknown territory at every turn and features home-made sausages with pistachio and fennel, chilli and pumpkin bruschetta, and smoked mozzarella. We discovered a very special lobster lasagna gratin; an unlikely triumph which surprised us with every mouthful. Sweet tender lobster meat suddenly seemed right at home between thick layers of fresh lasagna, and even more so swimming in a bechamel bisque with a hint of delicate lemon cutting through the decadence. An equally flawless pasta dish made us smile. Generous helpings of ricotta held the classic combination of strozzapreti pasta, pancetta and pesto together, but the addition of pistachio gave the pesto an extra special kick of sweetness.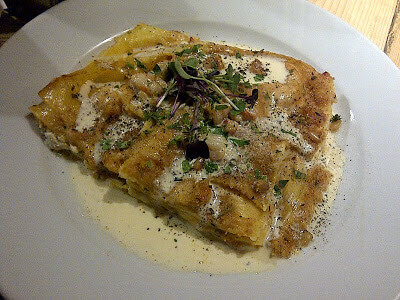 Almost beaten by such huge portions, it didn't take the manager long to persuade us to share the chocolate fondant for dessert, pictured here against the pretty backdrop of an original
Tamara Tobias
(a beautiful new range of digitally printed scarves available to buy online). A real crowd pleaser, the homemade fondant ticked all the right boxes. Large enough to share, check; moist chocolate sponge, check; and an oozing, molten centre of smooth and shiny chocolate... a definite, big, check. Our verdict? Mozzarella & More is the kind of place we want to discover on every rainy Thursday evening and we'll definitely be back to work our way through the mozzarella bar. And more.