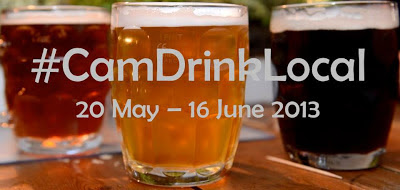 Following in the footsteps of the recent
#CamShopLocal campaign
, which took place in Cambridge in April and proved to be an incredibly fun and educational way of encouraging people to seek out and sample what's on offer from our local, independent shops and suppliers, we're about to embark on a whole month of drinking local. This doesn't just mean you've got an excuse to prop up the bar in your local indy ale house or community pub (although, why not?). It's much more exciting than that.
#CamDrinkLocal
- a hashtag coined over a half of ale in Cambridge's newest Milton Brewery pub, the Haymakers, and used with kind permission of #CamShopLocal blogger,
Carri Pavitt
- is an entire four weeks devoted to the quest for our area's best local tipples. We're on the hunt for all locally grown, produced, brewed, distilled or fermented drinks - from local beers, ciders, wines and cordials, to coffee, teas and anything else you can find in Cambridgeshire and our neighbouring counties. During the
#CamDrinkLocal
campaign, running from Monday 20 May to Sunday 16 June, we'll be out and about investigating and tasting at local breweries, pubs and bars, cafes and restaurants, farm shops and orchards, and maybe even a few local vineyards.
This week we'll be compiling a list of drinks producers in the area who want to get on board and share their passion for drinking local. We want to hear from local brewers, spirit distillers, wine producers, and producers of local juices, cordials, smoothies, teas, coffees and more. If you sell local drinks and want to tell us about why stocking and drinking local is best, let us know. If you simply enjoy a superior tipple and think you can pledge your support by only drinking local for a month, get in touch!
We'll share our findings here on the Blog (and also here on Carri's
blog
) and news will follow shortly of the programme of events during
#CamDrinkLocal
, kicking off rather nicely with the
CAMRA 40th Cambridge Beer Festival
from Monday 20 May to Saturday 25 May on Jesus Green which will showcase a huge range of beers, ciders, English wines, and get all you local drinkers in the mood for the campaign.
JOIN US NOW by following the hashtag
#CamDrinkLocal
on Twitter and tell us what drinking local means to you...
*NEWSFLASH! With a day to go until the #CamDrinkLocal campaign begins, the lovely and local
Cambridge Brewing Company
has offered to brew a special #CamDrinkLocal beer to mark the occasion! We need your help to create this limited edition ale using locally sourced ingredients - leave a comment below telling us what you'd like to see in this special beer, and then you can meet us at
The Cambridge Brew House
during June to help drink it!
We're looking forward to hearing from you!*