The Snug
had some exciting news to share with local cocktail lovers this week as they launched revamped food and drink menus at their Lensfield Road and East Road branches. On Wednesday bloggers, journos, and even radio DJs flocked to the city centre cocktail bars and tucked into signature burgers, Man vs Food inspired mixed grills, and sipped their way through the new Little Red Book of Snug cocktails. The Snug has long been a reliable option for a French martini and a sharing platter. But now, refreshed by its mini facelift, there's definitely more to shout about. I invited discerning diner and cocktail demon,
Miss Dixon
, along for drinks and dinner on Wednesday evening, and here's what we liked best...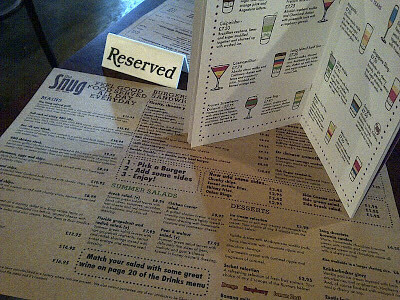 1. The Menus
Stiff brown card menus display neat, if slightly safe, selections of sharing platters, signature burgers, salads and grills. The new Little Red Book of Cocktails is a delight to browse; divided into sections to best showcase the bar's classic cocktails, punters' favourites, and those created in-house. A handy 2-for-1 offer takes pride of place in the centre spread, where hand-drawn illustrations please the eye and fun descriptions tempt the taste buds. Flicking through the hefty menu, we loved the sound of The Snug's ice cream cocktails, jam jar drinks, winter warmers, Champagne cocktails, and naughty shooters.
2. Classics with a Twist
If Sex and the City taught us nothing else, it's that an essential ingredient for a proper girly cocktail is a classic Martini glass. From those glasses we chose to sip The Snug's French Martini, an addictive classic of fresh pineapple juice, raspberry vodka, and sweet Chambord, and an inventive Sparkling Apple-tini made with an intriguing sour oriental apple vodka, elderflower and Prosecco. I was tempted to rename it Apple Overload, but it certainly made a change from my usual Cosmo.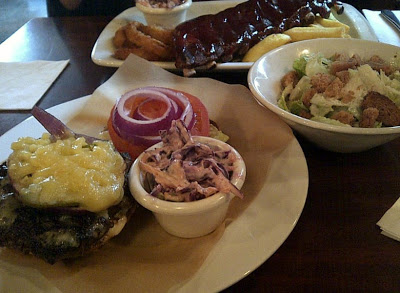 3. Food for Drinkers
Okay. So The Snug might not be top of the list for a special dinner date or foodie feast, but it does "drinking food" rather well. You know, food that you want to tuck into before you get your drink on, and nibble during, and gorge on after a few cocktails have slipped down a little too quickly. The burgers are a good choice, freshly made every day using tasty British beef and at their best when smothered with melted mature cheddar and loaded with a forkful of homemade red cabbage coleslaw. The grill menu is for a serious case of the munchies, featuring huge dishes like the Coca-Cola BBQ ribs we shared between us and still couldn't finish. Glazed with sticky sweet sauce, with big crisp onion rings and thick-cut chunky chips to scoop up the extra, the ribs are a challenge worth betting a round of drinks on.
4. Mixology
The staff at The Snug love to talk cocktails (almost as much as they love to drink them) and certainly used their expertise to good effect when faced with two tricky customers on Wednesday evening...
Me: "I love really sour cocktails... Oh, this Apple-tini is way too sour."
Miss D: "I have no idea what I fancy; surprise me."
The result? Plenty of boozy banter about our tastes, ingredient combos, and, of course, preferred glass types. We also enjoyed two beautiful cocktails, perfectly matched to our tastes, and tailored to our picky palates. Yet another martini, of the Espresso variety this time, was our top tipple, closely followed by an ingenious Snug creation of raspberry jam, apple, lemon and gin served up in an ice-filled jam jar. Awesome.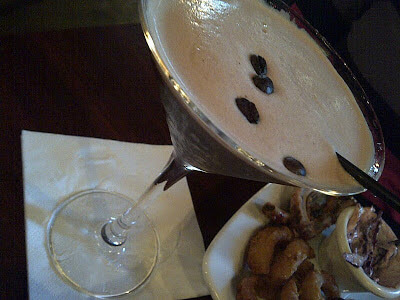 5. Being snug in The Snug
We can't write up our highlights of the cocktail bar without giving a special mention to the snug-like feeling an evening in The Snug gives you. Warm, welcoming, yet dark and mysterious, there's a certain underground atmosphere to the bar. Maybe it's the dark wood, the low lighting, and deep red walls, but even without a drink in hand its tempting to spend a whole afternoon hiding away in the friendly cocktail cavern. We spotted a fantastic blueprint-style piece of art on the wall featuring sketched representations of each of The Snug's favourite cocktails, too. Spot the cocktail? Hours of entertainment right there. The Snug really has got it all, cocktail fans.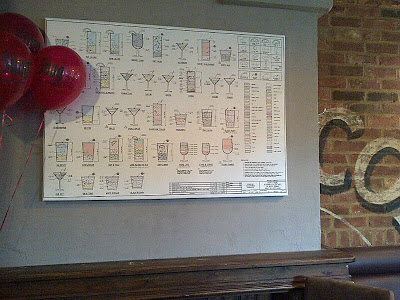 We dined (and drank) as guests of The Snug bar on Lensfield Road.