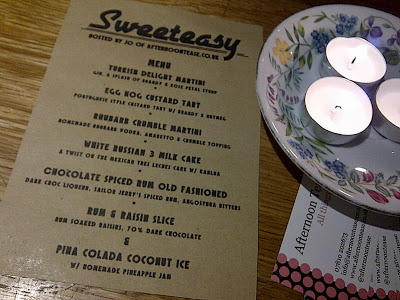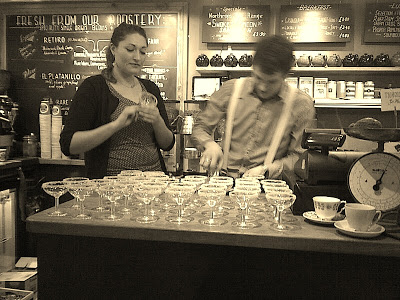 #Sweeteasy
is a cake and cocktails event created and hosted by local cake baker
Afternoon Tease
, inspired by the underground speakeasy of the Prohibition era and fuelled by a love of all things sweet and boozy. The first event
back in February
was a huge success, selling out in record time and featuring ingenious creations such as the Mojito donut. When news of a follow-up event began to circulate on Twitter a few weeks ago, I cleared my social calendar, grabbed some cocktail-loving friends and got booking. And last Friday evening we got our vintage 1920s glad rags on and made our way through the rain to the candlelit Hot Numbers Cafe, where an incredibly inventive menu of, pay attention now, cocktail-inspired cakes and cake-inspired cocktails awaited.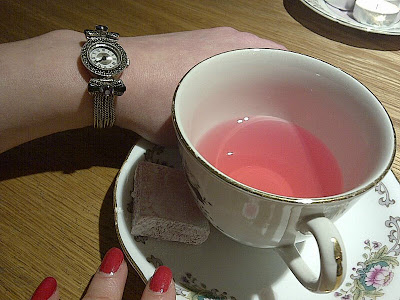 First up, the delicate and soapy flavours of rose petals made for an impressive Turkish Delight Martini, served in a teacup with a hefty hit of gin and an instant wave of holiday nostalgia to kick the evening off nicely. Soon after, the delightful and warming brandy and nutmeg in the egg nog Portuguese custard tarts tugged on a different heart string entirely - as Miss V put it: "I'm suddenly feeling totally Christmassy." We already knew to expect superb baking from Afternoon Tease, but these tarts were something rather special; creamy, light and packed with balanced spice.
More treats followed. The Rhubarb Crumble Martini with homemade rhubarb vodka and amaretto was the evening's favourite drink. Served in a martini glass dipped in sweet crunchy crumble, the pretty pink martini wasn't as feisty as the other cocktails and the gorgeously tart rhubarb vodka tipped the balance away from the sweetness too often present in girly pink martinis. It was incredibly addictive and disappeared rather too quickly! Fortunately the next cake on the menu arrived to keep us occupied and this was another heavenly combination of booze and baking prowess. The 3 Milk Cake with Kahlua inspired by the famous White Russian cocktail was a twist on a Mexican Tres Leches cake. I'm not familiar with the cake but learned to love a well-made White Russian during my student days and all the best notes were there in the succulent sponge and rich cream topping, though the Kahlua took some searching for.
For those with a very sweet tooth, the evening's finale was a huge hit. A good potent Old Fashioned was the ultimate serious drinker's cocktail, spiced with premium dark chocolate liqueur to give a decadent after-dinner
digestif
quality. To accompany the warm fuzzy effects of the feisty cocktail little squares of Rum & Raisin Slice and Pina Colada Coconut Ice gave us our final sugar hit. Both were beautifully made, the Pina Colada's homemade pineapple jam filling being the winner on our table and the chocolate-dusted Rum & Raisin cake dividing opinion between 'cloying and overpowering dark chocolate' and 'pure genius'. All too quickly, we had worked our way through the entire menu and were planning which bar to visit to continue the party. With jazz piano tunes ringing in our ears and recipe ideas for our own boozy creations being bandied back and forth, we celebrated an evening well spent with a nightcap at nearby cocktail bar 196 on Mill Road. To experience
#Sweeteasy
yourself, keep an eye on
Afternoon Tease
's
tweets
and
blog
for information about future events.
Enjoy! :-)