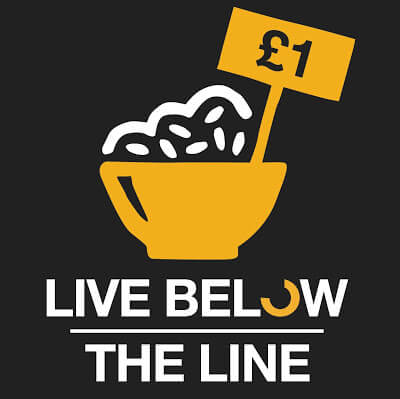 For 5 days, from 29 April to 3 May, I'm going to resist all extravagant, foodie urges and live on less than £1 a day. Find out why I'm embarking on such a crazy challenge below...
The recent #CamShopLocal challenge inspired me to think differently about the availability of food and working a bit harder to put together my meals each day. It also made me consider how much time and money I was spending on food; this became much clearer when my food shopping was broken down into individual components and visits to different independent shops. I was very aware of waste because I wanted to make my purchases last as long as possible, to save further time-consuming visits to shops and markets, so I tried to be more creative with recipes and cooking methods. I think this led to me spending less, although I did note I spent more money on items I wouldn't usually see on my shopping list because it was easier to get hold of locally! Overall, it was a great and worthwhile learning experience and has reinforced my support of shopping local and independent, if nothing else.
Always up for a food-related challenge, I'm thrilled to have been asked by
Oxfam
in East Anglia to be their local "
Live Below the Line
" ambassador, a campaign challenging people to live below the extreme poverty line, on less than £1 a day, for 5 days from Monday 29 April to Friday 3 May. I've agreed to take this challenge and write about my personal experiences here on the Blog. I'm already considering ways to live on super budget ingredients - I'm thinking lots of homemade soup, porridge and pulses - and drawing inspiration from blogs like
The Skint Foodie
and
North/South Food
. Forward planning and sourcing cheap food locally will be key so I'll be digging into recipe books like
The Kitchen Revolution
and
Seasonal Food
for tips on making ingredients go further and eating seasonal food that is at its best in terms of taste and nutrition.
Just in case you hadn't noticed, I really love food - especially eating out - so I'm sure the campaign will present real challenges. Sadly, my foodie dilemmas are nothing compared to the daily challenges faced by people living in poverty, and this is what the
Live Below the Line
campaign seeks to raise awareness of. To put it into perspective, more than 1.4 billion people worldwide (that's over 20 times the population of the UK) live in extreme poverty. Charities like
Oxfam
are constantly pushing for change and appealing to people to get involved with their fundraising initiatives.
If you'd like to make a difference and join me in supporting the campaign, you can sponsor my challenge and help me to reach my fundraising goal of £500, here:
www.livebelowtheline.com/me/themovingfoodieblog
. You can also GET INVOLVED yourself. You can find out much more about Live Below the Line and how to sign up, here:
www.livebelowtheline.com/uk-oxfam
. If you do sign up, please share your own accounts of the challenge via
Twitter
,
Facebook
and by commenting on this blog post, below, so that we can keep track of our progress together and share tips and recipes.
Thanks for your support!