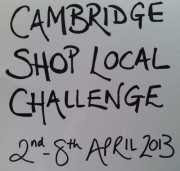 I'm publishing a local shopping diary and recipe post every day this week in support of the #CamShopLocal campaign, a Cambridge initiative launched via a flurry of tweets between
Carri Pavitt
,
Caroline Biggs
,
Gemma Whiting
and
Gavin Human
. The week long campaign challenges local people to choose local, independent shops over supermarkets and chains in order to support the economy in our area and all those who contribute to it. Many independents have pledged their support for the campaign (you can follow its progress by using the hashtag
#CamShopLocal on Twitter
and by visiting the
Facebook page
) and a great number of locals have taken on the challenge. Find out more about the campaign on
Carri Pavitt's blog
. I hope the food-themed #CamShopLocal posts I share this week help others to join in with the campaign too...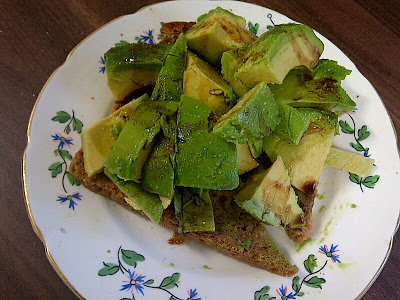 Breakfast was avocado on rye bread from the selection of vegetables and fruit delivered to Chesterton Road Spar daily by Les Ward Greengrocers. I'm still not bored of this breakfast; the avocados delivered by Les Ward are always perfectly ripe and great mushed up with a drizzle of balsamic vinegar and a sprinkling of sea salt. Rye and sunflower bread was from
Cambridge Continental Deli
on Chesterton Road at the beginning of the week. Approximate cost per serving £2.
I hoped to find the fresh fish van by The Portland Arms at lunchtime as it didn't make an appearance yesterday and I had made plans for dinner based around a piece of fresh fish. It wasn't there and I couldn't find any other shopping options for fish within walking distance so settled for doing some shopping at
Radmore Farm Shop
where I also picked up some toilet rolls (£1.99) and a homemade Parsnip Soup for lunch (in a handy plastic tub to be microwaved at work and then reused). I ate it with wholemeal organic bread rolls from Cobs Bakery at Radmore Farm Shop, which I bought on Tuesday to last me the whole week. Cost per serving £3.50.
For dinner I bought some free range chicken breasts, cherry tomatoes and Jerusalem artichokes from Radmore Farm Shop to make a
tatin-style dish
using the leftover chorizo, puff pastry and rocket from earlier in the week. Approximate cost £5 per serving. Here's the recipe:
Ingredients (serves 2)
2 free range chicken breasts, skin removed
Large handful of cherry tomatoes
1 red onion (from store)
2 garlic cloves (from store)
1 tbsp olive oil
2 Jerusalem artichokes
100g Chorizo
Half a sheet of puff pastry
1 red chilli (from a jar of marinated chillies given as a gift from an indie deli in London)
2 tsps Paprika
2 tsps Thyme
Pinch of saffron
Molasses
Salt & pepper
Rocket or green salad, to serve
1.
Roast the cherry tomatoes
with chunks of red onion, bashed garlic cloves and olive oil in the oven at a low heat for 45 minutes to 1 hour until softened and slightly browned. Remove and set aside in a bowl.
2. Scrub the artichokes and cut into 1cm slices. Place on a baking tray, drizzle with olive oil, add sea salt and thyme and roast in the oven at 200 degrees until golden and slightly crispy on the outside (for about 25 minutes).
3. When the artichokes are nearly ready, dice the chicken and stir fry until cooked. Fry off the diced chorizo in a pan and then add the roasted tomato, onion and garlic mixture. Add paprika, thyme and saffron and diced chilli and stir to combine. Add a touch of water, a couple of teaspoons of molasses or dark brown sugar and season well. Leave to reduce slightly for a few minutes.
4. Lay the slices of roasted artichoke in the base of an ovenproof dish. Transfer the rest of mixture to the dish and roll out a thin sheet of puff pastry to top the mixture. Lay it over the dish and tuck the edges in all around the chicken and chorizo mixture. Pop into the oven at 180 degrees for about 30 minutes, or until the pastry is cooked through all over. Remove and turn out onto a board. Slice and serve with rocket or a green salad.
Enjoy! :-)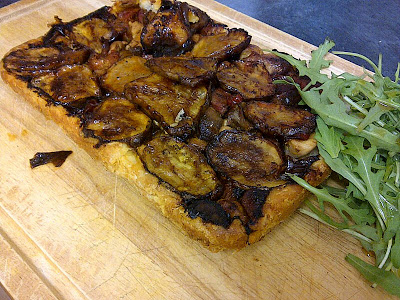 Notes: I also popped to the pharmacy on Milton Road (in the parade of shops almost opposite Union Lane) for some deodorant, which cost me £1.69. It can be a bit time-consuming juggling the different trips to various independent shops as well as a full-time day job but I've built up quite a rapport with the shopkeepers in the area and it is nice to have a friendly chat whilst doing my shopping.