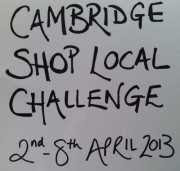 I'm publishing a local shopping diary and recipe post every day this week in support of the #CamShopLocal campaign, a Cambridge initiative launched via a flurry of tweets between
Carri Pavitt
,
Caroline Biggs
,
Gemma Whiting
and
Gavin Human
. The week long campaign challenges local people to choose local, independent shops over supermarkets and chains in order to support the economy in our area and all those who contribute to it. Many independents have pledged their support for the campaign (you can follow its progress by using the hashtag
#CamShopLocal on Twitter
and by visiting the
Facebook page
) and a great number of locals have taken on the challenge. Find out more about the campaign on
Carri Pavitt's blog
. I hope the food-themed #CamShopLocal posts I share this week help others to join in with the campaign too...
Breakfast was a very rushed slice of rye and sunflower bread (from
Cambridge Continental Deli
on Chesterton Road at the beginning of the week) and a cup of Moroccan Mint tea from
The Kandula Tea Company
.
I had a bit more time for shopping at lunchtime so browsed the meat and vegetables on offer at
Radmore Farm Shop
where I also picked up some homemade Butternut Squash and Sweet Potato Soup for lunch (which was absolutely delicious and the highlight of my lunches this week). I ate it with some rye bread. Cost per serving £3.00.
For dinner I bought some huge British beetroot, stalks and leaves still attached, and some British carrots from Radmore Farm Shop. I then bought some lamb's liver and kidney from Waller's on Victoria Avenue and enjoyed a nice chat with the butcher about his recent holiday to the windy beaches of Sheringham in North Norfolk. The liver made a simple supper, served with roast beetroot and potato wedges. The carrots and kidney will go into a pie over the weekend.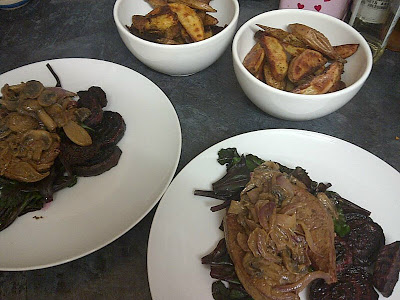 I roasted the beetroot, peeled and cut into thick slices, with extra virgin olive oil, salt, pepper and 2 tablespoons of water for about 45 minutes at 180 degrees until soft in the centre and glowing bright pink through the slightly charred outer layer. I also used the leaves of the beetroot, removing the stalks and steaming the green and purple leaves for a couple of minutes and serving as a bed for the liver but they were slightly too bitter.
To fry the pieces of liver, I heated olive oil in a pan at a high heat, seasoned and floured each piece of liver (shaking off excess) before adding to the hot pan for about a minute each side. I served the liver with a sauce of softened red onion, mushrooms, Dijon mustard and a dash of balsamic vinegar reduced in a pan then spooned on top of the cooked liver. The best thing about this dish: the liver, to serve 2, cost just 70 pence from the butcher. Approximate cost per serving £2.
My verdict so far: By Day 4 the butcher knows me well enough to enter into friendly conversation whilst I choose my meat and even to let me off a couple of pence because I didn't have enough cash with me. The staff at Radmore Farm Shop remembered what I had bought the day before and asked how my search for fresh fish was going! I'm loving the personalised customer service that we just don't get at the local Tesco.