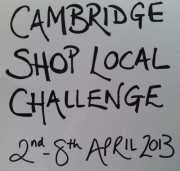 I'm publishing a local shopping diary and recipe post every day this week in support of the #CamShopLocal campaign, a Cambridge initiative launched via a flurry of tweets between
Carri Pavitt
,
Caroline Biggs
,
Gemma Whiting
and
Gavin Human
. The week long campaign challenges local people to choose local, independent shops over supermarkets and chains in order to support the economy in our area and all those who contribute to it. Many independents have pledged their support for the campaign (you can follow its progress by using the hashtag
#CamShopLocal on Twitter
and by visiting the
Facebook page
) and a great number of locals have taken on the challenge. Find out more about the campaign on
Carri Pavitt's blog
. I hope the food-themed #CamShopLocal posts I share this week help others to join in with the campaign too...
Apologies for the brevity of today's post but it is The Boy's birthday and we're celebrating in the best way possible, whilst remaining in keeping with the local indie theme of the week: by eating out at a local independent restaurant and supporting a local chef who is passionate about cooking with good quality ingredients.
Breakfast was avocado on rye bread (again) from the selection of vegetables and fruit delivered to Chesterton Road Spar daily by Les Ward Greengrocers. Rye and sunflower bread was from
Cambridge Continental Deli
on Chesterton Road. Approximate cost per serving £2.
With lots of meetings and an early finish looming, lunch was a quick trip to
Radmore Farm Shop
for a homemade Courgette and Mature Cheddar Soup (in a handy plastic tub to be microwaved at work and then reused). I ate it with wholemeal organic bread rolls from Cobs Bakery at Radmore Farm Shop, which I bought yesterday to last me the whole week. Cost per serving £3.50.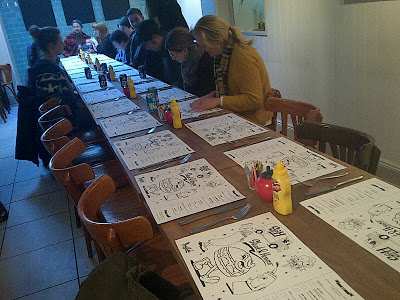 Tonight's dinner was burgers lovingly prepared by
Steak & Honour
at
Fitzbillies
. I do sometimes eat at chain restaurants but the experience more often than not cannot compare with a local independent that is working hard to make its customers happy by serving up delicious, inventive and often locally sourced food. We're lucky in Cambridge to have many options for eating out which don't involve boring, repetitive menus and poor service. But we could always do with more; enter the pop-up. Tonight's dinner was fantastic and cost £14 each for two courses plus drinks. Review post to follow...
The verdict so far: I'm enjoying the challenge of shopping and eating local but have realised how fortunate I am to have a continental deli and farm shop practically on my doorstep.