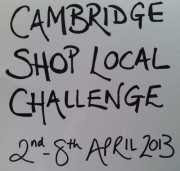 Day 7 of #CamShopLocal has arrived! Every day this week I've published a local shopping diary and recipe post in support of the #CamShopLocal campaign, a Cambridge initiative launched via a flurry of tweets between
Carri Pavitt
,
Caroline Biggs
,
Gemma Whiting
and
Gavin Human
. The week long campaign challenged local people to choose local, independent shops over supermarkets and chains in order to support the economy in our area and all those who contribute to it. Many independents pledged their support for the campaign and the dedicated hashtag
#CamShopLocal on Twitter
saw plenty of action as local people shared experiences, tips and ideas. Find out more about the motivation for the campaign on
Carri Pavitt's blog
. You can also read my interview with Carri here, on
Local Secrets
. I have really enjoyed taking part in the challenge and although I've featured mainly food-related findings in my blog posts, I am proud to say I haven't bought anything, food or otherwise, from supermarkets or chain stores all week. It feels pretty good!
Today was the toughest day of the challenge so far because my buying choices were out of my hands. I had to jump on a train to London and spend the day at a training session, where snacks and lunch were provided. I ate breakfast at home, avocado and toast as usual(!), and didn't buy the usual water, coffee etc from any of the vendors at Cambridge station. Lunch was mini subs delivered by, brace yourselves, the dreaded Subway and crisps and fruit from Sainsbury's. I ate as little as possible and arrived home feeling absolutely ravenous.
Fortunately dinner was ready and waiting. It featured the Toulouse sausages we bought from Cambridge Quality Meats at the weekend in a bean, garlic and white wine cassoulet served with green beans from the market. The beans and garlic were from Al-Noor on Arbury Road and the wine was a Moldovan Sauvignon Blanc we recently received as a gift. A new take on our usual butter bean and sausage cassoulet but delicious nonetheless!
Find the recipe here:
Toulouse Sausage Stew
Enjoy!