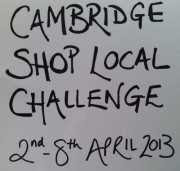 I'm publishing a local shopping diary and recipe post every day this week in support of the #CamShopLocal campaign, a Cambridge initiative launched via a flurry of tweets between
Carri Pavitt
,
Caroline Biggs
,
Gemma Whiting
and
Gavin Human
. The week long campaign challenges local people to choose local, independent shops over supermarkets and chains in order to support the economy in our area and all those who contribute to it. Many independents have pledged their support for the campaign (you can follow its progress by using the hashtag
#CamShopLocal on Twitter
and by visiting the
Facebook page
) and a great number of locals have taken on the challenge. Find out more about the campaign on
Carri Pavitt's blog
. I hope the food-themed #CamShopLocal posts I'm sharing this week will help others to join in with the campaign too...
The challenge comes to an end tomorrow and Day 6 has been another good day of enjoying shopping local and eating indie. Breakfast was my new favourite: Barker's Bakery bread, toasted and topped with mashed avocado (from Les Ward at the Spar) and crispy bacon (from Cambridge Quality Meats on Arbury Road). I also managed to squeeze in a visit to independent cafe
Hot Numbers
on Gwydir Street and enjoyed a pot of chai tea by The Kandula Tea Company.
Lunch was a rather indulgent Sunday roast at
The Cambridge Brew House
on King Street, where many ingredients are locally sourced. The smoked mackerel pate was particularly good and tasted even better for being smoked on the premises. I also enjoyed their delicious roast chicken with all the trimmings.
The highlight of the day, however, was a cake order I hastily placed with
Afternoon Tease
on Friday night/Saturday morning for the famous Chocolate Guinness Cake which the lovely Jo personally delivered to a top secret meeting point in the city centre this morning!! I then had an impressive and very tasty birthday cake to serve up to my guests after lunch, which everyone agreed was a million times better than anything I could have picked up from a supermarket.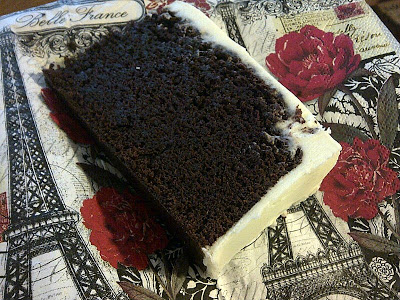 Supper was supposed to be beetroot rostis, made with leftover beetroot from Radmore Farm Shop and mooli and potato bought at Al-Noor on Arbury Road yesterday. It didn't go exactly to plan so let's just say the finished product is not worthy of a recipe write-up! I've still got plenty of Chocolate Guinness Cake lurking in the kitchen so I'm definitely not going to bed hungry... :-)