Regular readers of the Blog will know by now that absolutely no excuse to indulge is required where good food and drink is concerned. This year, unapologetic throughout, the Blog has pushed the boat out and featured a handful of
foodie trips to France
, reams of
Cambridge restaurant reviews
, snippets of
Suffolk's finest
, and even a foray into
fine dining
. The perfect end to a year of such indulgence is, of course, a generous helping of Christmas food and drink lovingly prepared by friends and family in the comfort of their own home. And, luckily, I know some very talented cooks. Here's the Blog's round-up of the amazing Christmas fare on offer this year to inspire your own festive recipes...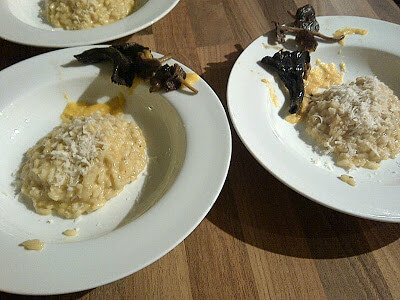 Butternut Squash risotto
My first Christmas party of
the season, a three-course dinner plus Cosmopolitans and fab Champagne and Chambord cocktails prepared by the lovely Miss Dixon, set the standard rather high for so early in December. The highlight for me was a delicious and
beauti
fully pre
sented butternut squash risotto
, borrowed from the recipe section of the
Alimentum Restaurant's website
. Mussels in Thai broth followed by a very impressive Mont Blanc dessert (containing one of my all time favourite ingredients, chestnut cream) made for an amazing pre-Christmas dinner.
Mont Blanc dessert
My brother is an expert nowadays at throwing together an excellent menu, with matching wines, at relatively short notice. Three courses
plus appetisers
had been planned and shopped for in the short time it look us to jump on a train to London for a pre-Christmas celebration. We were pleased to find the menu included a very slow cooked
daube of beef recipe
reminiscent of the Provençal comfort foods we'd been enjoying in
Marseille
a couple of days before. From the
Economy Gastronomy
book, the rich, tender beef dish was served simply with mashed potatoes, crisp, fresh greens and a good glass of Bordeaux from St Emilion.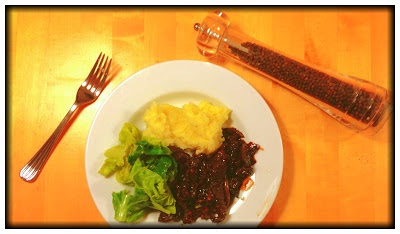 Daube of Beef
The parents treated us to a Christmas Eve dinner of melted camembert dipping pots with crusty French stick, followed by individual parcels of chicken breasts stuffed with orange zest, cinnamon sticks, vanilla and the spices of North Africa and cooked in a hot, herby tomato sauce. The baking parchment parcels were packed with fragrant aromas and juices, ensuring the chicken breasts were tender and full of flavour.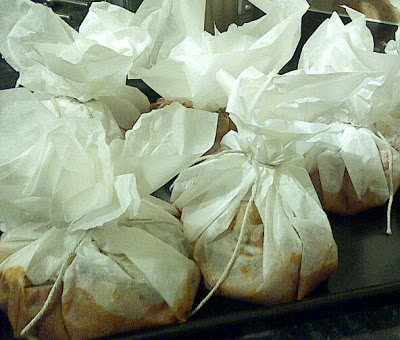 North African Chicken parcels
Next up was the obligatory plate of Christmas turkey with all the trimmings and this one, pictured below just before I devoured it and went back for seconds AND thirds, came perfectly cooked and full of delicious seasonal flavour combinations, courtesy of the Mother in Law To Be. The Brussels sprouts cooked with bacon and chestnuts were particularly delicious with a large helping of sausage meat stuffing, drenched in smooth, homemade gravy.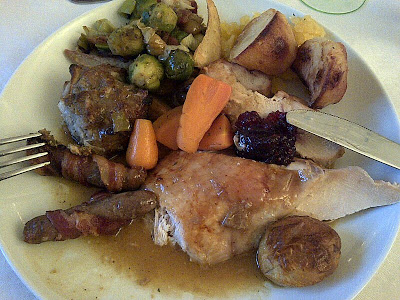 Christmas Turkey
A second Christmas celebration, with the siblings, brought with it even more festive treats. Hot curried cashew nuts knocked up as a snack by my Brother in Law and some
special salmon canapés
kept us all going until yet another roast turkey made an appearance! Plain cashew nuts were coated in curry powder and spices such as ground cumin and coriander in a heavy weight frying pan and heated until sticky black and piping hot.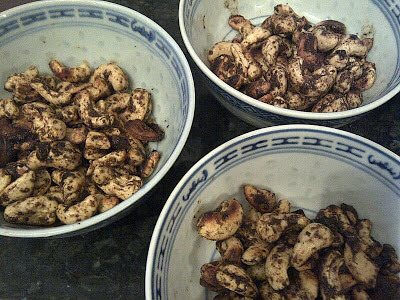 Hot Curried Nuts
Finally the pièce de résistance: my little sister's homemade Christmas Pudding, drenched in brandy and ignited at the table. It's quickly becoming a Christmas tradition for the lighting of the pudding to be accompanied by my sister setting fire to sleeves, tea towels, pets... Luckily we all survived another year to sample the very fruity, mildly boozy, succulent Christmas pud with some fresh cream. Delicious.