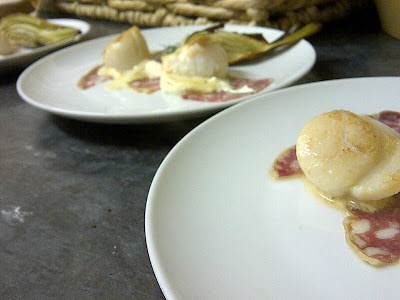 I created this dish to match the white wine chosen by the
Cambridge Wine Blogger
for the
Oddbins Wine Bloggers' Case
, a Grüner Veltliner from Kremstal in Austria. In a nod to the blogging revolution in wine reviewing,
Oddbins
selected six of the UK's best wine bloggers and entrusted them with choosing their favourite wines from the
Oddbins
cellars and creating an exclusive case of twelve wines. I was honoured to be asked by the
Cambridge Wine Blogger
to put together a food match for the white
Sal'mon Groovey 2010 Grüner Veltliner
. I've only recently been introduced to Austrian GV wines, and have found each one I've tried to be interesting, satisfying, and great with food.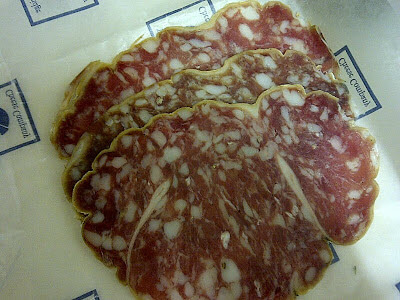 Scallops with Smoked Sausage, Fennel and Mustard Cream
The wine's name alone calls for a fish dish with a difference so I decided to create something a little adventurous, inspired by a
glorious fish starter I had on my most recent trip to France
. Hoping for a crisp, versatile white with good acidity, I paired the wine with scallops, a creamy sauce and some fairly strong flavoured slices of smoked sausage. Here's how it went...
Ingredients (serves 2 as a starter):
Small fennel bulb, outer layer removed and cut into quarters
Rapeseed oil
Juice of 1/2 lemon
100 - 150ml double cream
1 tsp Dijon mustard
1 tsp wholegrain mustard
1 tsp balsamic sherry vinegar
Salt and pepper
2 very thin slices of Jesus Lyonnaise (a delicious French hard, dried smoked pork sausage similar to salami which I discovered, and loved, in Lyon. Luckily,
The Cambridge Cheese Company
also stocks it!)
4 King scallops, orange roe removed - mine were from Cambridge market
Two large sprigs of fresh dill, to serve
What to do:
1. First make the cream, allowing up to an hour of chilling before you wish to serve the starter. In a bowl, combine the double cream (start with 100ml and add more to taste in order to balance the heat of the mustards) with the mustards, sherry vinegar, a couple of tablespoons of lemon juice and a little salt and pepper.
2. Mix well, allowing the cream to thicken slightly. Add some small sprigs of greenery from the fennel bulb or some fresh dill, cover with cling film and refrigerate for up to an hour to allow the flavours to infuse.
3. Meanwhile, preheat the oven to 180 degrees centigrade and prepare the fennel by trimming the root and removing the harder outer layers. Slice lengthways into two or four pieces. Add to a baking tin, drizzle with olive oil and the juice of about quarter of a lemon and a good amount of sea salt and freshly ground black pepper. Cover with foil and roast for about 30 minutes. Remove the foil and roast for 15-20 minutes uncovered.
4. Just before serving cut the sliced sausage into three pieces per person and arrange on the plate. Add a dollop of the cream and drag it slightly along the centre of the plate to create an arrow shape. Remove the fennel from the oven and add to the plate, along with a sprig of dill, fanning out from the cream.
5. Heat a non-stick pan with a little rapeseed oil and, when hot, add the scallops. Cook for 2 minutes on each side or slightly less for smaller scallops. Add to the plates, placing on top of the cream in between the slices of sausage. Allow the juices to mix slightly with the cream, thinning the consistency to create a melting sauce. Garnish with extra dill if desired.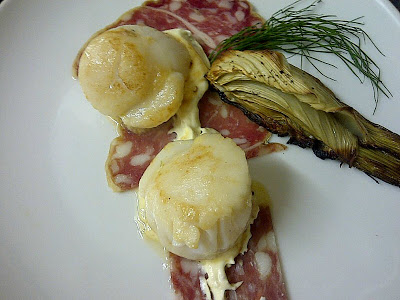 The wine match
Enjoy this dish with a glass of
Sal'mon Groovey 2010 Grüner Veltliner
. On its own, we found the white wine to have a dry, mouth-watering acidity with an almost overpowering raw quality. I liked it but others didn't. Taken with food, the wine proved to be a great match for the sweet, meaty scallops and seemed to take on a smoother, more balanced texture. With the strong flavours of the fennel and fragrant, creamy sauce, the wine's crisp, slightly spicy notes came as a pleasant zingy surprise and lengthened the finish. True to the tasting notes, the wine was a good choice for cutting through the richness of the fatty salami and rich, creamy sauce. A lovely, versatile well-rounded white wine, perfect for impressing last minute dinner guests.
Enjoy! :-)
This is my second food match post for the Cambridge Wine Blogger. You can
read the first recipe here
.