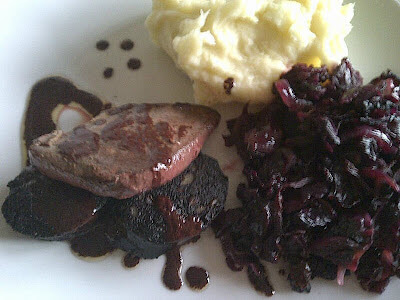 A few weeks ago I was approached by the Cambridge Wine Blogger, who tasked me with finding food matches for two carefully chosen wines in his Oddbins Wine Bloggers Case. Recognising the important role bloggers now play in tasting, reviewing and spreading the word about wines, Oddbins recently selected six of the UK's top wine bloggers to each choose two wines to make up an exclusive twelve bottle case of independently chosen wines. You can find out more about the resulting case here. I was honoured to be asked by the Cambridge Wine Blogger to cook up some recipes to match his wine choices; a white wine in the form of an Austrian Grüner Veltliner (Kremstal's 2010 Sal'mon Groovey) and a French red from the C

ôtes du Rh

ô

ne (Domaine de l'Arnesque 2010). Even though I'm most definitely an amateur where wine tasting is concerned, I have previously sampled and very much enjoyed wines from both regions and was happy to take up the challenge, starting with the award-winning wine from the southern Rh

ône in

France.
Wood Pigeon with Black Pudding and Chocolate and Red Wine Sauce
I had heard that wines from the southern Rhone region make good, overall matches for game birds and felt that the dense, spicy quality of this Grenache-Syrah blend would make it a perfect partner to a hearty autumnal feast of wood pigeon, black pudding and seasonal braised red cabbage served with garlic mashed potatoes. I also took the opportunity to experiment with a chocolate and red wine jus for drizzling over the meat, relying on the robust wine and its sweet dark fruit flavours to add depth to the sauce. Here's what I came up with...
For the braised red cabbage
Small red cabbage, shredded
1 clove of garlic, crushed
Handful of soft dates, stoned and chopped
For the garlic mash
Floury potatoes, peeled and halved or quartered
Milk and butter
For the meat and sauce
10g dark chocolate, for cooking with at least 75% cocoa solids - I used Green & Black's Dark Chocolate for Cooks, which is slightly less (72%)
25g chilled unsalted butter, cut into small cubes
100ml stock - preferably game stock but good poultry stock will work too
1. First, prepare the braised red cabbage by softening some garlic and red onion in butter for 5-10 minutes then adding cabbage, covering and cooking on a low heat for 10-15 minutes. After seasoning well and adding the cider vinegar and dates, transfer to a casserole dish, cover and gently cook in the oven at 160 degrees centigrade for between one and one and a half hours. You can read my recipe for braised cabbage here.
2. Cut the top off the garlic bulb and rub it all over with a little butter. Wrap in foil and bake for 30-40 minutes or until soft enough to squeeze the roasted garlic from the skin. Squeeze into a bowl and set aside to add to the mashed potatoes later.
3. When the red cabbage begins to take on a soft, melting texture, start to prepare the rest of the dish. Boil water for the potatoes, peel and add to the pan with a little salt.
4. Meanwhile, slice the black pudding at an angle into large rounds of about 1.5cm thickness. Heat a little rapeseed oil in a large heavy-bottomed pan and fry the black pudding for a couple of minutes on each side. Wrap in foil and keep warm.
5. Place the breast fillets on a plate and drizzle with rapeseed oil and season with sea salt and freshly ground black pepper. Heat the black pudding pan to a medium-high heat and add the fillets, cooking for 1-2 minutes on each side, turning and testing by pressing lightly on the breast until it is firm but slightly springy. Remove, cover with foil and leave to rest.
6. Again heat the meat pan to a high heat and add the red wine to the juices, bubbling ferociously until it reduces by about half. Add the stock and quickly stir in the chopped chocolate, then whisk the diced butter into the sauce and keep stirring as it reduces to a smooth, silky sauce. Do not heat it for too long as it may separate.
7. Just before serving, drain the potatoes and mash up with the roasted garlic, butter, milk and some seasoning. Add a spoonful of mash to each plate, followed by a pile of the braised cabbage, two or three slices of black pudding, topped by the pigeon breasts and a drizzle of chocolate sauce.
Enjoy this dish with a glass of 2010

C

ôtes du Rh

ô

ne Domaine de l'Arnesque. I particularly liked the seasonal warmth created by the black fruit flavours when paired with the earthy, gamey pink of the pigeon breast. The rich, peppery black pudding and acidic red cabbage set off a zingy, sweet and spicy quality to the wine, tempered by the raw, almost leafy aromas of green herbs and aniseed. Overall, the wine was an easy drinking, versatile match; delicate enough to showcase the gamey flavours of the pigeon breast and also able to stand up against the sharp vinegar of the red cabbage and garlicky mash.