Popular and well-established
Loch Fyne
fish restaurant in the heart of Cambridge has had a revamp. Creating a bright and spacious new interior and introducing a great value set menu and "pick n mix" fish dishes, the restaurant has guaranteed itself another few years of full tables. The only chain restaurant in Cambridge that I keep going back to, I've eaten at
Loch Fyne
a number of times since it opened almost 10 years ago and it has always been busy, whatever the time of day. I've experienced a Valentines Day brunch, crammed in on a romantic table for two... with another couple practically sitting on our laps. I've eaten there at lunchtime with my boss, early evening with a big group of friends, and for special Friday and Saturday night dinners.
Last Saturday we were treated to a late lunch by Ma (pictured here perusing the new "Fish Your Way" menu with the gleaming fresh fish counter in the background). After waiting at a table at
Browns
for someone to remember to come and take our drinks order, we took our custom elsewhere and decided to grab a quick bite from the set lunch menu at
Loch Fyne
. We instantly loved the friendly welcome and the restaurant's new slick white brick tiles and sunny window tables. The space has been opened up, with the entrance opening into the edge of the dining area and a new bar and takeaway area tucked away in the corner. The fresh fish counter is no longer so prominent and allows more room for tables at the front of the restaurant, where most natural light streams in. The chalked blackboards displaying the day's specials remain, along with the impeccable service.

The set menu is a good option for a quick lunch at a reasonable price. We chose two courses for £9.95 per person from a selection of 4 or 5 dishes per course. The main includes one side order of chips, vegetables, potatoes or salad, and bread, olives and other appetisers can be added from £2.50. We tried a delicious Cullen Skink; a generous, creamy haddock chowder, which was hearty and well-seasoned. Another favourite was the starter of whiting fillets in tempura batter, served in light, crisp batter with a lemon mayonnaise and rocket salad.



Compared to the pleasing size of the starters, I was a little disappointed with the mussels I chose for my main course. A classic Loch Fyne dish, the moules marinières should, at this time of year, be plump, fresh and full of flavour. The dish was bland, the mussels lacking in flavour and not even saved by the cream and white wine sauce, which was too thin. Fortunately, the new twice-cooked chips were plentiful and tasted great dipped into the sauce.

We also tried the south coast plaice, a whole baked fish served in a lemon beurre noisette, which was delicately cooked and well-flavoured by the lemon butter without overpowering the tender fish. With a side dish of al dente seasonal vegetables, the whole fish was a simple, fulfilling lunch. Our only complaint was the curling, yellow watercress on the side of the plate, which had definitely seen better days.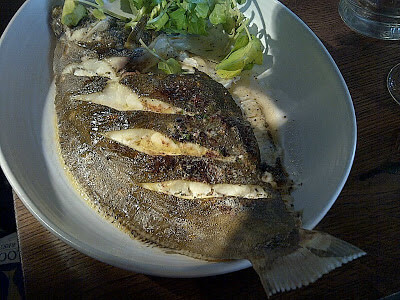 Overall I was impressed by
Loch Fyne
's efforts to create a relaxed, minimalist environment in which to enjoy their extensive menu of simply cooked fish dishes. The restaurant will remain on my list of quick-fix Cambridge eating establishments for last minutes lunches or dinner guests but I would like to see the chain applying as much flair and integrity to their ingredients as they do to the look and feel of their restaurants.
Enjoy! :-)
Loch Fyne Fish Restaurant
37 Trumpington Street
Cambridge
CB2 1QY
+44(0)1223 362433
cambridge@lochfyne.net