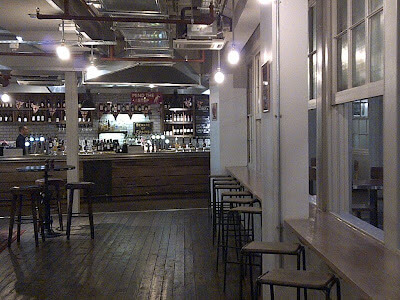 A new pub was always anticipated for King's Cross in London as plans for the station's redevelopment were put into action a few years ago. The replacement pub being so at odds with its soulless track-side predecessor was wholly unexpected. The contemporary interior and laid back atmosphere are reasons enough to visit the
Fuller's pub
for half an hour whilst waiting for your train. The food menu, from British bar snacks to inventive and fresh main meals, however, is a great reason to go back for a slightly longer visit.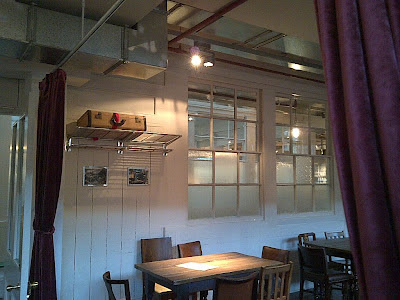 My first visit was a happy accident. The Boy and I stayed in the nearby
Clink Hostel
to get a few hours' sleep before catching the 05:40
Eurostar
to Paris back in June and decided to grab a quick bite at
The Parcel Yard
at King's Cross. Resolving to save our money for some 'real food' on our subsequent two week trip around France, we thought we were settling for some basic pub grub but expecting nothing special. As soon as we saw the stripped wooden floors, whitewashed interiors, and reclaimed tables, chairs, trolleys and old waiting room signs, we were impressed. Pleasantly surprised by an interesting menu - featuring some quirky salads, classic steaks, trendy fish dishes and a great choice of ales, ciders and wines - we realised we might be in for a little treat.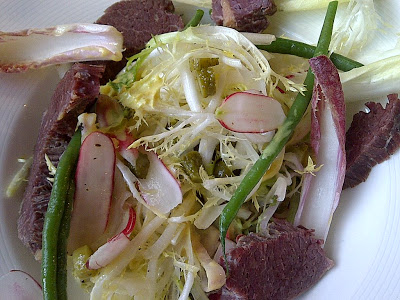 We chose a table in one of the dining rooms off to the side of the first floor's internal courtyard and found ourselves overlooking the platforms, watching trains go in and out of the old part of the station. The brown paper menu, printed with faux postmarks in a nod to the building's original use as the station's parcel yard, featured a large but precise selection of British-inspired dishes including a well-priced breakfast menu, sandwiches and snacks, and some very tempting starters and main courses. Our intentions to grab a quick burger instantly forgotten, we agonized over which starters to choose from the likes of potted shrimp, Cornish crab and samphire, and scotch duck egg with pork crackling. I started off with the warm salt beef salad with gherkins, hot mustard dressing on chicory and green beans. It was beautifully presented and full of fresh, plentiful ingredients. The Boy had a simple and tasty plate of Severn and Wye smoked salmon with bread and horseradish cream.
The menu of main courses was well stocked with unmistakeably British dishes. Classics such as London Pride battered haddock and steak and ale pie with mash and gravy sat comfortably alongside well-thought out dishes like chicken, ham hock and leek pie and goat's curd and heritage tomato salad. We enjoyed a big rib eye steak served simply with grilled tomato, watercress and chunky chips (in fab enamel cookware). One of the harshest critics where meat is concerned, The Boy even commented that the steak was superbly cooked and of the best quality he'd eaten in a long time.
After my hugely filling beef salad starter I was very pleased to take time over my main course, which was a whole grilled plaice in a cockle and mussel sauce with samphire. I loved the buttery sauce drizzled over the very light layer of batter coating the tender, sweet fish beneath. I ate the soft, salty fronds of samphire with the juicy mussels and cockles dotted through the sauce, although a few more mussels would have been nice (I think I counted two). Overall, a great pub meal with some nice touches for us foodies out there.
I hope you'll find the time to visit too!
Enjoy ;-)
The Parcel Yard
King's Cross Station - above the new departures hall
London
N1 9AP
Tel: +44(0)2077137258
Email: parcel.yard@fullers.co.uk
Ps. If you're wondering how the trip to France went, you can read some of my Paris restaurant reviews by following the links below...
Chocolate Bars & Wine Caves
Chez Janou, Paris
Bistrot du Peintre, Paris