My winter blues have somewhat lifted now that we've finally seen some sunshine!
To top off my good mood, I've got lots of fun and exciting plans for the month of March. This month I'm looking forward to visiting castles by the sea, sipping champagne at charity fashion shows, some hardcore hot yoga, exploring vintage haberdashery, and vicariously enjoying some good old British binge drinking.
St Mawes Castle, Cornwall
In search of a fairytale wedding venue by the sea, The Boy and I are embarking on a 7 hour road trip to Cornwall this weekend to attend our first "wedding showcase" at a potential venue. With a few wedding fairs under my belt and lots of advice from married family and friends, I've got plenty of ideas, questions, even scrapbooks, but I'm going to ease the fiance in gently. He scares easy. So a fun weekend of beach walks and fresh seafood, including a *quick* wander round a castle (which just happens to have been set up for a wedding) could be just the ticket. Besides, the castle is managed by English Heritage and we're big fans. Photos to follow! :-)
NSPCC Charity Fashion Show and Auction, ARU Cambridge
- book tickets here:
Mumford Theatre
.
To celebrate the 25th Anniversary of Childline, an exclusive event is being held in Cambridge to showcase some fabulous independent local fashion, art and talent. The catwalk show and auction, held at Anglia Ruskin University on East Road, will feature the university's BA Fashion students and unique creations from local labels Abigail Crampton Millinery, Cuckoo and Le Reve lingerie. I'm looking forward to sipping champagne, ransacking my goody bag, and maybe even rubbing shoulders with celebrity auctioneer Will Axon (of BBC's Flog It)!! ;-). Watch this space for my review.
Hot Yoga at Camyoga, Cambridge
Lately I've been spending a lot of time in one of my new favourite places in Cambridge. Tucked away in a quiet side street close to the city centre Camyoga's beautiful yoga studios and cafe provide a haven when I need to escape a busy day and the winter weather. I signed up for the centre's new client offer at the beginning of February and now I'm hooked, especially on the Hot Yoga classes. Held in the centre's special heated studio with gorgeous bamboo flooring, the class follows the 26 posture Bikram series and is a fantastic way to de-stress, meditate, and sweat out all those horrible toxins and (hopefully) aid weight loss. Perhaps I'm gradually becoming a seasoned Yogi... after four weeks of classes I'm getting a bit addicted to improving my focus, balance and strength so that I can attempt the "advanced" versions of each posture. So this month I'm looking forward to making my membership official and enjoying many more treats from the centre's Dandelion Cafe. Favourites so far have been the Superfood Salad, Lentil and Coconut Soup, and a fabulous cheese, olive and sundried tomato organic savoury muffin. YUM. Go and see for yourself - but don't tell everyone ;-).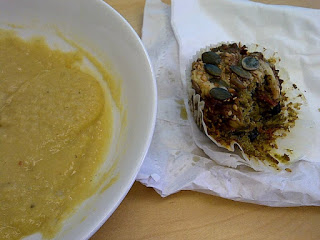 Lentil & Coconut Soup and Umami Muffin
Vintage and Retro Finds at Rejuvinate, Cambridge
A real gem of a retail store has popped up on Hills Road in Cambridge. Decorated with deliciously tacky neon lights, silver foil shimmer curtains in the windows, and an array of 60s, 70s, and 80s paraphernalia, the shop is packed full of goodies that transport me back to my teenage years of collecting funky vinyl covers and lamps shaped like lightbulbs. When I find a spare ten minutes I'm planning to have a good rummage through the shop's vintage and retro offerings and haberdashery. The window display alone has got me coveting a gorgeous white distressed dressing table and some fabulous 1940s heels. Photos to follow :-).
I heard about an intriguing little piece of theatre being performed at The Junction this month when I was compiling the City View listings for March. Created by multi-award winning theatre company The Paper Birds, the show, aptly named Thirsty, is based on our nation's love affair with alcohol. I thought it was fitting to invite Best-Friend-Jess to join me - the friend with whom I learned to binge drink, before that was even the name for being 18 and going out with your friends to the local pub to neck a crate of alcopops. I make light of it now but I'm looking forward to being educated by the theatrical piece, which apparently weaves together true stories and booze-based confessions, collected from a 'drunken hotline' and on online questionnaire, in particular focusing on the women waving the flag for 'Booze Britain'! I suspect I will be sheepishly lowering my glass of half-drunk red wine by the end of the show and vowing to detox (the Hot Yoga obsession might come in handy there...). Watch this space for my review.
Whatever you're up to this month, enjoy :-)