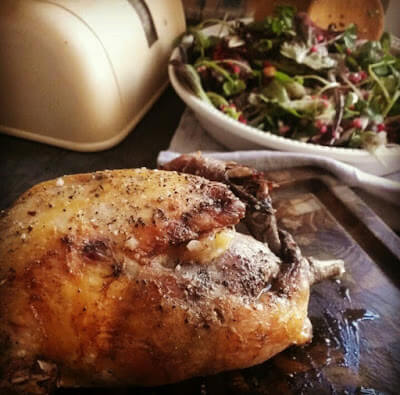 I've been revisiting a few old recipes lately, and some of my favourites are summer suppers. Delicious, often lighter, meals and salads which are best enjoyed on a warm evening when the comfort food of winter is a distant (albeit equally blissful) memory. The weather's still not playing ball, so I'm thinking of dishes which will ease us into summer a bit more gently... We always try to keep a pheasant or two in the freezer and I often get one out to roast in the spring months, and serve it with a nice punchy salad. Crispy, salty skin from the roasted pheasant provides the comfort here, and the tang of raspberry and pomegranate in the salad makes me believe the sunshine is on its way. One day. Soon.
Ingredients:
1 pheasant
1 fennel bulb
1 bag of watercress
1 pomegranate, seeded
A handful of roughly chopped hazelnuts
1 ripe avocado
Juice of one lemon
2 tbsp raspberry vinegar
6 tbsp olive oil
1 tbsp honey
Salt and pepper
What to do:
1. Cover the pheasant with butter and season very well. Roast the pheasant whole in the oven at 180 degrees C for 25-35 minutes then leave to rest for 20 minutes and strip the meat. Don't miss out on the divine crispy skin!
2. Trim and slice the fennel into fine strips, slice the avocado, and toast the hazelnuts for 10 minutes in a hot oven. Toss the fennel, avocado, nuts, watercress, and top with a generous amount of the pomegranate seeds. Drizzle with lemon juice, to taste.
3. Mix up the raspberry dressing: whisk the vinegar, olive oil, and honey together and season to taste. I made my own raspberry vinegar using Cambridge raspberries and the bottle kept me going for ages.
4. To serve, place shredded pheasant meat on top of the salad and dress with the raspberry dressing.
This will be gobbled up in seconds - trust me! For more seasonal suppers and home cooking, follow me on
Instagram
.