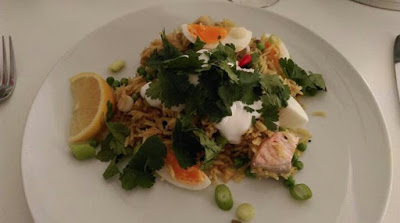 This is my version of kedgeree, which is actually rather nice, but also ticks the box of being an easy, cheat's version of the traditional rice and fish dish. It's pretty quick to throw together and it is often enjoyed for both dinner and breakfast the next day in our house. Being a big fan of one-pot and store cupboard recipes these days, I tried out a number of kedgeree recipes before putting my own together based on the ingredients I usually have within arm's reach on any weekday. Consequently, this uses a handy pack of fish pie mix which we buy regularly but I also make this kedgeree recipe with whatever fish I can lay my hands on (salmon or haddock usually). A word of advice before you start: don't skip the fresh chilli and spring onions; they really make it. Come to think of it, I can't live without the fresh coriander either...
Ingredients:
1 pack of Fish Pie mix
Basmati rice (roughly 65g per person; more if you have big eaters to feed)
2 eggs
Bay leaves
Large handful frozen peas
Butter
Olive oil
1 small onion, finely chopped
1 tbsp curry powder
2 cardamom pods
1 tsp turmeric
1 tbsp garam masala
Salt and pepper, to taste
Fresh parsley and coriander, handful of each
A few spring onions, finely sliced
Fresh red chilli, sliced
What to do:
1. Poach the fish in water with the bay leaves for 8-10 minutes or until just cooked and flaking easily. Drain carefully and set aside.
2. In a large pan with a lid, saute the onion in a knob of butter and dash of oil on a low/medium heat until very soft then add the curry powder, turmeric, and garam masala and stir over a medium heat for a minute or two more.
3. Add the basmati rice to the onion and spices and stir to coat. Pop in a couple of cardamom pods and then add plenty of water, bring to the boil, and then cover with a lid and simmer on a low heat. Keep an eye, the rice should absorb the water after 10 minutes or so.
4. Meanwhile, hard boil the eggs (7-8 minutes) and leave to cool before peeling and slicing them into wedges. When the rice has absorbed almost all of the liquid, give it a good stir and add the peas. Replace the lid and let it simmer until the peas are cooked.
5. To serve, stir the fish (gently!) into the cooked rice and garnish with the boiled egg wedges, slices of spring onion, chillies, and handfuls of torn parsley and coriander. We usually chuck a dollop of yoghurt on top, too, and serve the kedgeree with a wedge of lemon on the side.