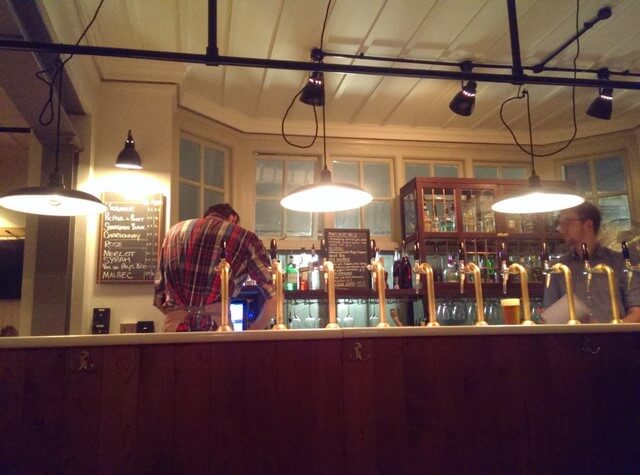 This weekend's treat was revisiting
Pint Shop
, an independent pub and restaurant that opened in the heart of historic Cambridge back in November 2013 and quickly picked up a loyal following of fans of their daily changing real ales, craft beers, and unique food menu dedicated to meat and bread. It is still the same popular place today but with a few new twists on the menus, a back garden area that's now properly bedded in and always buzzing with after work and weekend drinkers, and some new faces behind the bar.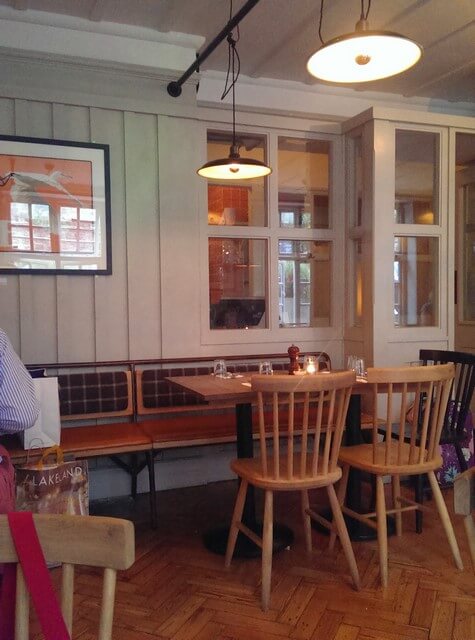 We were, of course, there for the food. Arriving for an early supper on Friday evening we took a nice little spot in the downstairs dining room, from where we could spy people having fun in the garden on one side, and keep an eye on the comings and goings of plates of food from the serving area on the other. With a substantial dinner menu on offer in addition to the Monday-Friday early evening set menu (available until 7pm), a lot of time was spent deliberating (and craning our necks to check out passing plates). Fortunately for us, Pint Shop has introduced a pre-starter suggestion to the dinner menu - called 'First Things', which we thought was rather nice - so we took their advice and opted for the recommended House Serve, the bar's own Negroni cocktail, and some beer sticks and smoked beef dripping and garlic toast to keep us going. Dare I admit that I was quite thankful for the sharp kick of booze from the bitter cocktail after a long day, but my companion found it far too strong; perhaps a nudge from our waiter towards other aperitifs or pre-dinner cocktails on offer when taking our drinks order would have been a good idea. But, I was happy: I had a good strong cocktail to soak up with the most amazing smoked beef dripping toast (which was spread thinly and focused heavily on the smoky flavours with a subtle hint of garlic) and beer sticks - and who doesn't like those?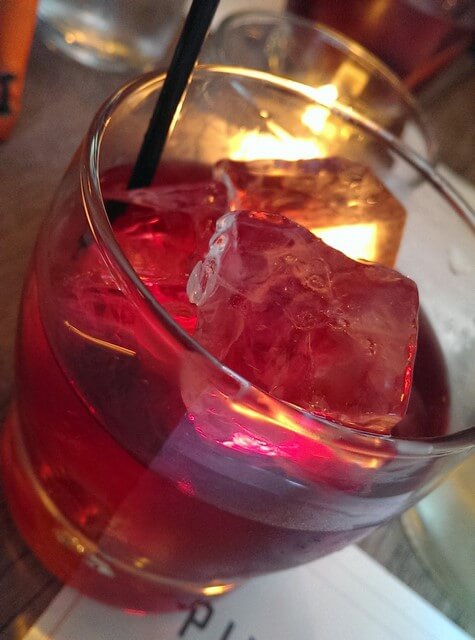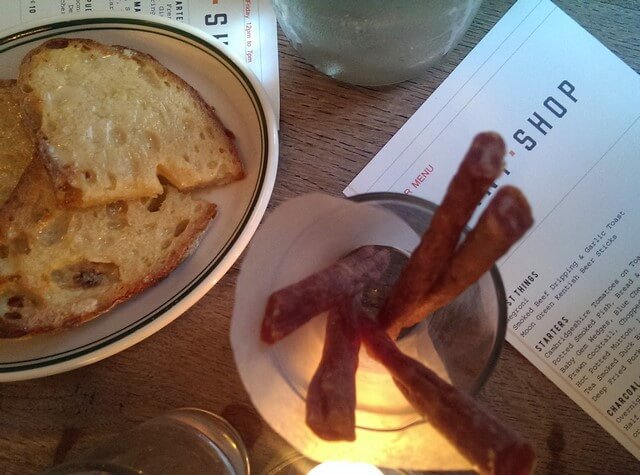 The rest of the dinner menu contained an excellent selection of starters, main courses to be chosen from meats roasted on the charcoal spit and more dishes from the charcoal grill, and a neat but full list of side dishes (all at £3 each, which turned out to be very generously portioned). The set menu was just as tempting (and great value, starting at £10 for two courses), featuring three options per course with no overlap with the dinner menu. Further deliberation followed, over delightful dishes like chilled cucumber soup, chicken liver parfait with ginger beer jelly, a steak trencher with beer-braised onions. Turning attention back to the dinner menu, I realised I could easily go for every single one of the starters: I wanted the Cambridgeshire tomatoes on toast, the baby gem wedges with blue cheese and candied walnuts; I
always
want the Pint Shop prawn cocktail (this time it comes with chopped egg and tabasco - yum), and was intrigued by the deep fried pork belly with gooseberry and mint jelly. You get the gist: a lot of thought has gone into this menu, and it reads really, really well.
The dining room filled up around us, tables either side came and went. We sipped our cocktails and finally made decisions. I went for a starter of hot potted mutton with lemon and spiced hazelnuts, served with toast. It was a huge portion, served in a glass pot but not presented as I'd expected. A thick sprinkling of crushed hazelnuts covered the top of the pulled mutton meat, dotted generously with bruised coriander seeds and a lot of seasoning, and buttery juices swam at the bottom. The first taste was a surprising hit of intense lemon juice and zest and very salty meat, which was of a delicious texture and reminded me of a hyderabadi curry (of lamb and citrus with Indian spices). It was served just lukewarm, rather than hot, but once mixed together the full flavours were really pleasing, especially when spread onto the buttered toast. We also tried - and loved - the tea smoked duck breast with cherry marmalade. The duck breast alone was delicious, with a very faint nod to the tea leaves, and fabulous with the combined sweet and sour flavours within the cherry sauce.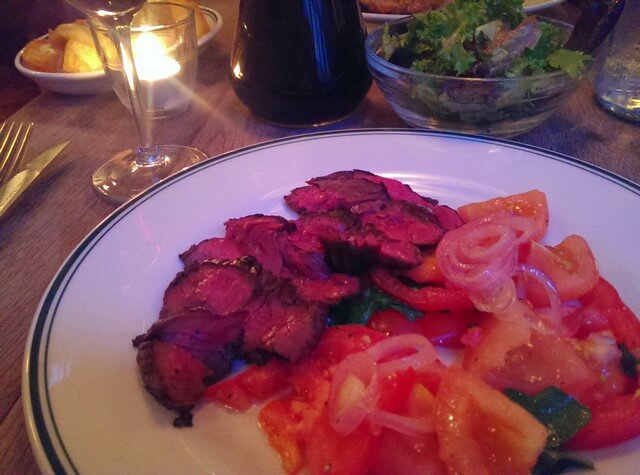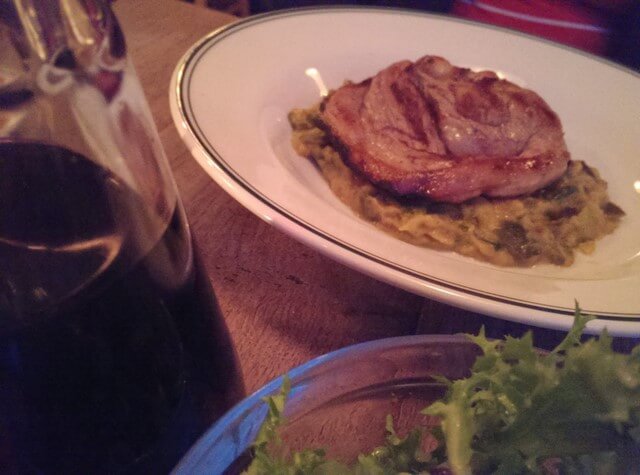 Choosing the main courses was slightly easier; from just three options under the charcoal spit roast section, and a beautiful array of dishes from the charcoal grill. Descriptions here painted a very pretty picture, like the rainbow trout with fennel and orange; a rib-eye with whisky and raisin butter; an eloquent coal-roast beetroot, whipped goat's cheese, and orange combo; and charred violet artichoke, which even had me considering foregoing a meat option. Feeling summery, we went for flank steak with Heritage tomatoes and the lamb leg steak with saffron and garlic courgettes. I couldn't resist the steak, bavette being one of my all-time favourite cuts, which just had to be cooked rare, thinly sliced, and heavily charred on the outside. That's exactly how it came (and, in my opinion, no customer should be allowed to have it cooked any other way): rich, red strips of meat filled half the plate, juicy, simply dressed Heritage tomatoes taking up the other half. The steak was tougher than I'd expected (so perhaps not the bavette cut I was hoping for, but taken from another part of the flank) but still deliciously smoky from the charcoal grill and a real treat with a nice glass of red wine (we drank the Malbec from a carafe). The other dish, a lamb steak from the grill, was not as impressive, mainly due to the overpowering garlic in the bed of courgette mash it sat upon. All hints of saffron were sadly lost and the richness of the courgette and garlic mixture even put paid to any flavour the lamb had to offer.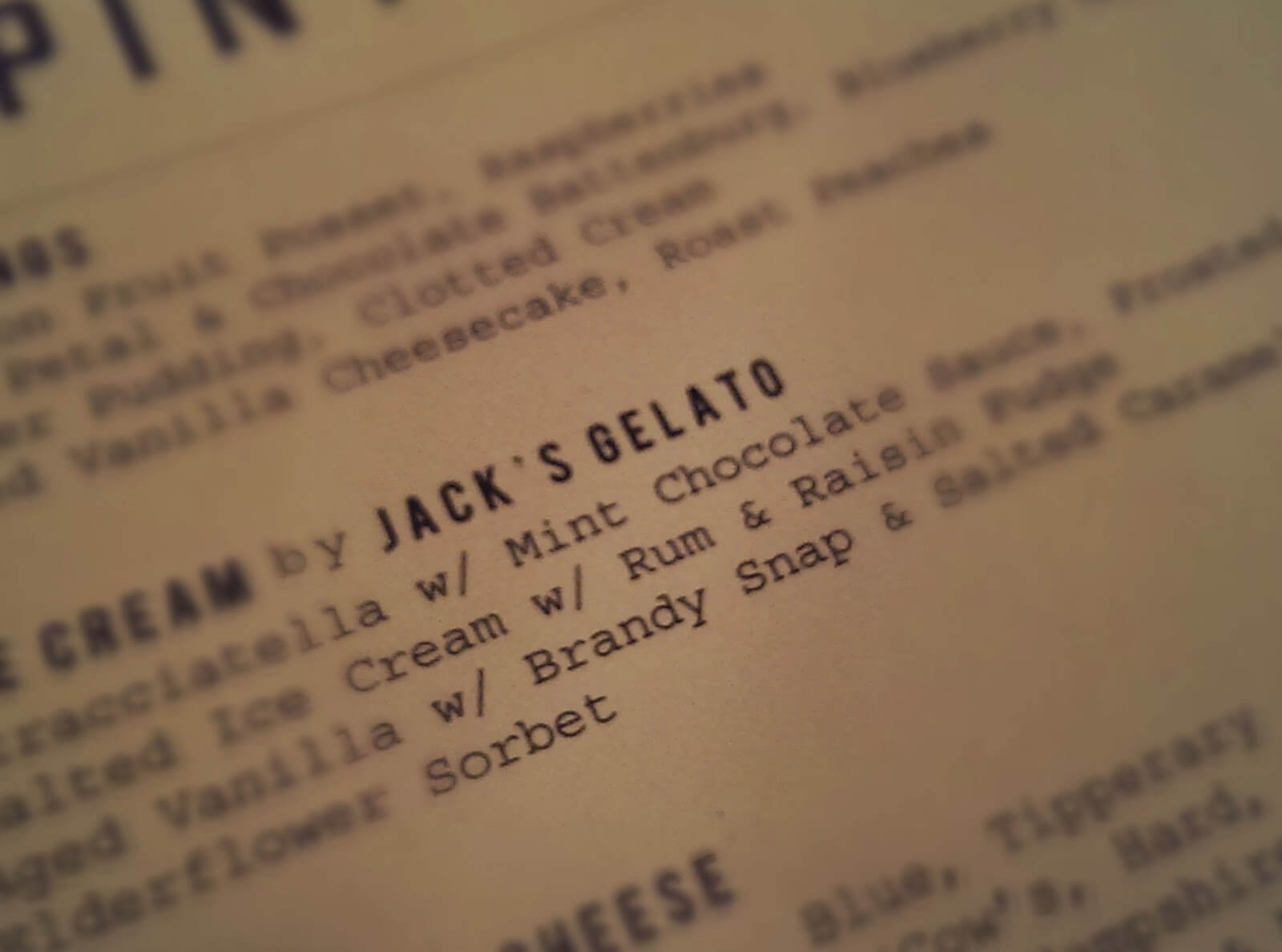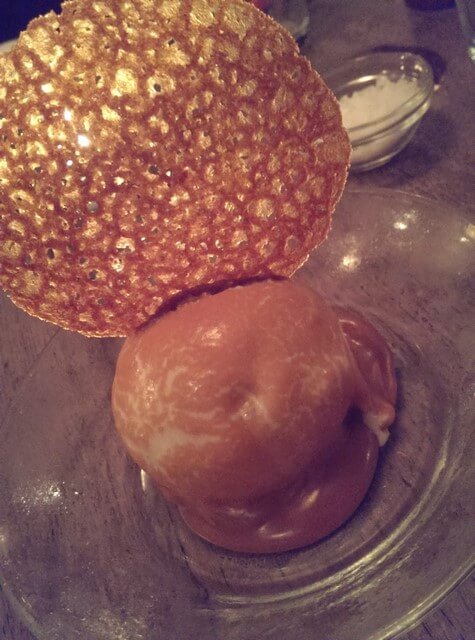 We were pleased to see a strong puddings list at Pint Shop. As full as we were, there's always room for something sweet and the addition of Jack's Gelato ice cream means that there is a little something for everyone, even when a full-on pudding or cheese is too much. Dessert was one of the highlights for me: the aged vanilla ice cream by Jack's Gelato was heavenly, served with an absolutely spot-on salted caramel sauce. I was so enthralled by the generous drenching of sauce coating the ball of ice cream that the brandy snap was entirely overlooked! My companion opted for a proven favourite, the Elderflower Sorbet, which was refreshing and sublimely summery, as always, but seemed to take on a rather different consistency than when we've eaten it straight from Jack's ice cream bike on the streets of Cambridge. Regardless, the desserts were the perfect end to a lovely foodie evening. We will be back!
Pint Shop
10 Peas Hill
Cambridge
pintshop.co.uk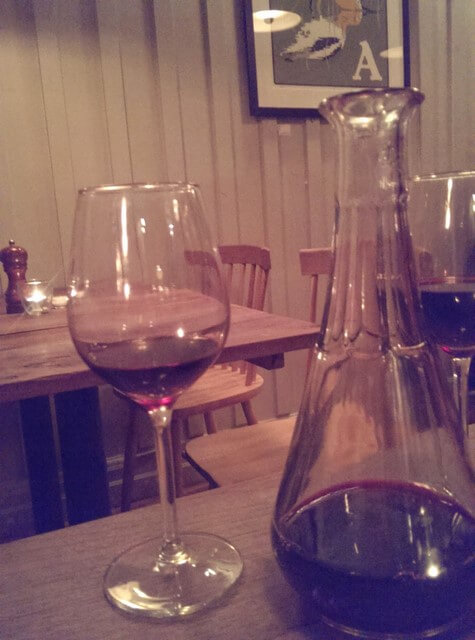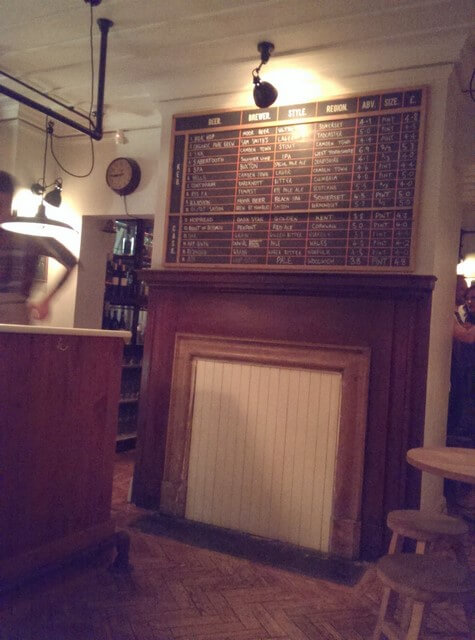 We dined as guests of Pint Shop and thank them for their warm welcome and friendly service, as always, and for letting us hog the table for far too long.