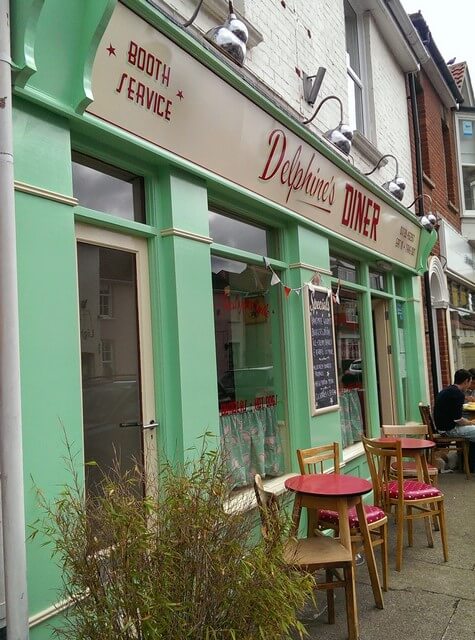 On our last trip to the Suffolk coast we spotted a new addition to Aldeburgh's high street, Delphine's Diner. Anywhere else along that strip of coast, a highly styled, 1950s style burger and shakes diner would seem out of place. Not in Aldeburgh, where old school boozers sit alongside traditional fish huts and chippies, hemmed in by 5 star hotels and high end restaurants and retailers aimed at the middle class yachting set. As regular visitors to the area, to us Delphine's Diner shone out like a beacon, standing out from the same old row of Jack Wills, Joules, and holiday homes.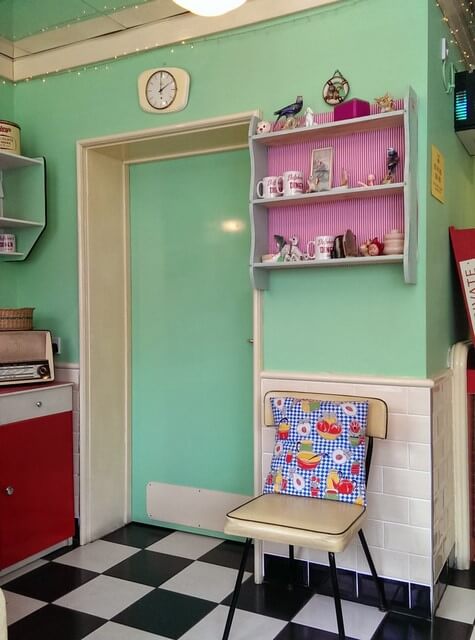 Delphine's Diner is a very cute little place. Decked out like a 1950s diner, complete with waitresses in matching retro outfits, Delphine's has just three booths, a small bar on one wall, big windows dressed with pretty curtains and bunting, and an open kitchen. It is small but perfectly formed: a lot of attention has been given to mirrored ceiling tiles, which reflect the big black and white floor tiles, yellow and red furniture, and retro knick knacks on every surface. The place looks great, and an Elvis soundtrack adds to the ambience.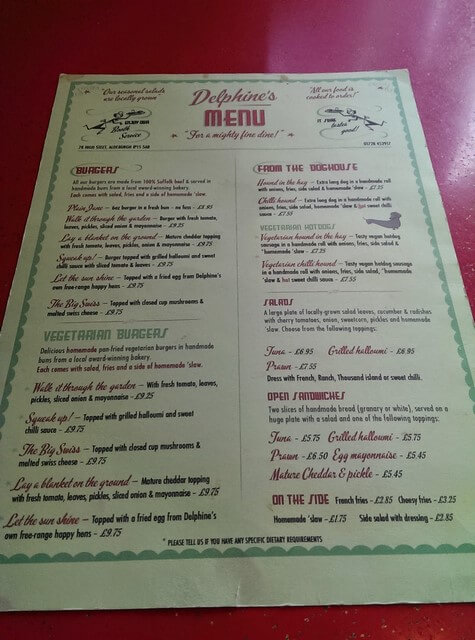 Details start to slip a little where the menu's concerned. It is printed on coloured card and could do with being shinier and tackier. The list of burgers, hot dogs, and milkshakes all sound great, but we don't really understand the inspiration for the list of burger names (an in-joke maybe?) and the meat and vegetarian options have the same names, which could be confusing. However, mentions of Suffolk beef, handmade buns from a local bakery, and every item being cooked to order don't go unnoticed. A sign catches my eye about the food being good food, rather than fast food, which I like.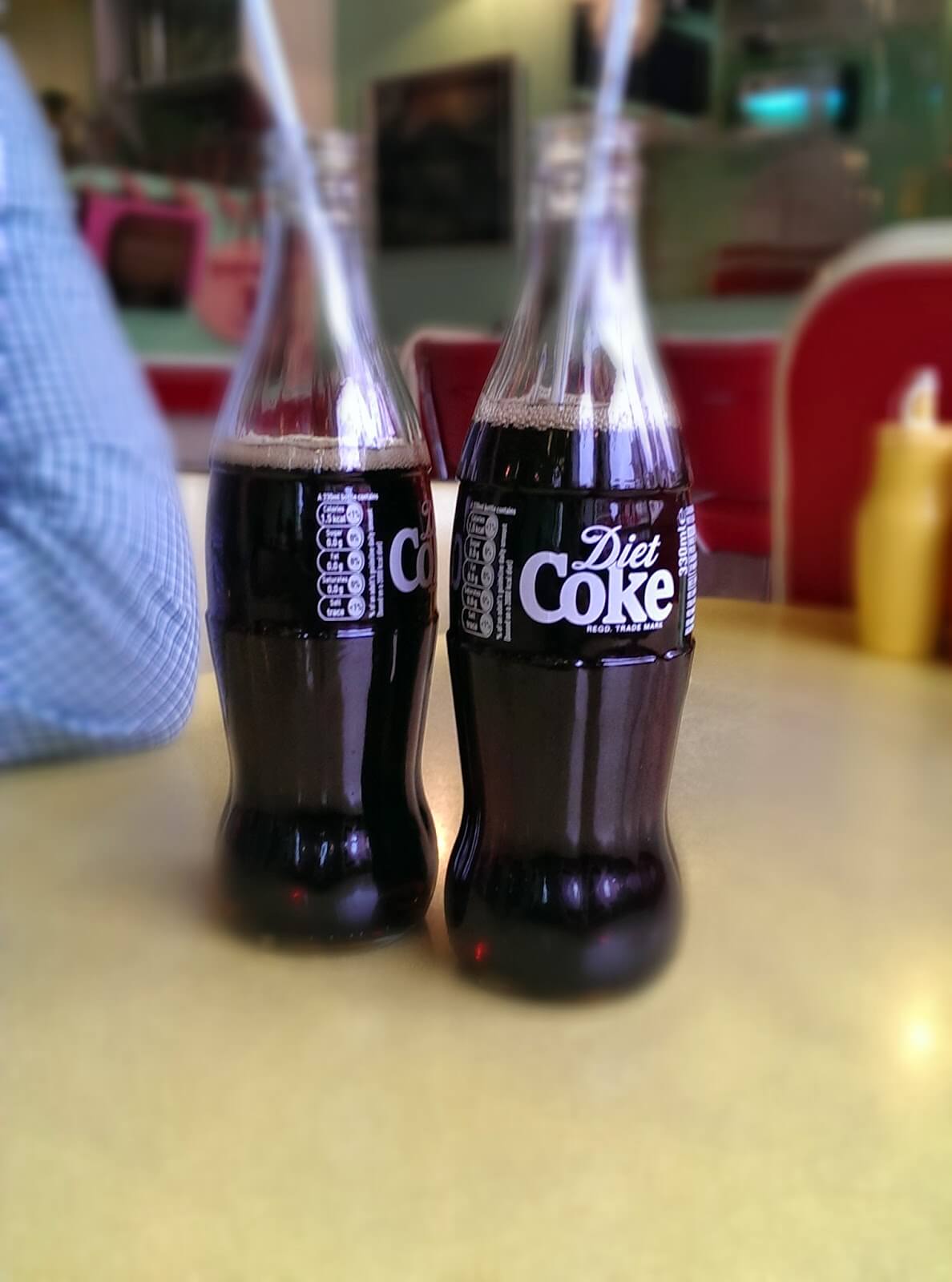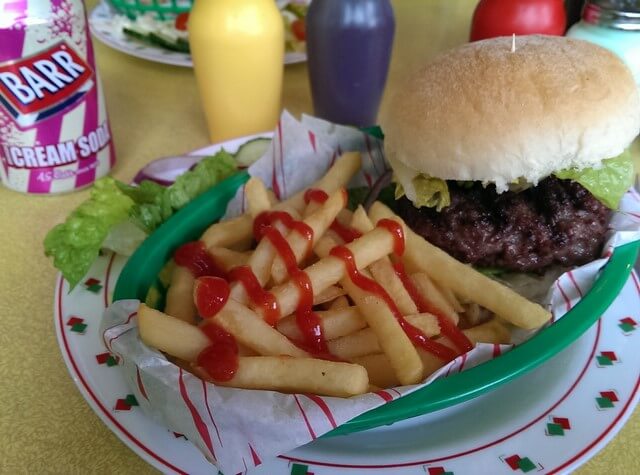 So, on paper, it's all good. We go for a burger with everything and a cheeseburger with everything, which come with fries, salad, and homemade 'slaw. All burgers come with mayo and tomato, which I'm firmly against, but my request to leave those out is met with good grace, friendly smiles, and a "no probs" from our chatty waiter. We settle down into a booth with two slightly warm Diet Cokes (but they're in glass bottles, woop) and watch the chef spur into action at the back. We don't mind waiting for our food to be cooked from fresh, but I get the impression this is a new concept to a couple of other customers around us who are so used to fast, instant, food. Burgers and fries arrive in a paper-lined plastic basket, another nice touch, with salad and 'slaw on the side. The fries are good, the salad is obviously very fresh, and the beef is really delicious, if a little overdone. Overall, the burger itself lets the place down. It's fine - but nothing more - and isn't the meaty, juicy, pickle-laden, sauce-drenched, squashy bunned diner treat that I was after.
Our verdict: Cute little place, friendly service, and an extensive menu. Go for the decor and the experience, rather than the food, and give the 'shakes a try. I left feeling too full for dessert but found myself wistfully gazing at another table's towering sundae, topped with a huge cherry, which I'll definitely go for next time. Apparently cocktails are served in the evenings, too, which might be good.
Delphine's Diner
76 High Street
Aldeburgh
Suffolk