It has all been quiet on the blogging front in recent weeks, due to a combination of lots of work going on behind the scenes for this year's Eat Cambridge and much-needed research time for the next few review series. Choosing the next topic (and hashtag - #CamBrunchReview) was easy; people ask us all the time why Cambridge is so lacking in the brunch department and where we recommend for a lazy Saturday or Sunday morning sipping coffees, cocktails and feasting on sweet and savoury treats to fill that long breakfast-lunch-afternoon tea gap. We thought the hunt for the perfect brunch didn't sound too bad! So, we revisited some favourite brunches, asked around for some local tips, popped along to a few new places, and even tried out a weekend brunch at a Cambridge college (thanks Gigi of Pembroke College!). Soon we had built up quite a list of places to review. More inspiration came from judging last month's
#CapsicanaCookOff
- in January a brunch-themed affair with chillies, eggs and creativity a-plenty - and we eventually decided on the criteria for reviewing all the brunches on offer in Cambridge. We'll be reviewing as many places as possible to find the best brunch in Cambridge. Our score will take into account the essential elements of the weekend brunch: Coffee (and other beverages); atmosphere and service; range and suitability of menu choices; the quality, size and value for money of the brunch dishes; and the all-important accompaniments and condiments on offer.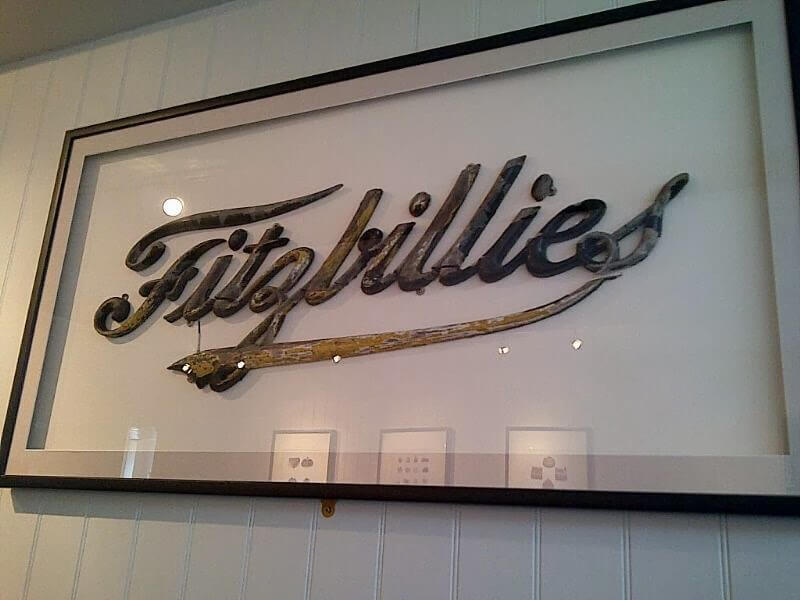 First up,
Fitzbillies
. After adding a weekend breakfast menu to its repertoire late last year, the cafe and bakery on Trumpington Street came high on our must-visit list. The independent establishment is well-known for its cakes, light lunches and, of course, the famous Chelsea bun, and is one of our favourite restaurants to visit for dinner. Murmurings in local foodie circles of marmalade so addictive it must be laced with crack and flawless fry-ups featuring homemade baked beans had our mouths watering before we'd even pencilled a visit in the diary. Weekend breakfast is served 9am-12pm every Saturday and Sunday, with a good full menu of typical British breakfast dishes all freshly made and prepared in the Fitzbillies bakery and kitchen. We were advised to arrive early to get a table as reservations for brunch aren't accepted. On the day we visited, we had a lazy morning and didn't take this advice but still got a table just after 11am without a wait, despite the restaurant being almost full.

We already knew that Fitzbillies could be relied upon for a good cup of proper coffee and a fine selection of teas. We woke ourselves up with black coffee and macchiatos, always served hot and smooth in the trademark curvy blue cups and saucers, but certainly not the strongest on offer in Cambridge (watch this space for our favourite!). We had heard rumours that a Bloody Mary was set to make an appearance alongside the breakfast menu and a cocktail certainly would have been a welcome addition to what followed. The food menu itself read exactly like a brunch menu should: savoury options ranging from quick and easy bacon or sausage rolls (with a delicious homemade ketchup), to simple, steadfast favourites like eggs on toast and the more adventurous baked eggs, to the full English breakfast for when you're really hungry (or hungover). Sweet / token nods to healthy eating options include the tin of toast with preserves and a granola, yoghurt and fruit compote. Ticking further boxes for the traditionalists amongst us were the kippers, although they sadly weren't available on the day we visited. It is savoury all the way for us but we did notice other diners ordering pastries and cake from the cafe, so further options are available for those with a sweet tooth.
I can never resist baked eggs and the baked egg with chorizo at Fitzbillies didn't disappoint. Served in the mini cast iron skillet, the dish was attractively presented and first impressions of "small but perfectly formed" sprung to mind. Once digging into the rich, deep flavours of the thick tomato sauce, the running yolk and the generous fat sliced chorizo within, however, I realised the beast I had on my hands. It was a glorious, satisfying and perfectly savoury brunch. The wandering egg, balanced seasoning and fresh herbs completed the love-in. It was a massive hit, so much so that I wiped up every molecule of that fantastic sauce with some rather good fresh toast and butter... then tucked into the tin of toast on the side for another final mopping.
The Full English breakfast was equally satisfying in terms of quantity and quality ingredients but lacked the same oomph as the chorizo dish. Very good streaky bacon was properly crispy and full flavoured, alongside a Cambridge sausage and a good hunk of black pudding. The preferred choice of egg was a lovely fluffy cloud of scrambled eggs that perhaps lacked a little seasoning. The infamous homemade baked beans were sadly on the bland side and we couldn't get much flavour from either the sauce or the beans. We sheepishly agreed a nice punchy vinegary pool of Heinz baked beans would have been better (although why sheepishly I'm not sure, we're allowed to quiet the food snob in us now and again!)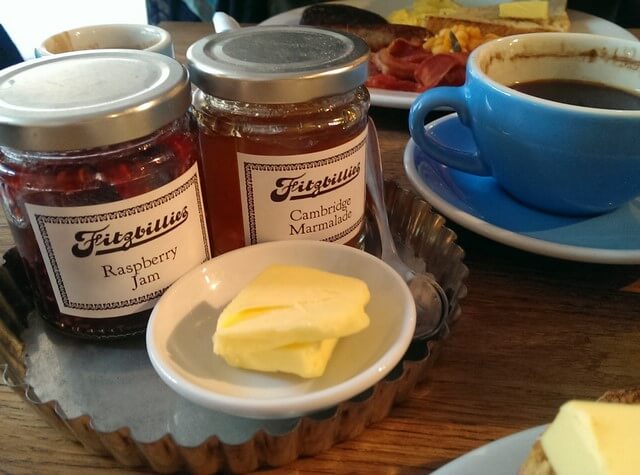 Although beginning to feel fairly stuffed from our main dishes, the tin of toast with preserves livened up the brunch no end - the bread tin it is served in looks pretty and the Fitzbillies branded jam and marmalade are beautifully English - and made us relax over our meal and hang around a bit longer over our coffees. Aren't we naughty, we thought, tucking into an extra round of toast with dollops of homemade preserves spread all over it. The Cambridge Marmalade was super sharp with a great tang of real orange, if a little too runny, and the raspberry jam was not at all too sweet (a pet hate of mine) and therefore allowing fruity and natural flavours to emerge - a welcome surprise.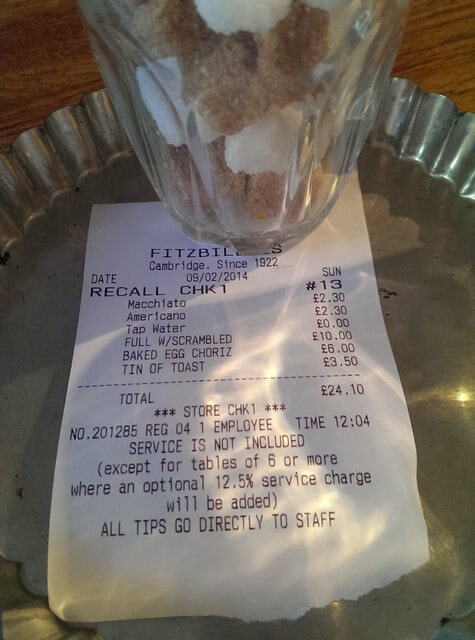 Our verdict: The foodies' choice: great coffee, fantastic food at reasonable prices for the quality, with a lot of thought given to the variety of dishes on the menu. Perhaps not the most relaxing environment as the staff can be rushed and seem harassed when the café is busy but a much better atmosphere and space now that the dining room has been extended.

When to go: The earlier the better if you want the pick of the tables and a long, relaxing brunch. The Fitzbillies brunch is equally good for a foodie treat before a busy day battling the city centre crowds.

Our rating (1 being BAD and 5 being PERFECT!): 3.5 out of 5.
Where's your favourite brunch spot in Cambridge?
Tweet us
recommendations and ideas for future reviews using
#CamBrunchReview
.