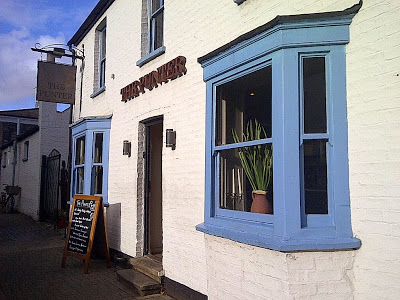 We were forced to take a break from the quest for the perfect Sunday lunch in Cambridge last weekend (due to illness rather than running out of places to review!) and really missed our new Sunday roast routine. We got back to it with vigour this weekend, dining at another favourite food pub in the city,
The Punter
on Pound Hill, just across the road from the St John's Chop House. The gastro pub has been going through a few changes lately, mainly owing to the departure of chef Ben Pope, but a couple of weeks back we spotted a chalkboard pop up outside advertising the pub's 'Sunday Specials' and they sounded too good to miss.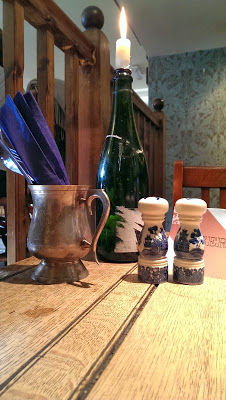 Well aware of The Punter's weekend popularity, we booked a table and arrived towards the end of the lunchtime rush. As busy as it was, there wasn't much of an atmosphere to the usually buzzing, friendly pub and the back and forth of waitresses' heels on wooden floorboards echoed rather oddly around the walls. We took in the decor of the pub; lots of stripped back wood, mismatched chairs and candles in Champagne bottles, and hungrily watched the table on one side tuck into huge plates of Sunday roast, whilst the table on the other chased up the arrival of theirs. We had plenty of time to scour the menu, which features a full selection of starters, mains and desserts on a Sunday, in addition to a choice of three meats: slow roast pork shoulder, roasted sirloin of beef, or garlic and thyme roasted half chicken. Each came with Yorkshire pudding and vegetables, and ranged in price from £13-£15. We opted for beef and chicken, noting with excitement that the latter meant bread sauce's first appearance on the Sunday Roast Review. Service was fairly ordinary, if a little inconsistent; we didn't mind waiting a while for our food but had to request and then chase up condiments to go with it.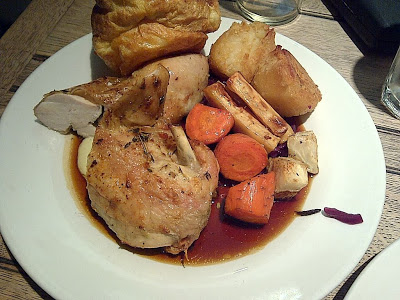 We also didn't mind waiting the 25 or so minutes for our food because it was really rather good. The half roast chicken scored top marks. We could find no fault with the French-trimmed, generously sized and well-seasoned meat, its slightly crispy garlic and thyme-infused skin giving way to juicy, tender chicken which was cooked to perfection and had an incredible flavour. First impressions of the roast sirloin were just as good; the beef was cooked pink and had a good peppery edge to it, but parts were slightly dull and fatty, and perhaps sliced a little too thickly. Portion size was spot on, however, and thought and skill had clearly gone into the selection and preparation of both roast meats. We noticed straight away that the plates were lacking in the gravy department and asked for some extra to rectify the quantity issue. It was a good, glossy, thickened gravy and held everything together well, even if it wasn't anything special on its own. It had a glaze-like quality that coated our beloved roast potatoes with a sticky and indulgent sauce; lip-smackingly good for one or two mouthfuls but becoming over-sweet, perhaps over-quinced, after more.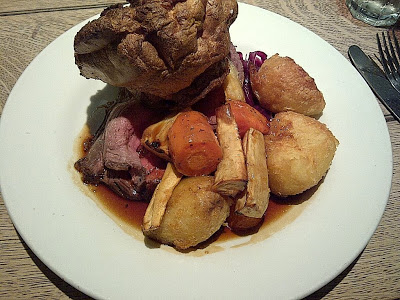 Next to capture our attention were the roast potatoes; the heavenly, dare we say perfect, roast potatoes. At first bite, perhaps even first slice, we knew they were strong contenders for best roastie so far. Evenly crisped on the outside, with a divine thin coating of golden, seasoned, decadent fat, the fluffy but firm and tightly formed potato within was absolutely perfect. It actually tasted of lovely fresh potato, closely followed by an addictive, slightly salty crunch from its skin that made us want to accompany every mop of gravy and mouthful of meat with a towering forkful of the good stuff. Turning the potatoes over in wonder, seeking out the perfectly, sometimes teasingly flaking, roughed up corners of golden-brown crispiness, we realised we wanted to savour every last morsel. And that we had no complaints whatsoever.
Another first for our Sunday roast journey was the inclusion of roasted root vegetables, which made a very welcome change from the usual (a change that we hadn't even realised we wanted). Roast parsnip and celeriac adorned our plates, almost as delicious as the roast potatoes and full of flavour. Well-cooked on the whole (a few larger sliced parsnips were bordering on undercooked), well-seasoned and pleasantly glazed with honey, they were perfectly at home alongside vibrant wedges of honey-roasted carrot and a huge pile of spiced red cabbage. The latter was the most pleasing vegetable on offer, its slow cooking bringing out warming, seasonal hints of red wine, cinnamon and juniper.
The huge Yorkshire pudding (the one item, we've learned, considered obligatory by every place in Cambridge serving Sunday roasts, regardless of the choice of meat) was something of a feature on The Punter's plates. So big it billowed over the top of most of the other ingredients and a good example of a homemade Yorkshire, let down by one pudding being very burnt yet still served alongside the other, decidedly lighter and more golden pudding. Inside, however, the light layers were cooked just-so and revealed not even a hint of doughiness nor dryness, and both Yorkshires were eagerly gobbled up with lashings of gravy and sauce. Speaking of sauce, we were pleased to see bread sauce alongside the roast chicken but it didn't stand out against the rest of the flavours and not much was added by it. We were surprised not to be offered any other condiments so we asked for horseradish to accompany the beef. Twice. Our plates were more than half eaten by the time it arrived but, thankfully, we had saved some roast beef to slather in the gorgeous homemade horseradish sauce when it did show up. Not a typical example of the traditional accompaniment to beef, the sauce was a refreshing combination of finely grated horseradish, creme fraiche and simple seasoning (reminiscent of a recipe in Phil Vickery's book on outdoor eating). It was fresh with a hot kick of horseradish and incredibly moreish. One to daydream about, along with those perfect potatoes, in days to come.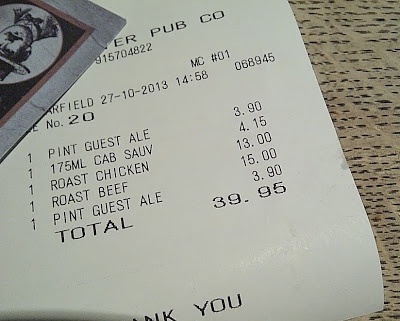 The verdict: Delicious and filling Sunday roast with some special touches; all to be expected for the price, but very enjoyable nonetheless. Some work could be done on consistency and making customers feel just as special as the food.

The score: 4/5 (1 on the scale being absolutely terrible and 5 equalling roast lunch perfection).

Price: £40 for two people including drinks.

Where should we have our next Sunday roast in Cambridge? Let us know your favourite Sunday lunch spots in the city and we'll rate and review them! Tweet your comments and ideas using #SundayRoastReview to
@TheMovingFoodie
.