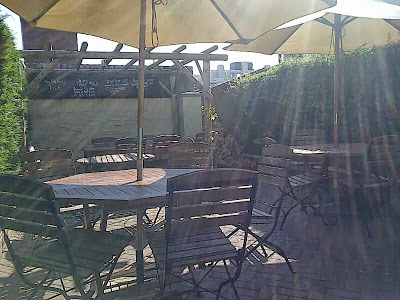 Another gloriously sunny Sunday in Cambridge; another tasty Sunday lunch to seek out. This week, we had done a little research and asked people for their most memorable Sunday roast experiences in Cambridge. A couple of places stood out - some for positive reasons, others for not so good reasons - and inspired us to try something a little different. Rather than a trusty pub, this Sunday we visited a restaurant with a reputation locally for good quality, honest British food:
The St John's Chop House
on Northampton Street.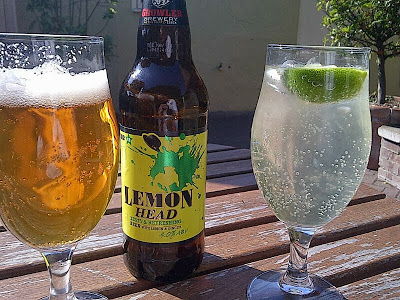 Along with its city centre sister restaurant
The Cambridge Chop House
on King's Parade, The St John's Chop House is part of a local cohort of upmarket/gastro eateries called
CambsCuisine
, which also includes a popular catering arm called The Cambridge Dining Company. Menus at the Chop Houses focus firmly on meat (of course), using locally sourced and quality ingredients, and creative, steadfastly British dishes of suet puddings, pies and game. Decor is contemporary and smart. Service is swift and polished, yet incredibly friendly. Set lunches and early evening dinners are really rather good value but go for the full works at St John's Chop House and the bill soon starts to add up. Considering that every sunny weekend we have at the moment might be the last of the year, we figured we'd splash out on a more refined Sunday lunch in The St John's Chop House courtyard garden, tucked away at the back away from the traffic and bathed in gorgeous bright sunshine.
Now, a confession. We usually limit our Sunday Roast Review outings to a drink or two then cut straight to the main event. However, one peek at the menu had us drooling over the sharing board and we treated ourselves to a selection of starters to whet our appetite for the main course (it featured beetroot smoked salmon, beer battered haggis, pork scratchings and other meaty treats; all very tasty and served with a sharp piccalilli and hot mustard-dressed salad). We really should have saved ourselves. Vibrant, full plates of fresh, colourful vegetables, and plump potatoes arrived; slow-cooked Suffolk lamb and roast beef sirloin nestling in the middle of a rich, dark and glossy gravy and topped with a towering puff of Yorkshire pudding. Battered haggis and meaty fritters quickly forgotten, we dived straight in.
The meat was the star of the plate, as it should be in a Sunday roast, and seriously impressed us from first bite. The favourite was the slow-cooked Suffolk leg of lamb, served pressed with its cooking juices in a dense round of lush, soft meat that melted away when pulled with the fork. Combined with the best roast potatoes ever (more about those below) and some lip-smackingly good gravy, this was roast lamb at its best. Roast sirloin was our other choice and, sadly, couldn't compete with the lamb. It ticked many boxes; served slightly pink, thickly sliced and nicely tender but was lacking in flavour and a little too chewy in places. A great deal of excitement surrounded the roast potatoes. Crisp, golden and slightly herby, the potatoes scored close to full marks for their glorious, crackling coating and fluffy insides, let down only by a too-salty aftertaste. We agreed that the even cooking, golden-brown and crispy edges, and spot on portion of three medium-sized roasties per plate brought them ever so close to roast potato perfection.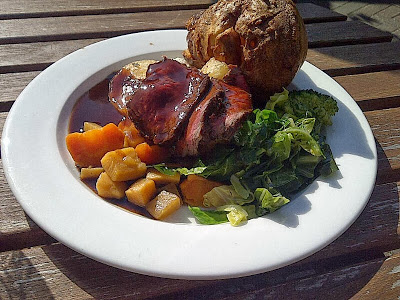 Judging the vegetables was easy because the carrots, swede and greens were the classic choice to accompany the roast meat. A real feature of the plate and, it seemed, lovingly prepared and placed, the vegetables were very well cooked - nothing mushy, nor too al dente - and tasted pretty amazing. The spring greens, with a slight bite and just enough butter, were a highlight, as were the gleaming bright orange carrot wedges (the trick of the fine dining trade of sanding down the peeled carrot employed here perhaps) and sweet little rounds of swede. A single broccoli floret per plate looked a little sad and the absence of more was the only negative we could think of.
The gravy holding these exquisite plates of food together scored a unanimous 5 out of 5. Thick, glossy and refined, it matched the quality of the ingredients perfectly. Finely chopped and braised shallots were entirely at home mingling with the lamb juices in a dark, rich gravy, transforming every mouthful into a sticky, decadent feast. Equally good soaked up by the potatoes and Yorkshire pudding, and positively glistening on the thick slices of beef, the gravy was as attractive as it was delicious. The only other trimmings were the obligatory dollop of horseradish sauce with the beef - a good partner but nothing out of the ordinary - and a large puffy Yorkshire pudding for each plate. The latter divided opinion; one of us rating it as average to good, and the other finding the Yorkshire too dry and even slightly burnt. We put this down to personal taste (but the dark colour and entirely hollow pudding suggested slight overcooking, nonetheless).
The verdict: An excellent and delicious Sunday lunch at a surprisingly reasonable price. Incredibly tasty, locally sourced food that represents great value considering the fantastic quality and style, the nods to fine dining, and not at dissimilar prices to good pub food served elsewhere in the city centre.
The score: A resounding 4.4/5 (1 on the scale being absolutely terrible and 5 equalling roast lunch perfection).
Price: (excluding the starter platter) £35 for 2 people including drinks.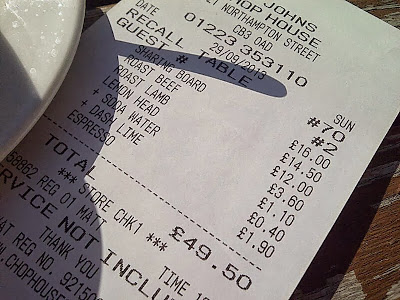 Where should we have our next Sunday roast in Cambridge? Let us know your favourite Sunday lunch spots in the city and we'll rate and review them! Tweet your comments and ideas using #SundayRoastReview to the Moving Foodie Blog
@TheMovingFoodie.
Read last week's review:
The Free Press