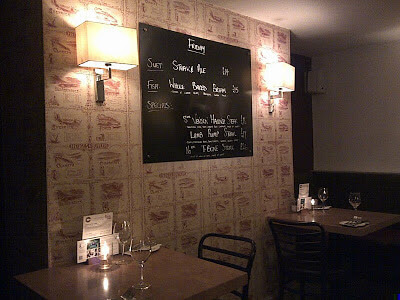 On Friday evening I made a return visit to
The Cambridge Chop House
on King's Parade to try out the lunch / pre-theatre menu after having a fairly disappointing Sunday lunch there about a year ago. I'd been keeping my eye on the menu for a few weeks and liked what I saw. The addition of beer battered haggis fritters was enough to persuade me and so I booked a table at the city centre restaurant as soon as I had a free evening. My verdict?
The Cambridge Chop House
does three things very, very well: service, starters, and sauces...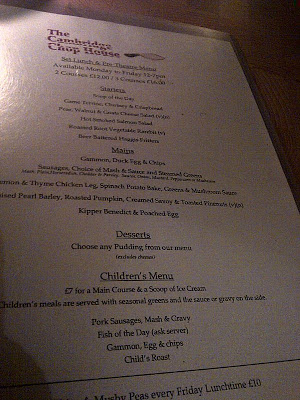 The set lunch menu is available from 12 - 7pm on Monday to Friday, aimed at the all-day lunch crowd of shoppers and students, and at early evening diners looking for a quick pre-theatre meal. It is well-priced and offers five or six options per course. The cuisine is British, very traditional for the most part with inventive twists appearing in a sauce, garnish or presentation, and features good quality, fresh ingredients. It is clearly a popular and well-oiled machine. The restaurant was near empty when we arrived just before 6pm and, by the time we left an hour or so later, every table around us was full. Efficient and friendly staff members buzzed around the diners, always at hand when needed, and able to answer questions about the food.
We chose two courses from the set menu, which we found to be great value at £12 a head. To start, we enjoyed a huge bowl of the soup of the day, a creamy broccoli and blue cheese soup to rival my mum's homemade 'comfort soups,' as she calls them. After building up such high expectations for the famous beer battered haggis fritters, thankfully they were a real hit, rich but with a delicate coating of batter and served with a bright pink beetroot cream for dipping which tasted fabulous. We also enjoyed a generous portion of game terrine, served with a great red onion chutney which had a nice crunch to it and was full of fruity flavours. The terrine itself tasted great, but overpoweringly of ham rather than game.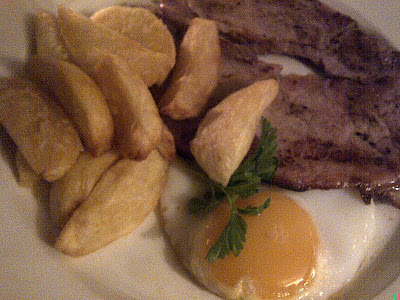 The main course featured yet more traditional British food, expertly cooked and full of flavour. The gammon, duck egg and chips was a highlight. The gammon was thinly sliced, with a fantastic BBQ quality, and covered the whole plate. The runny yolk of the egg and the chunky chips were the perfect partners, making the overall dish a pretty special version of the old pub favourite. We also tried the sausages of the day, pork and slow braised onion, served with cheddar and parsley mash and a big pool of creamy mushroom sauce. The same sauce was served alongside the lemon and thyme chicken leg; a glorious dish of crispy skin, fluffy potato mixed with spinach bake, and al dente steamed greens.
Unfortunately we had no time for dessert or wine, but a peek at the wine list confirmed a fantastic selection with some very well-priced wines by the glass, all supplied by the restaurant's next door neighbour, the
Cambridge Wine Merchants
. Overall we found the menu to be a great selection of British classics, beautifully put together, and appealing especially to those looking for robust portions and a good glug of sauce with every mouthful. The inclusion of fresh, good quality ingredients makes for a foodie experience, which left us with some great inspiration for cooking at home.
My tip: sit downstairs in the atmospheric vaulted cellars with a view through the grates to street level and King's College beyond.
Good for: intimate dining or impressing the parents.
Enjoy!
1 King's Parade
Cambridge
CB2 1SJ
01223 359506
http://www.urbanspoon.com/b/logo/1566095/minilogo.gif
style="border:none;padding:0px;width:104px;height:15px" />