I've finally had some time in the kitchen this week and I've enjoyed every second of it. My busy evenings haven't been the same without some therapeutic cooking time. To celebrate being reunited with the stove, I dug out some rather neglected ingredients from the freezer, too, including a lovely slab of pork belly from the
Leech & Sons butchers at Burwash Manor
in Barton. I've got stacks of French recipes at home calling for home-confit pork belly, which I'm desperate to try, but I'm afraid I still couldn't find a spare 2 days + about 9 hours marinating and cooking time so I opted for a nice simple roast with a slow-cooked apple and pear confit instead. Not a "confit" in the preserving sense of the word, but tasty nonetheless. Served up with the ultimate French side dish, the sauteed potato, I must say it was a real treat for a school night. Here's how it went down...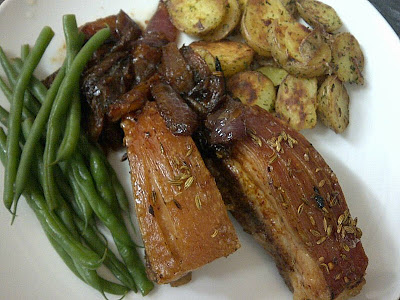 For the pork belly & confit
Pork belly, skin scored and cut into 4 small portions
1 red onion, peeled and cut into chunks
1 apple, peeled and cored and cut into wedges
1 pear, peeled and cored and cut into wedges
1 tbsp olive oil
Coarse sea salt (ideally from a salt mixture of chili flakes, fennel & lemon, which a lovely friend made for me in a handy Mason jar)
1-2 tsp fennel seeds
250ml white wine
For the sauteed potatoes
500g (ish) Potatoes, skins on
Olive oil
Butter
Handful of chopped parsley
You'll also need a large baking dish and kitchen paper.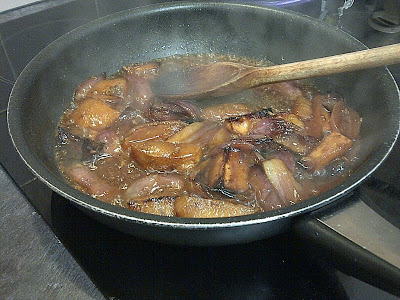 Method
1. Heat the oven to 200 degrees C (fan oven), rub each piece of pork belly with sea salt and add to a large dish with the chunks of red onion, apple and pear, and 1 tablespoon of olive oil. Sprinkle with fennel seeds, according to your taste. Put the dish in the oven for about 30 minutes to crisp up the pork crackling.
2. Remove the dish when the crackling is coloured and crispy, but not burnt. Add the white wine and stir the apple, pear and onion pieces, which should be starting to colour and soften slightly.
3. Reduce the heat to 140 degrees and cook the pork for a further 40-60 minutes until the meat is cooked through and tender and the confit is bubbling away and slightly thickened. The apple, onion and pear will caramelise into a delicious sauce and mingle with the fatty juices from the pork. The slow-cooking
4. Meanwhile, boil the potatoes (I used baby new potatoes but most varieties will work okay with this method) for 15 minutes in salted walter. Drain and return to the hot pan to steam for a couple of minutes. Remove and allow to cool slightly before slicing into 1cm thick rounds. Heat olive oil in a large, deep non-stick frying pan and fry the potatoes until golden brown and crispy on both sides. A couple of minutes before the potatoes are ready, add a knob of butter and a handful of chopped parsley and toss in the pan.
5. Allow the pork belly to rest for 10 minutes and the potatoes to drain on kitchen paper. Add the confit from the oven dish to a hot pan and reduce to the desired consistency. Serve the soft and charred fruit and onion with individual pieces of pork belly, with a little extra juice if required, on a bed of potatoes and green veg.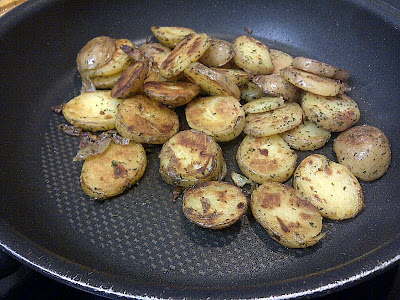 Enjoy! :-)