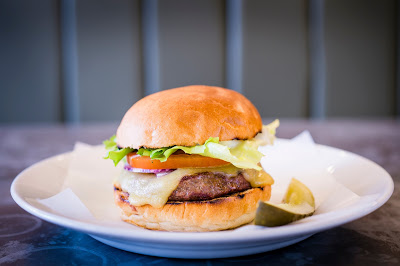 Image courtesy of Gerber PR
Passing by the old Ask restaurant on Bridge Street early on Sunday evening, I finally saw signs of life through the windows as the new tenant, 'proper hamburger' chain
Byron
, prepared to welcome its first, albeit 'trial,' customers to the debut Cambridge opening. I had other matters to attend to just round the corner at
The Cambridge Brew House
for the closing party of the Eat Cambridge festival so had to miss out on sampling the menu. But, fear not: I've lined up a visit to the newest burger joint in town next week and will be sharing my verdict with you all very soon. In the meantime, here's a sneak preview of what we can expect from
Byron Cambridge
...
Think 101 covers, all day opening, and a slick concept that has already worked so well throughout London (and slightly beyond in Kent and Oxford). Add a simple menu of hamburgers, ranging from classic to the only slightly more adventurous chilli-cheese and signature burger with cheese, bacon and Byron sauce, made with good quality Scottish beef and carefully selected side dishes, and that's Byron. The photos of the burgers alone are already making my mouth water. There's a
rather nice video on the Byron website
about the story behind the burgers, too.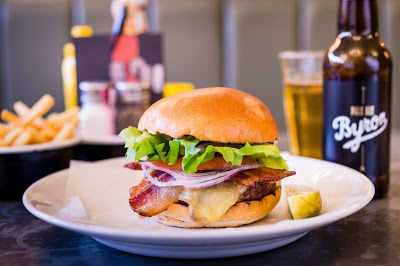 Image courtesy of Gerber PR
I'm looking forward to getting a little messy: eating with your hands is encouraged and I'm hoping for generous helpings of sauce to accompany my courgette fries and onion rings. Rumour has it that there's an intriguing drinks list to choose from too, featuring milkshakes - Oreo flavour anyone? - and Byron's own pale ale brewed by the Camden Town Brewery. Neither has the same ring to it as the British dessert themed 'shakes on offer from our local
Magnificent Milkshake Co
and the many tasty local brews to be found right here in Cambridge, but I'm willing to give them a try. All in the name of finding the perfect partners for my Byron burger, of course.
Watch this space for the review of our visit next week!
** Update: my visit to Byron was unexpectedly cancelled; review post to follow very soon hopefully!**