Even though I don't really like baking, I've been toying with the idea of making savoury muffins ever since I fell in love with the homemade
Umami muffins
for sale at Camyoga's Dandelion Cafe in Cambridge. The New Year rolled by and TV chefs seemed to be having the same craving for something wholesome and savoury, but cupcake-shaped. Inspired by recipes such as Lorraine Pascale's
Pumpkin and Rosemary Muffins
and Channel 4 Sunday Brunch's
Pumpkin and Bacon Breakfast Muffins
, I started experimenting with some of my favourite ingredients. Here's what I came up with...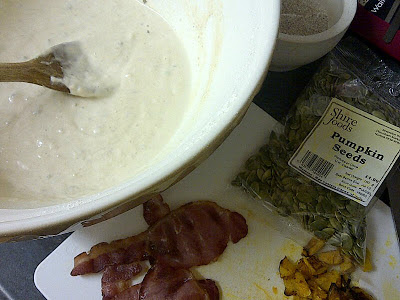 Ingredients (makes 12):
180g self-raising flour
130g wholemeal flour
1 tsp baking powder
1/2 tsp bicarbonate of soda
Pinch of salt
60ml vegetable oil
2 eggs, lightly beaten
100ml fat-free Greek yoghurt
275ml milk
1 tbsp chopped chives
12 sage leaves, finely sliced
150g roasted squash, small cubes
100g bacon, grilled until crispy and diced
Handful of pumpkin seeds
What to do:
1. Prepare a 12 hole muffin tin with squares of baking paper or muffin cases and preheat the oven to 200C.
2. Sift the flours, baking powder and bicarbonate of soda into a large mixing bowl, reserving any wholegrain in the sieve from the wholemeal flour. Stir in the salt, chives and sage.
3. In another bowl, mix the lightly beaten eggs, yoghurt, half of the milk and oil together. Add the wet mixture to the dry ingredients and gently fold together, being careful not to over work the ingredients and gradually adding the rest of the milk if the mixture becomes too thick or sticky.
4. Finally, gently stir in the bacon and squash and spoon the mixture equally into the 12 muffin cases. Sprinkle each muffin with some of the reserved wholegrain and a few pumpkin seeds then pop into the oven for 25-30 minutes.
5. Check the muffins are well-risen and cooked through then remove from oven and leave to cool slightly. Serve warm as they are or slice in half once cooled and serve with a spoonful of fruity chutney.
My first attempt wasn't perfect and this recipe is still a work in progress: the muffins were slightly sticky underneath and were difficult to remove from the cases until completely cooled. Next time I'm going to bake for closer to 20 minutes than 25 minutes; add more squash, including some to the top of the muffin before cooking, and less of the reserved wholegrain to the top of the muffin. I'm also craving even more savoury flavours so will probably go for more, and saltier, bacon next time!
Enjoy! :-)