Last weekend The Boy and I finally found ourselves spending some much-needed time at home. So we took the opportunity to enjoy the best sunny Cambridge had to offer. The ever-beautiful city positively gleams and glistens in the sunshine, buzzing with tourists, shoppers and students; boats bobbing on the river and sunbathers in the parks creating a laid-back holiday atmosphere. I was a little over-excited by the prospect of the first weekend of proper sunshine in Cambridge coinciding with my first visit to the annual
Cambridge Beer Festival
, the 39th to be held in the city. So much so that The Boy and I were keenly joining the queue on Jesus Green as close to 5pm on Friday evening as the pesky Day Jobs would allow.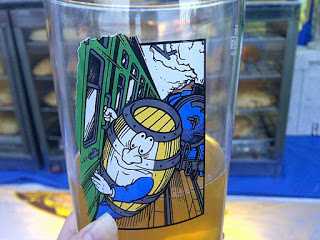 I was hoping the Beer Festival would open up a whole new world of pub beverages to me because, much to The Boy's disappointment, I'm not really an ale drinking kind of gal. I like to stick to the right category of alcohol according to the occasion so I'm good with celebratory events (Champagne, Prosecco); food (cocktail before, wine during, whisky after); and sunny days (Pimms, cider, lager at a push). But what to drink when one frequents a good old proper public house or, indeed, a beer festival? Determined to find out, armed with our special Beer Festival branded pint glasses, we scoured the many bars within the huge beer marquee for that perfect bitter. Unfortunately I was immediately swayed by a local sparkling white wine from
Chilford Hall Vineyard
, which proved to be the perfect, clean and refreshing aperitif to whet my appetite for more tasting.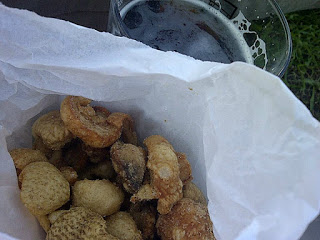 We tried Clever Fellow from the local
Moonshine Brewery
, which went down particularly well with The Boy owing to it's smoothness and helped me wash down some delicious, salty homemade pork scratchings, although I wasn't a big fan of the strong flavour of the ale and I couldn't get used to how warm it was. Whilst we lounged around on the grass outside the marquee and caught the last of the afternoon sunshine, I succumbed to my longing for a nice, cold cider and sampled a pint of
Cam Valley
's Ida Red. The medium-dry cider was definitely at the dry end of the spectrum, which I love, with a great refreshing, juicy quality and enough pure apple flavours to make it dangerously easy-drinking.
We made sure we left enough room to tuck into some of the amazing food on offer at the Festival's famous
CAMRA
-run cheese counter. We munched on pork pies, spicy pepperoni sausages and cumin and chilli olives, which The Boy persuaded me to accompany with a pint of pale bitter, this time from the local
Milton Brewery
. The crisp, almost spiced, gold-coloured bitter, Justinian, was refreshing for the first few gulps but then the earthy, bitter taste became a little boring once I'd finished my spicy olives. As the sun set over the festival enclosure, we left the crowds and headed for home craving a nice big glass of something familiar (me) and clutching the newest edition to our pint glass collection (The Boy). I'm still to be converted to the world of real ales and remain open to recommendations!
On Saturday we were up bright and early to stock up on some gardening essentials and to sample the foodie delights of the
Cambridge Farmers' Outlet
on Lensfield Road. The shop is a fantastic place to seek out fresh produce, meat, cheese and interesting condiments and drinks, mostly sourced in the East Anglia region. At the moment the outlet has some great value bedding plants for sale and we also picked up some mini bottles of
Aspall Premier Cru cyder
and a stack of sausages from
Grasmere Farm
for the inevitable BBQ in the sun later in the day. Well-made and packed full of good quality meat, my favourite were the Pork and Leek sausages: perfect with homegrown salad freshly picked from the garden and a chilled glass of sparkling cyder.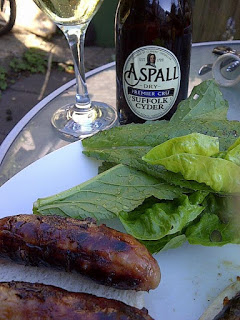 Before heading home to tend to the garden, including planting our first grape vine, we took a quick diversion to
Le Gros Franck
for a truly magnificent lunch
al fresco
. The location and traditional interior of the restaurant always evokes a feeling of dining out in a European city, being on the busy junction of Station and Hills Road. The delicious French food, atmosphere, and even service, are so authentic that as we enjoyed our lunch looking out over metal balustrades and shuttered windows onto the sunny street, we could almost have been tucked away in a little street cafe in Paris. The generous portions of hot lunch dishes such as the savoury pastry with rich, vegetable sauce topped with a hunk of melted goats cheese, served with a fresh side salad, taste as good as they look.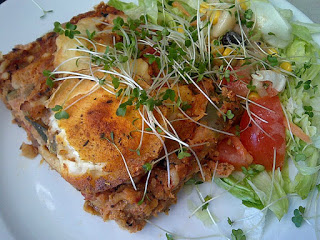 As gorgeous as Cambridge is in the sunshine I can never resist a Sunday afternoon soaking up some sea air and lying beneath bright blue skies on a near-deserted beach so we finished off the weekend by zipping across to the Suffolk coast. We were lucky enough to see a fascinating exhibition of old photographs, videos and newspaper clippings from the last 100 years of the village of
Thorpeness and it's Country Club
. It was inspiring and incredibly touching to see how central a role the Club has played in life in the beautiful coastal village and The Boy and I are now even more excited about celebrating our wedding there next year! :-)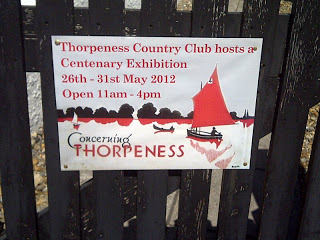 Next week, I'll be embarking on my
exciting trip to France
to visit some of the best foodie hotspots in the country. Keep an eye on the blog in a few weeks for a full report!
Au Revoir!! :-)