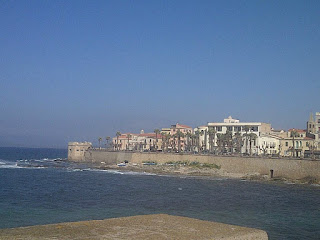 The City of Alghero, Sardinia
This time last Friday The Boy and I were on an early morning flight from Stansted to Alghero for a weekend of sunshine, relaxation and some amazing food and wine. I was feeling very proud of myself, having kept the weekend a secret for weeks and The Boy was relieved that this surprise weekend away for his 30th birthday didn't involve a spa or any kind of manufactured fun!! Having visited Alghero five or six times before, I was excited to revisit some favourite bars and restaurants, as well as the gorgeous sandy beach and city harbour. Quite a stylish destination on the north-west coast of Sardinia, Alghero is an intriguing little city providing the opportunity to explore the quaint, traditional old city hidden beneath huge bastion walls whilst enjoying the buzzing cosmopolitan local areas, modern eateries, exclusive yacht moorings, and beautiful golden beaches and crystal clear waters.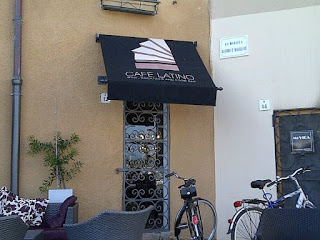 Cafe Latino, Bastioni Magellano
Visiting the city for the first time in spring was a very different experience from the bustling beaches and packed restaurant terraces of the summer season. The sky was still bright blue and clear. The sun was warm, making the turquoise blue sea sparkle and the condensation on our ice cold beers glisten. A light breeze blew away winter cobwebs and cleared our fuzzy heads from our 3am wake-up call. The yachts and pleasure boats bobbed on the waters in the wide, sheltered harbour, with their riggings and spinnakers gently tapping out tuneful chimes against the masts. As soon as we arrived we settled down for a local Ichnusa beer in our favourite bar,
Cafe Latino
, on the corner of the bastion walls overlooking the harbour and seafront cafes, and instantly felt at home.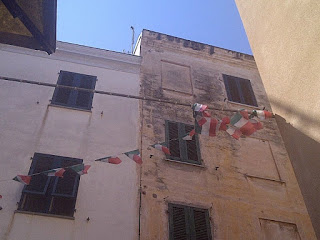 Enjoying morning coffee in the old city
The rest of the weekend was a glorious laid-back rediscovery of everything that makes Alghero so special. We wandered through the maze of cobbled streets and found hidden courtyards and trattoria; we browsed the coast's trademark coral and turquoise jewellery in the adorable (and some fairly high-end) boutiques dotted throughout the squares and alleyways; we bought cans of San Pellegrino limonata from the vending machines on the seafront and sat on the beach enjoying the sea salt on our lips and the sound of the waves lapping the beach. Best of all, we did nothing. We sat at cafes, bars, restaurants, on benches, walls, and in gardens, and did nothing except drink and eat and let the sun warm our pale faces.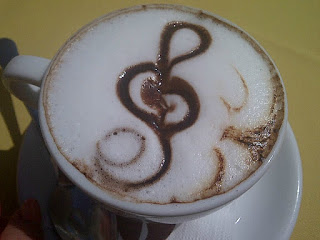 Cappuccino at Girasol
My highlights were the delicious tiny cappuccinos lovingly prepared and served with a smile at
Girasol
cafe and fruit bar and sampling local wines matched with divine steaks at
Trattoria Al Refettorio
, where we dined by candlelight in a vaulted outdoor terrace off a tiny street in the old city. Not only was the food to die for - we shared local mixed seafood to start, each served in fascinating Italian-inspired sauces - the warm welcome included meeting the proprietor's 5 year old daughter who was prompted to welcome us in English and hand us a menu each. A very cute touch, which gave me a chance to practice my Italian without fear of failure! We remembered loving the red wines on offer at Al Refettorio on our last visit to Alghero and selected a bottle of Monica di Sardegna (2009) to accompany our steaks, served with artichoke hearts and parmesan for me and porcini mushroom sauce for The Boy. Delicious, full-flavoured and a little too easy drinking! A bottle and a couple of
digestivo
later, we realised that we would soon have been up for 24 hours, and ambled home along the cobbles to our Bed & Breakfast for some much-needed rest (in a huge king size bed!).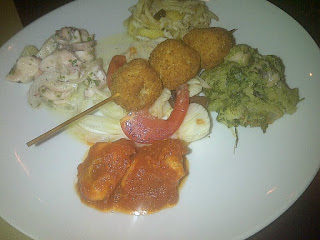 Mixed seafood at Trattoria Al Refettorio
For a special birthday dinner, we returned to one of the best restaurants in Alghero in arguably the best location, right on the bastione walls facing nothing but sea. We enjoyed the view from the covered roof terrace of
Mirador
on our last visit to Alghero and ended up being treated to a panoramic view of a very dramatic thunderstorm when the weather suddenly changed. It was an amazing evening. This time we ate in the conservatory-style dining room, decorated with colonial touches nestling against bare stone walls and marble tiled floors. Another warm welcome, along with a couple of glasses of Prosecco, awaited us, followed by fresh beef carpaccio, decadent monkfish with saffron sauce, whole sea bream in white wine stock, and a generous platter of pungent Sardinian pecorino and goat cheeses served with home-made jams. We wandered home past the bastione's towers, churches and rows of waving palm trees, watching the moon glisten on the still harbour waters, vowing to buy some cheese, crispy Sardinian flat breads, and wines to take back to England with us so we could recreate the delights we'd tried over the weekend.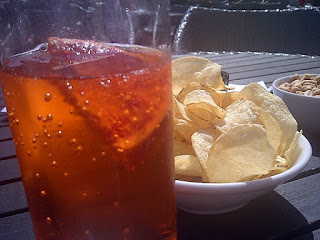 Cocktail San Pellegrino - the perfect aperitivo
I'm still daydreaming about aperitifs like the bitter orange Cocktail San Pellegrino before every meal and the "roasted cheese" I had in a cafe - pecorino melted on a crisp square of the local thin bread, a delicate version of our cheese on toast! Recipes to follow...
Enjoy! :-)