Last night Best-Friend-Jess and I had a fantastic evening at an
NSPCC
Charity Fashion Show and Auction held at
Anglia Ruskin University
in Cambridge in celebration of 25 years of
Childline
. After enjoying a delicious supper of meze platters, salad and frittura misto at
CB2
, we hurried along to ARU on East Road for 7pm to take full advantage of our welcome drink (Prosecco - yes please!) and the various clothes, jewellery and cosmetic stalls on offer in the buzzing foyer.
Always a sucker for a bit of gambling (don't tell The Boy) I immediately fell for a good old-fashioned tombola stall - complete with fabulous gifts donated by the likes of
Cath Kidston
,
The Copper Kettle
,
Hotel du Vin
, and more - and snapped up a couple of raffle tickets. No luck. As all proceeds went to charity, we didn't mind going back for a couple more attempts later on...
After browsing the wares of local fashion, arts, jewellery and cosmetics vendors, we finished off our complimentary glasses of fizz and made our way into ARU's Academy venue for the fashion show and auction. A goodie bag stuffed with great local offers, samples and a bag of Haribo sweets awaited us as we bagged front row seats next to the catwalk - perfect!
Will Axon,
Rowley's
auctioneer and antiques expert on BBC's "Flog It!", and Sue Minto, Head of
Childline
in our region, gave us a great welcome, including some impressive and moving stories of the great work that
Childline
and the
NSPCC
do for vulnerable and troubled children and young people. Sue's passion and commitment to the charity were very inspiring - looking around at the many volunteers and supporters, it was clear how much effort is made to raise funds and awareness of the cause. According to one of the event organisers from the community fundraising office, there is always more that can be done to continue to achieve positive results and volunteers are welcome, whatever they can offer. To find out more about the
NSPCC
and
Childline
, click
here
.
The catwalk show followed, showcasing some fabulous independent local fashion and talent. First up were unique, intricate, and some slightly unusual creations, designed by BA Fashion students at the university, followed by amazing outfit after outfit from local labels
Cuckoo
and
Le Reve lingerie
, topped off with gorgeous fascinators and headware by
Abigail Crampton Millinery
. When we thought we couldn't gaze in awe at the catwalk any longer, a perfectly executed and risque burlesque show (performed to Etta James'
I Just Want to Make Love to You
) made everyone's jaws drop!!
Will Axon rounded off the evening by running an excellent auction of items donated by the designers, local businesses, hotels and health clubs, with all proceeds going to the charity. I was lucky enough to successfully bid for a one-off, very well-crafted jacket, created by one of the fashion students at ARU. When I say I was lucky enough, I am in fact referring to Best-Friend-Jess's skillful bidding on my behalf - I was terrified by the auctioneer's sales patter and whispered instructions to her until the item was mine. Hoorah! Here are some photos of the gorgeous beige jacket, designed by
Jennifer Gutteridge
, complete with adorable Giraffe printed side panels:
Jennifer Gutteridge's design from her Freedom vs Poverty collection


Giraffe Trim! Awesome!
The event was a huge success, raising over 6000 pounds for the charity and providing a thought-provoking, entertaining and perfect girly evening out. Even better, taking the opportunity to be involved in such a worthy fundraising event and donate to such a good cause was an evening well spent.
Here are a few snaps of my favourite bits - enjoy! :-)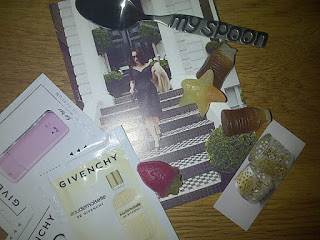 Goodie Bag Treats